Kingston DDR2 PC2-6000 (750MHz) Memory
By
What is under the Heat Spreader?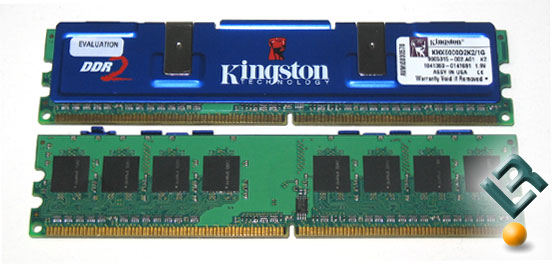 Once I removed the heat spreaders I found that Kingston was using screened unmarked Infineon memory IC's for their new high speed memory modules. The memory was also noted as being built using single-sided memory modules (containing FBGA components on only one side). Each Kingston PC2-6000 module has eight 64M x 8-bit DDR2 FBGA memory IC's. Kingston has programmed each module to post with JEDEC approved 4-4-4-12 timings at 1.8 volts. This makes the modules almost plug-in-play for ease of use. Consumers don't need to adujst the memory timings, but the voltage does need to be bumped up to 1.9 volts in the BIOS for the memory to be 100% stable at 750MHz.
Uncertain what IC was being used I then measured the IC with dial calipers and found the package size to be that of Infineon Technologies. Digging through the whitepapers that can be found on the Infineon website I was able to match these unmarked and screened IC?s. I determined that Kingston is using the following part number: HYB18T512800AF-3.7. These FBGA-60 IC's are actually rated for DDR2-533MHz frequencies at 4-4-4 timings. Since Kingston is running these at 750MHz, they have been screened for Kingston and the die package does not contain the original product type code.
Key Features:
Memory amount: 2 x 512MB
Access time: Infineon IC's
750MHz (PC2-6000) Unbuffered non-ECC DDR2 Modules
CAS latency: 4 clock cycles
RAS precharge: 4 cycles
RAS active to precharge: 12 cycles
Command rate: 1T (1 cycle)
Blue heat spreader for thermal diffusion
Latency: 4-4-4-12
1.9V
Lifetime Warranty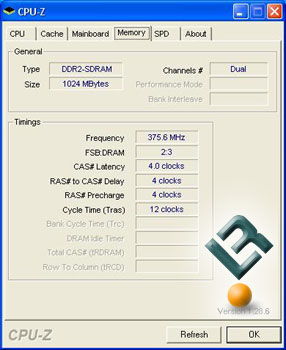 Test System:
Intel Pentium 4 640 800MHz FSB Processor
ABIT Fatal1ty AA8XE i925XE Motherboard
nVIDIA Geforce 6800GT 256MB PCI-Express Video Card w/ 76.89 drivers
Seagate 120Gb Serial ATA 150 Hard drive
Antec True Power 430W Power Supply
17″ Sony Trinitron monitor
ABIT BIOS version 14
Testing Procedure:
All testing was done on a fresh install of Windows XP Professional build 2600 with Service Pack 1A and DirectX 9.0b. All benchmarks were completed on the desktop with no other software programs running. Since no memory divider will automatically set the system memory at 750Mhz at default clock speeds, overclocking/tweaking will be needed to reach the 750MHz memory clock frequency. Our testing was done using an Intel 640 processor, so we were able to overclock our processor to 250FSB x 14 Multiplier for 3.5GHz CPU clock. At 250MHz FSB a 2:3 memory divider could be used to reach a memory clock of 750MHz.
DDR2 667: 250×14 = 3.5GHz with 3:4 memory divider
DDR2 750: 250×14 = 3.5GHz with 2:3 memory divider
This will give us some data for PC2-5400 versus PC2-6000 and see how much performance improves with Kingston's new 750MHz DDR2 memory.