Kingston DataTraveler HyperX Predator 512GB USB 3.0 Flash Drive Review
By
Test System and Capacity
Test System and Software Setup
To try out the Kingston Flash Drive we will us using an Intel Z77 platform on the integrated Intel SuperSpeed USB 3.0 interface. If you would like to know more about this mini-ITX test system you can read an article on how to build it yourself here. We used Intel USB 3.0 driver version 1.0.5.235 for testing.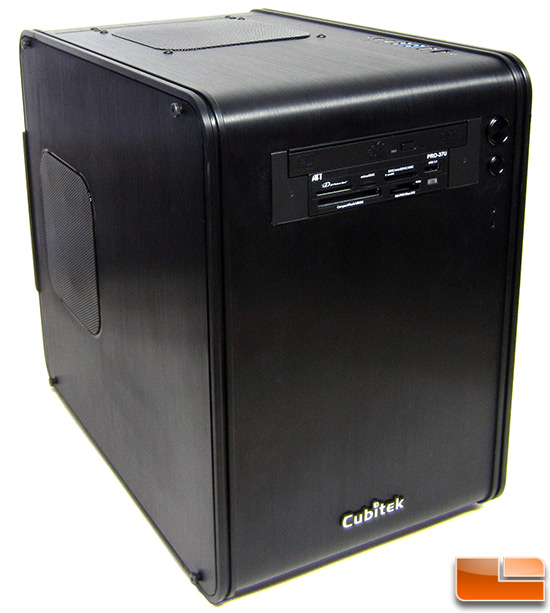 Legit Reviews Intel Z77 Test System Parts List:
Intel Core i7-3770K Ivy Bridge Processor – $349.99
ASUS P8Z77-I Deluxe mini-ITX Z77 Motherboard – $199.99
EVGA GeForce GTX 670 SuperClocked – $419.99
Cubitek Mini ICE ITX Case – $169.99
Kingston HyperX 480GB SSD – $669.99
Western Digital Caviar Black 2TB Hard Drive – $214.00
CoolIT Eco II 140 Liquid Cooler (thanks to Maingear)
Samsung Slimline 8x DVD Burner – $23.99
StarTech Slim Optical 5.25″ Drive Bay Adapter – $26.99
StarTech Slimline SATA to SATA Adapter Cable – $8.99
2 x 140mm High Static Pressure Fans – $30
AFT PRO-37U USB 3.0 3.5″ Media Card Reader – $54.99
Corsair AX 650W Gold PSU – $149.99
Windows 7 Ultimate 64-Bit – $189.99
Capacity:

When we plugged in the Kingston HyperX Predator 512GB Flash Drive for the very first time we found the drive was totally empty and formatted for use right out of the box.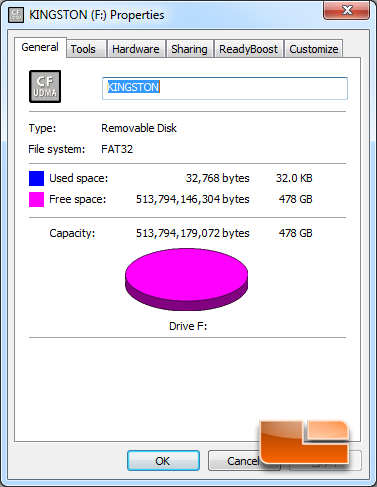 The total useable capacity of this 512GB drive is 478GB. The conversion from physical GB to the virtual GiB is why there is a difference. You can see that that the drive uses the FAT32 file system.