Kingston DataTraveler HyperX Predator 512GB USB 3.0 Flash Drive Review
By
Kingston Launches Huge 512GB Flash Drive
We were shocked last week when we learned that Kingston Digital announced the DataTraveler HyperX Predator 3.0 USB Flash drive series. Why? Because the DataTraveler HyperX Predator 3.0 became the world's largest-capacity USB 3.0 Flash drive! This drive also happens to perform well with 240MB/s read and 160MB/s write speeds when used on a USB 3.0 ports. If you often find yourself deleting data off your Flash drive to free up storage space, then this is the drive for you! Right now Kingston offers the HyperX Predator USB 3.0 drive in 512GB and 1TB capacities (coming soon).
We were excited when the Kingston HyperX Predator USB 3.0 512GB Flash Drive (DTHXP30/512GB) showed up for testing this week. This USB 3.0 Flash Drive offers massive storage for on-the-go users and has an MSRP of $1750 and a street price of $800.74 plus shipping.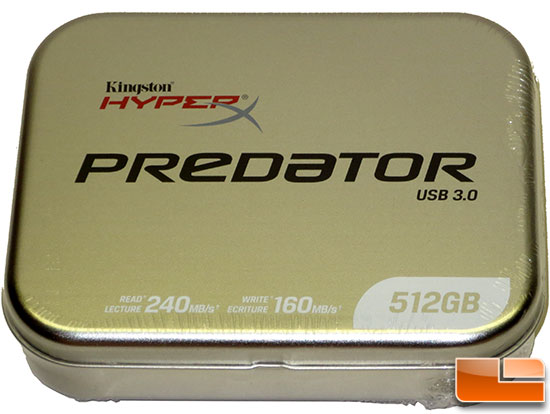 The retail packaging for the HyperX Predator is really nice as you get a large metal tin to store the drive along with all its accessories. Not too many USB keys come with storage tins, so this was unexpected, but nice to see for a drive that costs nearly $1000!
Kingston HyperX Predator 3.0 Features and Specifications:
Highest capacities: uncompromised data storage to carry your digital world on a portable USB drive
Highest performance: unparalleled speeds to save time while transferring content rich data
Zinc alloy metal casing: resilient protection for data in a cutting-edge design
HyperX valet keychain: exclusive accessory for a stylish twist to portable storage
Guaranteed: five-year warranty and free technical support for added peace of mind
Speed

USB 3.0: 240MB/s read and 160MB/s write
USB 2.0: 30MB/s read and 30MB/s write

Backwards compatible with USB 2.0
Capacities: 512GB, 1TB (later in Q1)
Dimensions:

without key ring: 2.8346″ x 1.0606″ x 0.8268″ (72mm x 26.94mm x 21mm)
with key ring: 3.4854″ x 1.0606″ x 0.8268″ (88.53mm x 26.94mm x 21mm)

Operating Temperature: 32°F to 140°F (0°C to 60°C)
Storage Temperature: -4°F to 185°F (-20°C to 85°C
USB 3.0: latest USB standard guarantees backwards compatibility with USB 2.0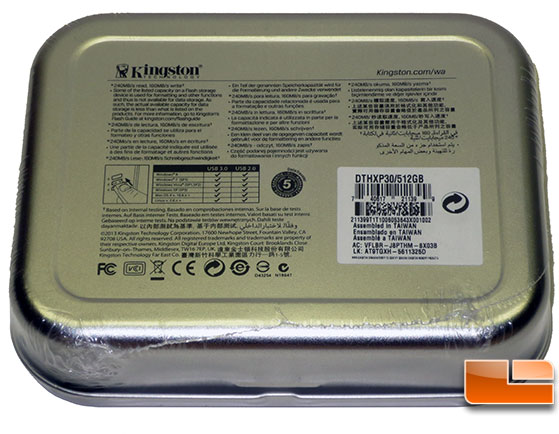 The back of the retail packaging lists the key features of the DataTraveler HyperX Predator as well as the warranty information (5-years) and the serial number of the drive. There is a URL on the back of the box that goes to www.kingston.com/wa, but the box doesn't say what that URL is. We went to there and found it is the Kingston Technology Warranty landing page.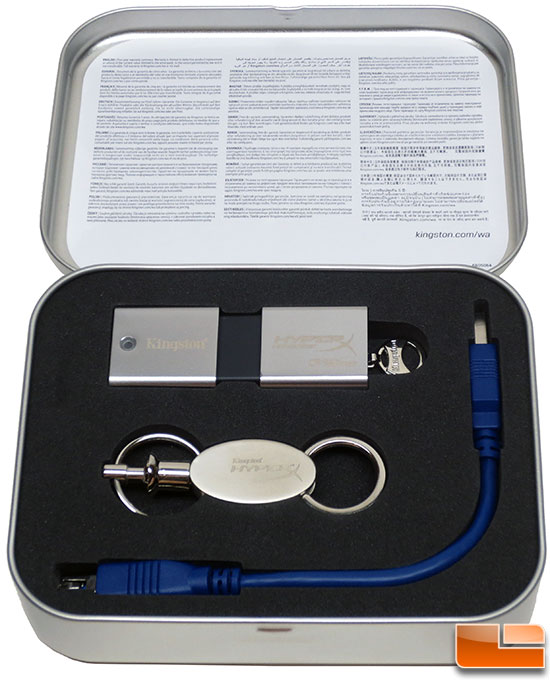 Inside the retail packaging is a very nice accessory bundle and of course the drive itself. The HyperX valet key chain is very nice and looks like something that you'd actually be able to use and not just throw away. The included USB 3.0 extension cable might be odd to include, but since this USB drive is so thick it can't fit in really tight USB port locations and you have to use this extension. Kingston really thought this bundle out and included everything that you'd need to properly use this drive!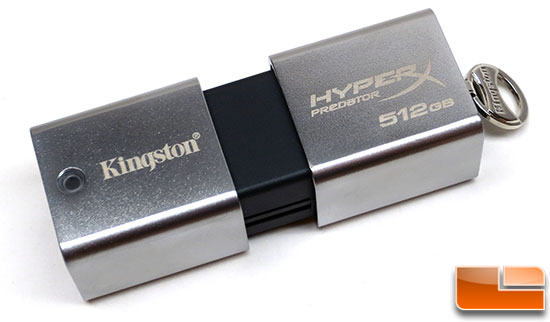 The Kingston DataTraveler HyperX Predator 512GB Flash drive is a fairly big thumb drive as it is 72mm x 26.94mm x 21mm without the key ring. The drive housing has two silver aluminum blocks on each end with one that slides to unveil the USB 3.0 port on one end of the drive. The black middle section is made from plastic and contains all the components that make this drive work.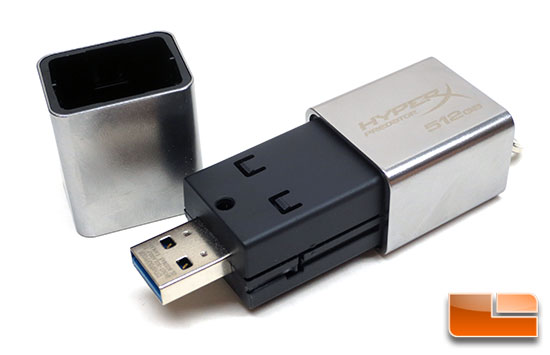 We tried to take the DataTraveler HyperX Predator apart, but stopped when we were told that Kingston would eventually send over internal shots and when the drive wouldn't easily come apart. The metal surfaces of the drive do show finger prints, but can be easily wiped off with a cloth.
01/29/2013 Update: Kingston has sent over pictures of the inside of this drive for us!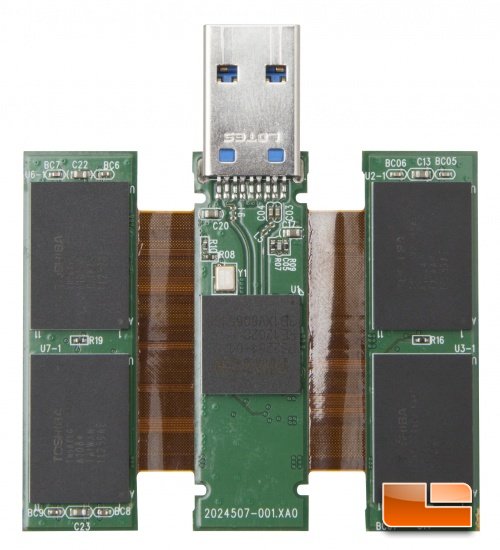 There are actually three different PCBs for this 512GB drive and they are folded accordion style for space saving reasons. Kingston informed us that they are using a Phison controller and Toshiba 19nm NAND Flash on the 512GB drive. In total there are eight 64GB Toshiba 19nm NAND Flash chips used. The 1TB drive that is launching later this quarter will likely use different NAND. Kingston is still working on developing the 1TB drive, but Legit Reviews was told that it would likely be using Micron NAND Flash.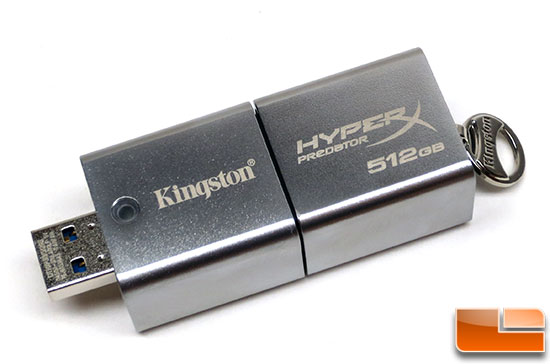 One side of the drive has the Kingston company name and product branding (shown above) and the other side is blank. Kingston also placed a blue LED activity light on the branded side of the drive for you to see when it is in use. When the drive is ad idle the light is not on, which is nice for those that often leave a USB drive plugged in.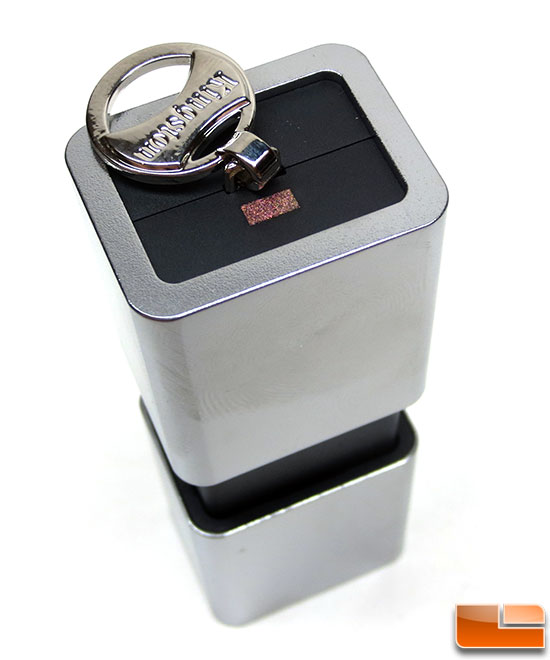 The key ring on the DataTraveler HyperX Predator is metal that has been crimped on to a steel loop that goes into the body of the drive. We really like the all metal design, but don't like the fact that the ring is just crimped on! At $800.74 plus shipping, this is not a drive that you'd ever want to lose! We also noticed that Kingston has some anti-counterfeiting measures on the key ring end of the drive.
Now that we know the basics of the drive we can get to performance testing!