JayBird SB1 Sportsband Bluetooth Stereo Headphones
By
Introducing the JayBird SB1 Sportsband Headphones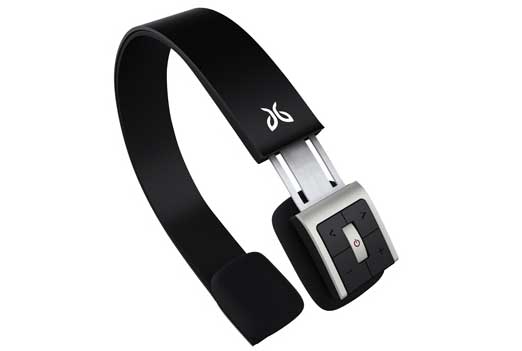 Anyone that listens to a lot of music will tell you that having a good set of headphones is important. They will also tell you that the quality of sound that comes from those headphones is VERY important. No one likes to put on a pair of headphones that makes your music sound like it is coming out of a tin can!
There are other things that you will consider after sound quality. The features and design of a particular headset will be something that will attract you to a product or make you look at something else. Being wireless is one of those features that many people want. I mean, who wants to be tied down to a 6 foot radius around your sound source?
Many people with mobile phones and other devices that are Bluetooth capable want to be able to use that feature. That is where the JayBird SB1 Sportsband comes in. These headphones are designed to let you enjoy a rich sound experience and let you be wireless at the same time using the Bluetooth connection of your device. The JayBird SB1 Sportsband is also targeted to those that live an active lifestyle (hence the name "Sportsband"). Today we take a look at these to see if they are the solution to listening to your tunes as they were meant to be heard, and if they are really built for those that do more than just sit and listen to their music.
First off, let's take a look at the specs and features…
Construction
Flexible overhead band
Rubberized underside band for grip during exercise
Fully enclosed button controls to protect from sweat and moisture
Concealed charging point for further protection from sweat and moisture
High integrity light weight internal construction
Aluminum size adjusters
Heavy duty ball-pivoting earpads
Audio
Type: On-Ear Style
Noise-isolation: No
Impedance: 32 Ohm
Output 15mW RMS (with level limit)
Total Harmonic Distortion (THD) <5% (1KHz, 10mW)
Protocol: Bluetooth 2.0, A2DP, Handsfree, Headset
Speaker sensitivity: 117 +-3dB At 1KHz
Audio Format: 16-bit Stereo
Bluetooth
Tx Power: Bluetooth Class 2.0+EDR
Range: 10 meters/33 feet
Frequency Band: 2.4 GHz
Response Bandwidth 20-20000Hz
Pairing
No of Paired Devices: 2
Pairing passkey: 0000
Integrated Microphone
Microphone type: 4mm omni-directional
Microphone Sensitivity: -42 dB + /-3dB (1KHz, 0dB = 1V/Pa)
Weight & Dimensions
Height: 160 mm
Width: 150 mm
Depth: 30 mm (Band) 43 mm (earpads)
Weight: 106 g
Battery
Battery Music Play Time: 8 Hrs*
Battery Talk Time: 11 Hrs*
Battery Standby Time: 250 Hrs*
Battery Charging Time: 2.5 hrs
Battery Charging: USB (included)
Battery: 250 mAh Lithium Polymer
* May vary dependent on usage and cell phone
Button Controls
AVRCP Music Controls
Play
Pause
Next track
Previous track
Calls*
Answer Call
End Call
Reject Call
Redial Call
*Additional functions found in user manual
General
Volume up
Volume Down
Pairing
Compatible Products
iPod
iPhone, iPhone 3G & 3GS
MP3 players
Bluetooth mobile phones
PC/Mac
Gaming Devices
This is a note from the JayBird website: If your device does not offer A2DP (Stereo Bluetooth) such as the original iPhone first gen, you will need a Bluetooth Adapter. See JayBird Bluetooth adapters. iPhone does not support track controls. Use voice command to activate track and other controls, or check out the new Bluetooth Helper app from the iTunes store.
Operation
Operating: 14F – 140F (-10C – 60C )
Storage: -22F – 176F (-30C – 80C)
AC power supply: 5V DC 500mA 100-240VAC, 50-60Hz input
The JayBird SB1 Sportsband Stereo Headphones come with a 1-year limited warranty and a lifetime warranty against sweat.