Intel SSD Pro 2500 Series 240GB Enterprise SSD Review
By
Intel SSD Pro 2500 Series Drives Arrive For Business-Class Professional PCs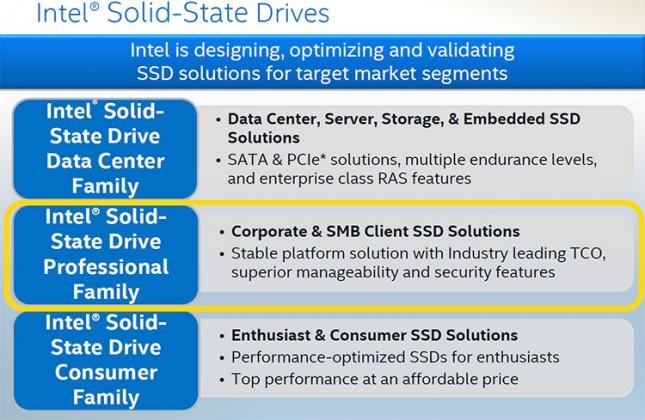 Intel has three different Solid-State Drive (SSD) product families; the Data Center, Professional and Consumer. We have looked at plenty of SSDs by Intel in the consumer family, but we seldom look at Professional and Data Center drives. The Intel SSD Professional Family is designed with a little less emphasis on performance and more concern on stability, Total Cost of Ownership (TCO) and lastly manageability and security/encryption features. This means that the Professional Family isn't about having the latest cutting edge technology, but rather a reliable drive that has power efficient performance. Intel is focused on delivering a stable and secure solution with remote manageability features that function remotely and that just works.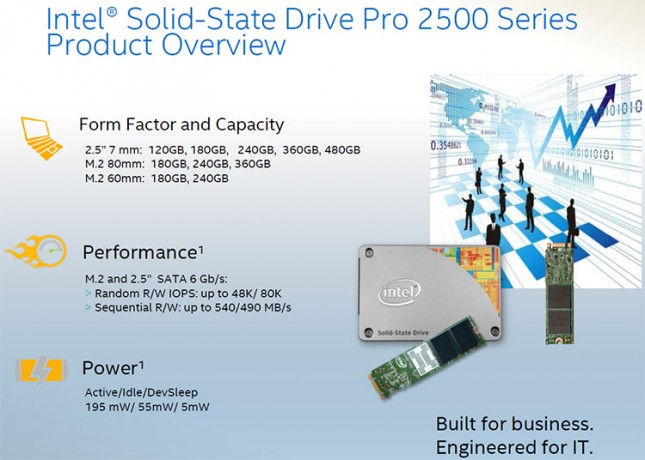 The Intel Solid-State Drive Pro 2500 Series is the latest drive to become part of the Professional Family. The Intel SSD Pro 2500 series is available in the 2.5″ 7mm 120GB, 180GB, 240GBB, 360GB and 480GB capacities for desktop and notebook users. There are also going to be M.2 form factor drives available in 80mm long drives in 180GB, 240GB and 360GB capacities and then 180GB and 240GB in the shorter 60mm M.2 drives that will be popular on Ultrabooks, 2 in 1's and other mobile devices. Both the 2.5″ and M.2 versions will both be backed by a 5-year warranty.
Intel SSD Pro 2500 Series 2.5″ SSD Pricing:
Intel Pro 2500 120GB – SSDSC2BF120H501 – $119.99
Intel Pro 2500 180GB – SSDSC2BF180H501 – $159.99
Intel Pro 2500 240GB – SSDSC2BF240H501 – $199.99
Intel Pro 2500 480GB – SSDSC2BF480H501 – $305.00
When it comes to pricing you are looking at between $.083 to $1 per GB for the three capacities that are available on the market this very second.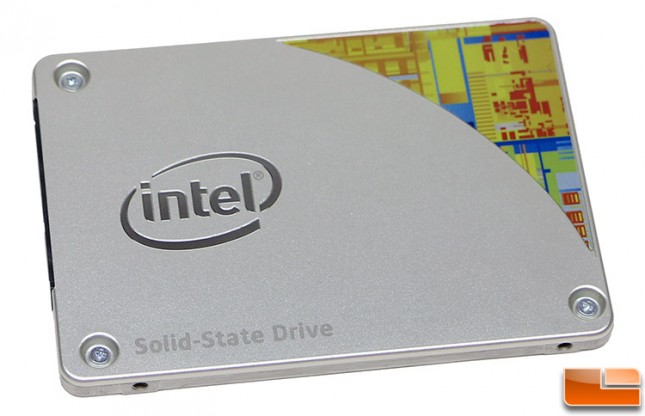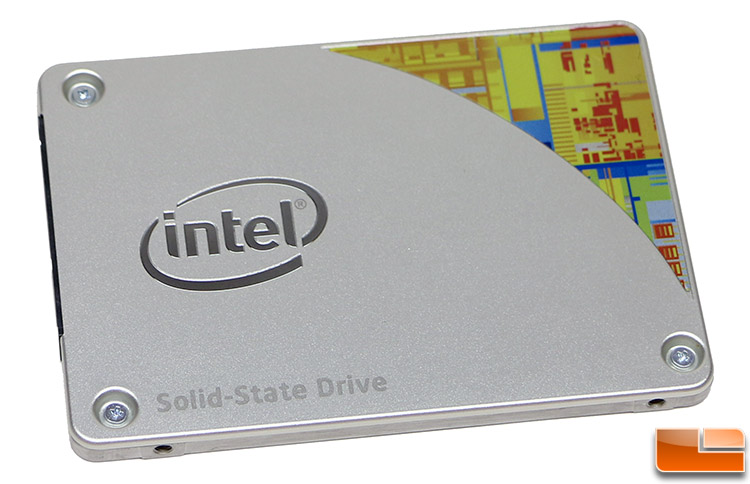 The Intel SSD Pro 2500 series are thin 7mm drives that are powered by a SandForce SF-2281 controller paired with 20nm SK Hynix MLC NAND Flash memory. Yes, Intel is now sourcing NAND from third parties. We had the oppurtunity to speak with James Slattery, Intel marketing manager for Intel's non-volatile memory group, and he said that Intel has "fully vetted" SK Hynix NAND the same way they validate their own in-house memory from IMFT. The SandForce + SK Hynix combination is enough to get up to 540MB/s sequential read and 490MB/s sequential write when it comes to drive speeds. When it comes to 4K random read/write IOPS you are looking at up to 48k IOPS on Random 4K Reads and up to 80k on Random 4K Writes. These are very solid sequential speeds and so-so random read/write speeds, but we all know that Intel is known to spec their drives conservatively. The look of the actual SSD is identical to that of the Intel SSD 530 series.
The Intel SSD Pro 2500 series are all self-encrypting drives (SED) utilizing hardware-based 256-bit encryption to protect data without a loss of performance. The SSD Pro 2500 series has both Trusted Computing Group (TCG) OPAL 2.0 and Microsoft eDrive capabilities, which are both features not found on the SSD Pro 1500 series. These policy-based controls help to prevent data breaches and support crypto erase to repurpose the drive for reuse. Intel knows that data breaches are a big concern these days and are often a result of lost or stolen PCs. Being self-encrypted will help Fortune 5000 businesses mitigate the threat of costly breaches. One recent study showed the average cost of a lost unencrypted laptop was around $50,000 by the time they factored in intellectual property loss, lost productivity, replacement and legal costs.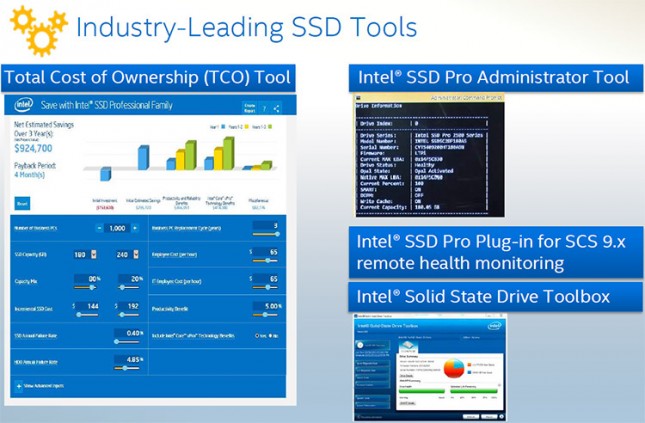 Intel also provides an online Total Cost of Ownership (TCO) Tool for ROI justification. Intel also has management tools like the Intel SSD Pro Administrator Tool that is brand new and allows you to activate eDrive if you choose to use that feature. The Pro 2500 family has OPAL 2.0 on my default, but eDrive you have to enabled. You also have tools for the vPro environment like the Intel SSD Pro Plug-In for SCS 9.2 allows you to remotely monitor SSD health and run optimizations on the drive to proactively manage the drive. Lastly, there is the Intel Solid State Drive Toolbox that allows you to optimize the drive by manually running the TRIM command, run secure erase, check the S.M.A.R.T. readings and even upgrade the firmware. As you can tell Intel has a handful of software available for use with their business-class drives. The Intel SSD Pro 2500 also works with third party management software from Dell Credant), McAfee, Winmagic (Data Security), Sophos, Absolute Software, Microsoft (eDrive) and Wave.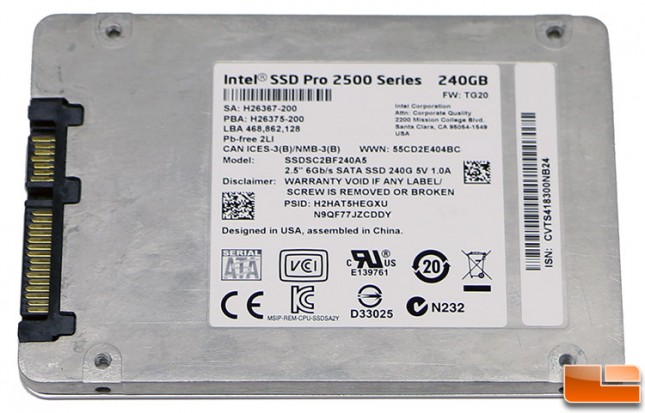 On the back of the silver metal 2.5-inch enclosure you can see that the Pro 2500 series has the standard drive mounting holes on both sides of drive. The Intel Solid-State Drive Pro 2500 Series uses standard Serial ATA power and data connectors, so you can use this SATA III (6Gbps) drive in pretty much anything and it is backwards compatible with older SATA II systems.
Let's void our warrant and pop open the cover on our SSD to give you a look inside on the next page.