Intel Optane Memory Review – 32GB Module With 3D Xpoint Tested
By
Intel Optane Memory Benchmarks
Let's start out by looking at CrystalDiskMark 5.2.1 and seeing how the WD Black 1TB Performance 3.5″ Desktop Hard Disk Drive performs (7,200 RPM, 64MB cache, part number WD1003FZEX). This is a very popular and affordable ($70.37 shipped) hard drive that has a 4.5 out of 5 star rating on Amazon with over 1,200 user reviews.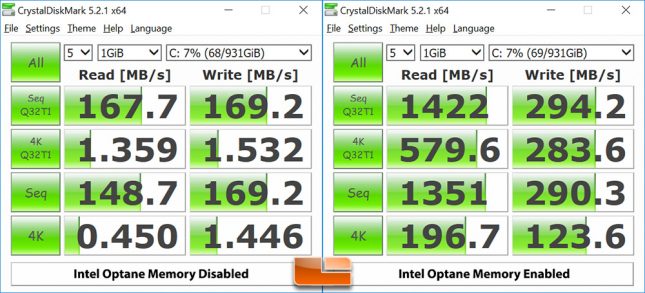 The hard drive is a solid performing spinner with sequential Read/Write performance around 170 MB/s and we were able to get that up to 1422 MB/s Read and 294.2 MB/s Write after enabling Intel Optane Memory!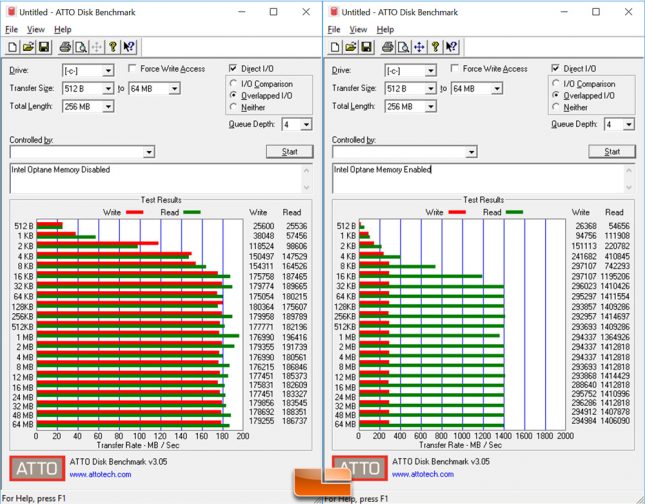 When it comes to ATTO Disk Benchmark results the WD Black 1TB hard drive topped out at 196 MB/s Read and 180 MB/s Write by itself and when paired with the Intel Optane Memory 32GB Module we were able to improve those numbers and were getting 1415 MB/s Read and 297 MB/s Write. This is an impressive 7.2x increase on the Sequential Read speeds and nearly doubling the Sequential Write speed! Adding in an Intel Optane Memory Module will give you instant improvements in most benchmark tests, but let's take a look at some other tests that can be run.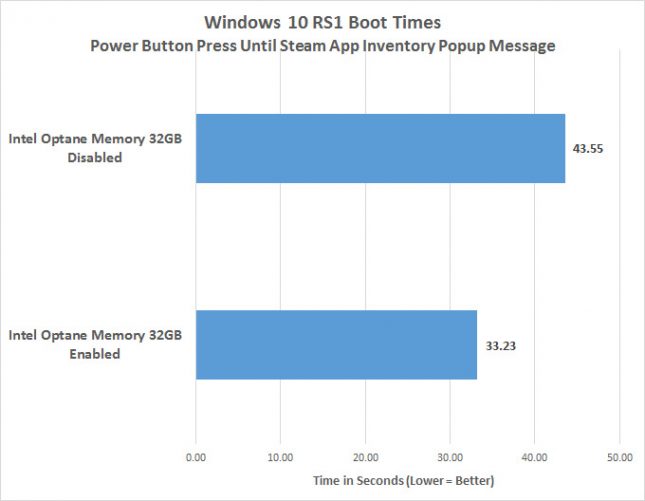 System boot time is a pretty common thing gamers and enthusiasts use to judge system performance, but very few custom built PCs are the same and big corporations hate to make performance claims regarding boot times. In fact, Intel has removed one of their previous claims specific to boot times due to the high level of variability with boot times based on the configurations and settings of PCs In general, Intel says that you can expect faster boot times with Intel Optane memory being used in a system, but is not quantifying this benefit. Since Intel isn't going to do it, we broke out our stop watch and timed our system from the point where we pressed the power button until the Steam App inventory popup message came up in the lower right hand corner of the screen. We averaged 10 system boots and found that we averaged 43.55 seconds with just the 1TB hard drive and then 33.23 seconds with the 1TB hard drive paired with the Intel Optane Memory 32GB module. This is a 10+ second increase in our boot times! Popping in the Intel Optane Memory Module and enabling it in the driver gave us a 23.7% improvement in our system boot time!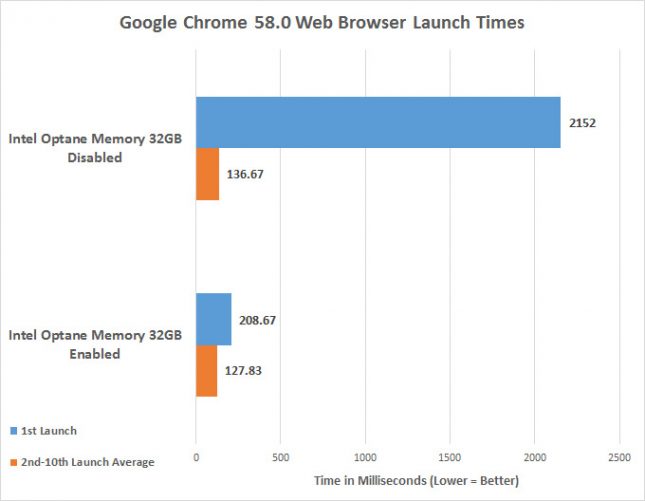 How about opening a web browser? We installed Google Chrome 58 and found that it took 2,251ms on average to open the first time on a freshly booted system and we were able to reduce that down to 209ms with Intel Optane Memory enabled. Going from over 2.2 seconds to just a hair over 0.2 seconds to open Google Chrome is something noticeable as it feels like the browser is launching lightning fast. We did notice that if you close the Chrome browser and open it again without rebooting the system or doing anything else was pretty much the same with our without Intel Optane Memory enabled.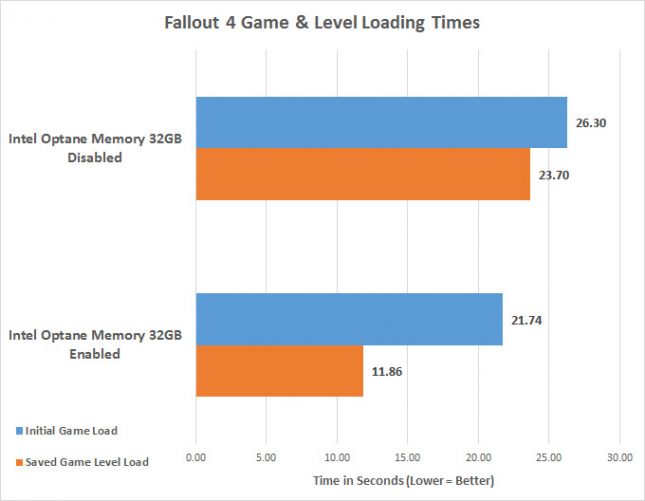 What about Intel Optane Memory any gaming? We took a quick look at Fallout 4 and used a stopwatch to time the launching of the game and the loading of a saved game level. After averaging 10 tests we found that with Intel Optane Memory enabled we were able to shave off nearly 5 seconds from launching the game and around 12 seconds from loading our game save. That is a 17% improvement when it comes to launching the game and an impressive 50% reduction in loading the saved game!