Intel Devil's Canyon Coming This Month – Intel Core i7-4790K and Core i5-4690K
By
Intel has been talking about Devil's Canyon for many months now and it appears that Devil's Canyon will be available to purchase sometime later this month. We were hoping to have a review of Devil's Canyon for you today, but Intel has yet to ship any samples to North American hardware review sites. We have been told samples will be shipping later this week, so hopefully we'll have a chip in hand very soon. For now we can just go over the presentation slides on what Intel announced at Computex Taipei this morning while all of us here in the United States were sleeping.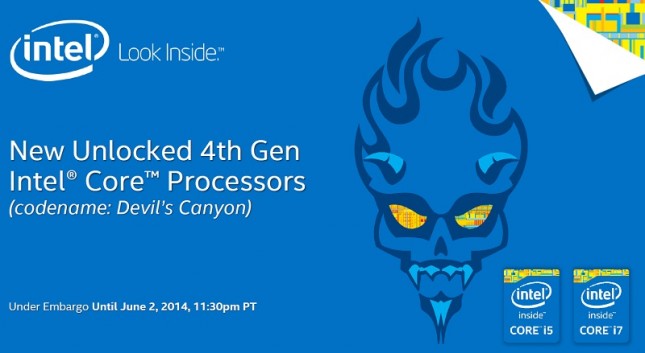 The new Intel 9 series motherboards were launched last month by Intel, but it was an unusual launch in the sense that there wasn't a new processor to go along with the new chipset. Intels 5th Generation Core Processors Broadwell won't be out till before the holidays, so what is there to do? Intel hopes to fill the gap with the Haswell Refresh processors and of course Devils Canyon. For starters, Devil's Canyon refers to just the new unlocked 4th Generation Intel Core 'Haswell' refresh processors. There are only two new unlocked processors and that would be the Intel Core i7-4790K and Core i5-4690K. No other processor is considered to be in the Devil's Canyon family.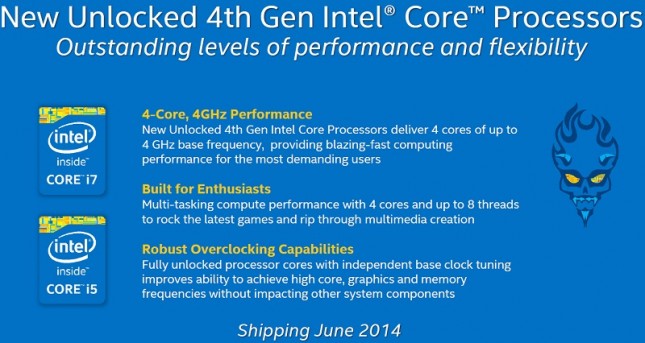 Intel VP Lisa Graff said Devils Canyon was development began in December, 2013 and they wanted a CPU that could run at 4GHz on all four cores. The result of that challenge was Devil's Canyon, a desktop processor that was aimed at enthusiasts!
Devil's Canyon will work on motherboards with Intel's LGA 1150 socket and you'll ideally want to use an Intel Z87 or Z97 chipset in order to changed the unlocked multiplier on one of these processors. Intel isn't sure all Z87 motherboards will be up to the task though as the board will need a BIOS/UEFI update before being able to use one of these processors. While Intel was able to use the same architecture and socket, there was some design changes that were needed. Additional capacitors were added to the back of the processor to smooth power deliver to the 22nm Haswell die and Next-Generation Polymer Thermal Interface Material (NGPTIM) is now being used on just the Intel Core i7-4790K and Core i5-4690K processors. Intel says that Thermal Interface Material (TIM) between the CPU core and heat spreader needed to be improved in order to keep the temperatures at the optimal levels as they didn't want to change CPU cooler specifications. There were early rumors that Intel was going back to soldered on lids for Devil's Canyon, but those rumors were false (Intel wouldn't confirm or deny the rumor, so that only made it worse). From what we have been told the Intel Core i7-4790K uses the same idle voltage as a Core i7-4770K, but when running in Turbo mode the 4790K does new more voltage in order to reach 4.4GHz. This is why the TDP (thermal design profile) has increased from 84 to 88 Watts on both the Intel Core i7-4790K and Core i5-4690K.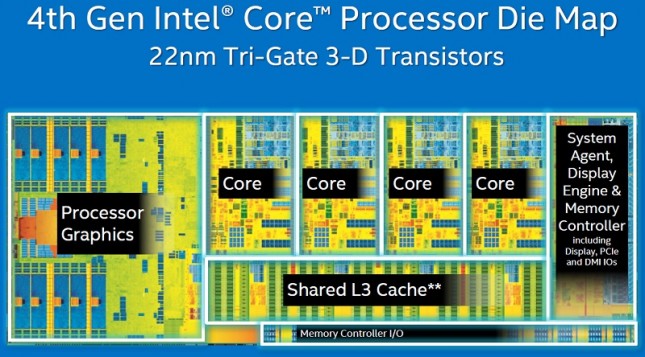 The 22nm Haswell die design on the Intel Core i7-4790K is essentially the same as the one used on the Core it-4770K as producing Devil's Canyon didn't require new silicon to be designed. Intel is relying on cherry picking highly culled silicon for Devil's Canyon and for the past 6 months they have been holding onto the best chips and have been saving them up for this launch. We have heard rumors that the initial processors that hit the retail market will be the best due to this fact, but we can't confirm that. Intel says that Devil's Canyon won't be a limited production run, but we aren't sure if the initial testing standards were higher than they are now or not.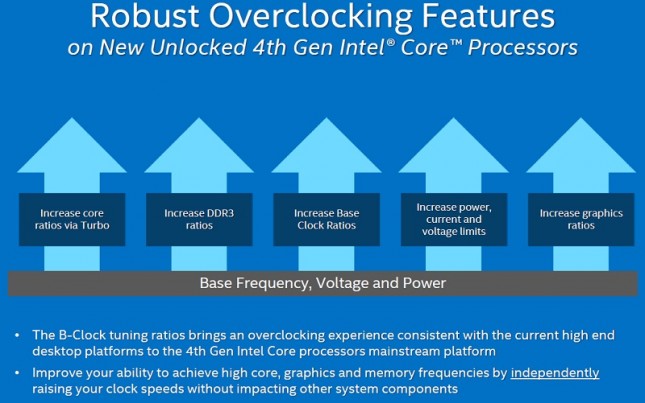 Intel talked about the robust overclocking features on the Core i7-4790K and Core i5-4690K, but all of the overclocking features are the same as we saw on the Core i7-4770K and Core i5-4670K.
The new Intel Core i7-4790K processor is a Quad-Core, 4 GHz processor with 8MB of cache and Hyper-Threading, that ramps up to 4.4GHz with Intel Turbo Boost technology. This is Intel's first true 4.0GHz desktop processor! Other Intel CPUs have been able to reach this frequency on one or several cores under Turbo Frequency conditions, but this new part will run that fast consistently and boast a turbo frequency up to 4.4GHz. The Core i7-4790K and Core i5-4690K processor both feature Intel HD 4600 Graphics, but the integrated graphics is running 50MHz faster on the Core i7-4790K.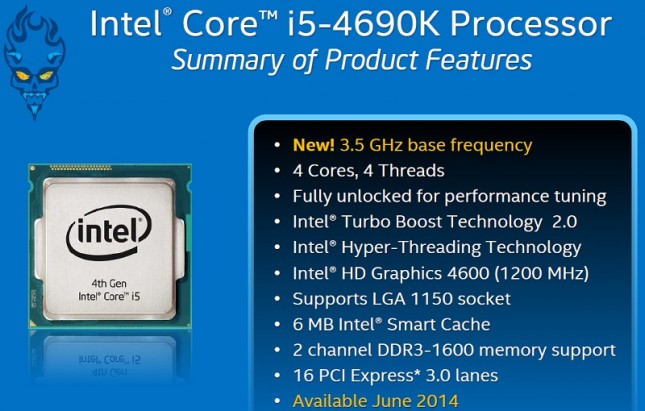 The Intel Core i5-4690K quad-core processor without Hyper-Threading (ignore the typo in the slide) will operate at a base clock speed of 3.5GHz with a turbo frequency up to 3.9GHz. It features 6MB of Intel Smart Cache and has Intel HD Graphics 4600 that runs up to 1200MHz.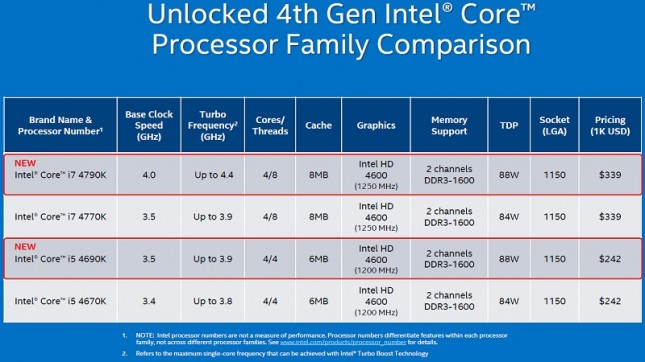 Intel expects the new Core i7 4790K processor to sell for $339 and the Core i5 4690K will be priced at $242 for quantities of 1000. This is the same suggested price for the Core i7-4770K and Core i5-4670K! The Intel Core i7-4690 that is locked down runs $309.99 shipped, so for an extra $30 you are getting an unlocked processor that was cherry picked with better TIM and higher clock speeds.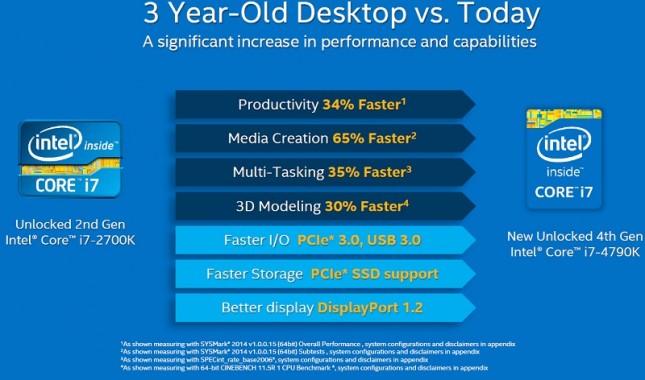 What does this mean in terms of performance? Intel says that the Core i7-4790K will be 30-65% faster than the Core i7-2700K 'Sandy Bridge' processor in a number of benchmarks. It also brings newer technologies like PCIe 3.0, SuperSpeed USB 3.0 and DisplayPort 1.2 to the table.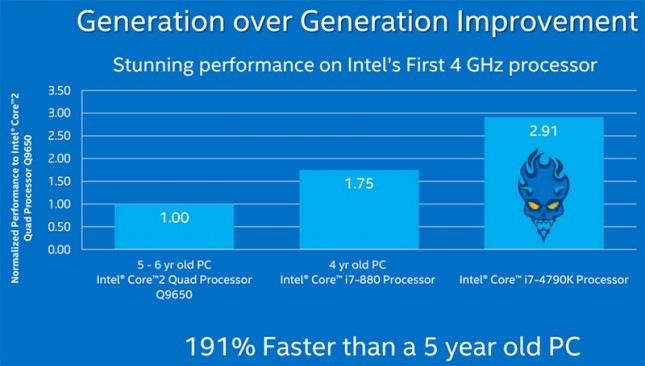 If you wanted to go back even farther, Intel compared the Core i7-4790K to a five year old Intel Core 2 Quad Processor Q9650 and found an impressive 191% performance gain on SPECint_rate_base2006.