Intel Core i9-10980XE Extreme Edition Processor Review
By
Intel Cascade Lake-X Allows Skylake To Live On
Today at a bright and early 2am CT Intel has decided to launch their new 10th Gen Core-X series Cascade Lake-X processors for enthusiasts and content creators. These are the chipzillas High-End DeskTop (HEDT) processors for those that want to run the fastest consumer processors by Intel. Cascade Lake-X is the successor to Skylake-X from 2017 and will likely be the last series released on the 14nm++ manufacturing process.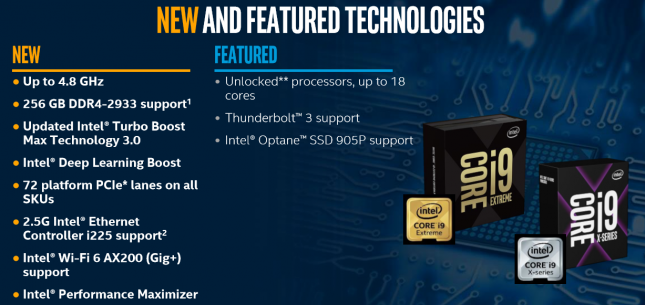 When it comes to new features and technologies there are some highlights that are worth noting. Intel has increased the Turbo Boost Max 3.0 clock frequency to 4.8GHz on Cascade Lake-X, which is 300 MHz higher than the 4.5GHz seen on Skylake-X. Intel also doubled the DDR4 memory capacity from 128GB to 256GB in anticipation of 32GB DDR4 memory modules. DDR4-2933 memory is the fastest frequency officially supported, which is slight bump up from DDR4-2666 on the last generation. DDR4-2933 also just happens to be the same frequency supported by the AMD Ryzen Threadripper 2000 series.
On Cascade Lake-X, Intel updated their Turbo Boost Max Technology 3.0 to work on not only 2-cores, but also on 4-cores. Intel Deep Learning Boost (AVX-512) is now supported for The number of PCIe lanes on all skus has been bumped up to 72 now thanks to the unlocking of 4 PCIe lanes on the CPU. Intel also didnt forget connectivity and have included 2.5G Intel Ethernet Controller i225 and Intel Wi-Fi 6 AX200 (Gig+) support.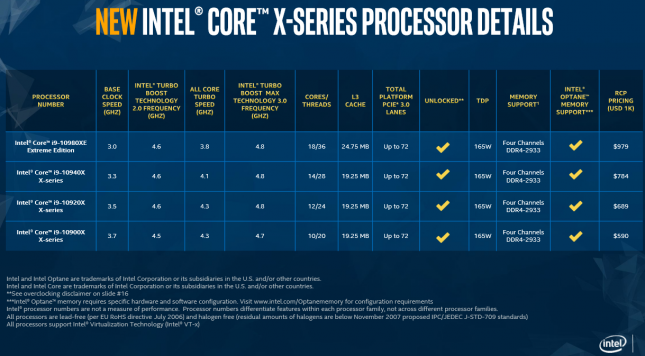 The flagship model for this series is the Intel Core i9-10980XE Extreme Edition CPU with 18-cores and 32-threads for $979. This chip has 24.75 MB of Intel Smart cache and is clocked at 3.0 GHz base clock, 4.6 GHz max turbo clock and has a 165W TDP. Intel has told the media that most buyers will be able to overclock this 18-core chip to hit 5.1 GHz on all cores with a simple AIO water cooler. Intel does not provide a 'stock' air cooler for this CPU and most will pair this chip with a liquid cooler.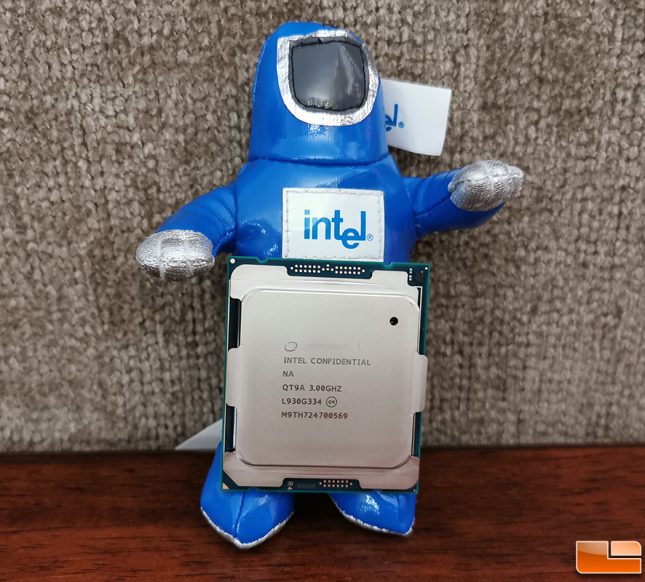 Here is a look at the actual Intel Core i9-10980XE processor that Intel sent over to review. As you can see it is marked Intel Confidential and came without any retail packaging.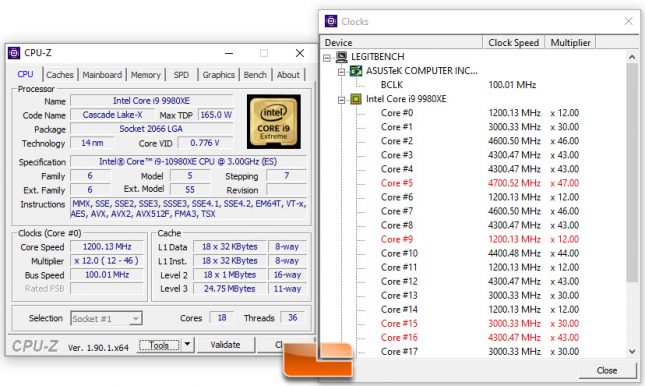 A quick look at CPU-Z shows the Intel Core i9-10980XE 'Cascade Lake-X' CPU with 18-physical cores. The four 'best' cores are shown in CPU-Z in red font when you open the clock tool.
On to the benchmarks!