Intel Core i7-4960X Ivy Bridge-E Processor Review
By
Intel Ivy Bridge-E Processors Arrive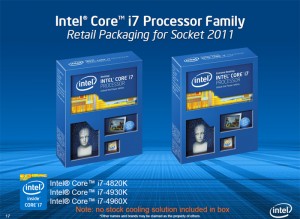 The Intel LGA 2011 socket and Intel X79 Express chipset came to market in November 2011 when Intel first introduced 6-core Sandy Bridge-E processors. This platform has been around for quite some time and early adopters might be itching to update to something a bit newer. Intel today is finally introducing Ivy Bridge-E processors for LGA 2011 platforms, which means that this will be a drop in CPU replacement (after a BIOS flash) on some of the Intel X79 Chipset motherboard that have been sold over the years. Many companies like ASUS will also be doing an 'X79 Refresh' and coming out with a number of boards that have updated components for those looking for something more than just a drop-in processor replacement.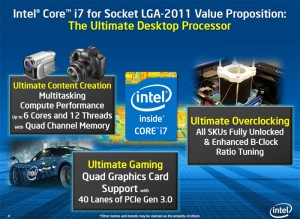 The Ivy Bridge-E processor series features up to 6-cores using the Ivy Bridge architecture and they are manufactured on the smaller 22nm process, whereas the Sandy Bridge-E processors used the 32nm process. The top SKUs that we will cover in a second have six physical cores and 12 total threads due to HyperThreading, which is a key selling point for those running heavily threaded apps. Intel also improved upon the chips quad channel, so the new Internal Memory Controller (IMC) officially supports 1866MHz memory modules, up from the official 1600MHz support that came with Sandy Bridge-E processors. Intel considers the new Ivy Bridge-E processors to be the ultimate desktop processor that the company has to offer.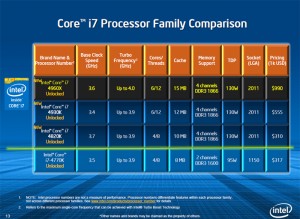 Intel will be launching three Ivy Bridge-E processors for the LGA2011 platform. You have the Intel Core i7-4960X at $990, the Intel Core i7-4930K at $555 and the Intel Core i7-4820K at $310. The Intel Core i7-4960X has 6-cores/12-threads with a base clock of 3.6GHz with a turbo frequency of up to 4GHz. The Core i7-4960X has the largest L3 shared cache of any of the new processors at 15MB and has a Max TDP of 130W.
Next up you have the more affordable Intel Core i7 4930K processor, which has the same number of cores and threads, but with a base clock speed of 3.4GHz and a turbo clock of up to 3.9GHz. It should be noted that the L3 cache has been reduced to 12MB from 15MB, so you get 20% less cache. For $555 this should be a popular processor as you can easily overclock it to make up for the clock speed shortcomings, so the only really loss would be the L3 shared cache reduction.
On the bottom of the product stack is the Intel Core i7 4820K, which is a bit different in a numbers of areas and costs just $310. This is a quad-core processor, so you have 4-cores and 8-threads. The base clock is oddly the fastest of the bunch at 3.7GHz, but the turbo mode only goes up to 3.9GHz. Intel further reduced the cache, so now you are down to just 10MB of L3 cache. This is the lowest cost of the bunch and is aimed for enthusiasts that want to step up to the X79 platform and have 40 PCI Express Gen 3.0 lanes and quad-channel DDR3 memory support.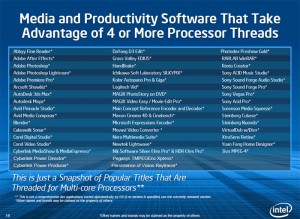 As you should know by now, not all apps take advantage of 6 cores and 12 threads, but the number of apps that take advantage of 4 or more threads is slowly increasing as time goes on.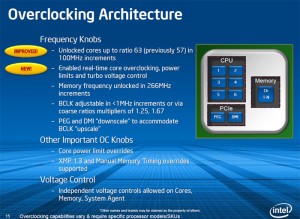 When it comes to overclocking, the LGA2011 platform has always been overclocking friendly and we expect that to hold true on the with the new Ivy Bridge-E CPU lineup. We've been told that 4.5GHz should be easy to reach with performance 3rd party CPU coolers. Both K and X SKUs of the Ivy Bridge-E lineup are fully unlocked and have enhanced B-Clock (BCLK) and ratio tuning. Before the multiplier ratio went up to x57, but now it will go all the way up to x63. Intel also enabled real-time core overclocking, power limits and turbo voltage control.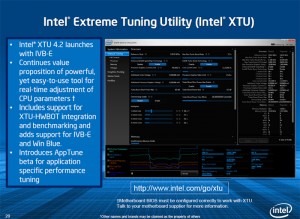 The Intel Extreme Tuning Utility (XTU) is also being updated with the launch of Ivy Bridge-E. Intel XTU 4.2 is now the latest build of this overclocking utility and it has HWBOT integration and support for Ivy Bridge-E and Windows Blue. You can now share your results on Facebook and Twitter with this latest build, so Intel is jumping on the social media bandwagon when it comes to bragging about your overclocking performance or possibly asking friends for overclocking tips or help.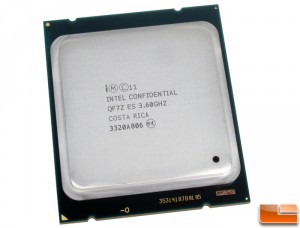 Intel sent us the Intel Core i7-4960X Ivy Bridge-E processor for testing, so that is the processor we'll be looking at today. We'll be comparing it to the Intel Core i7-3960X Sandy Bridge-E processor on the ASUS X79 Deluxe motherboard from 2011 with a pair of NVIDIA GeForce GTX Titan video cards running in SLI!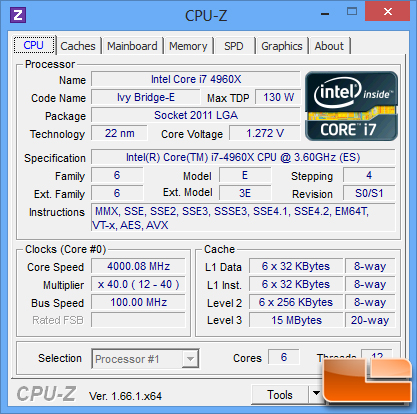 Let's move along and take a closer look at our test system and then get to the benchmarks.