Intel Core i7-4770K Haswell 3.5GHz Quad-Core CPU Review
By
Intel Core i7-4770K CPU – The Tock!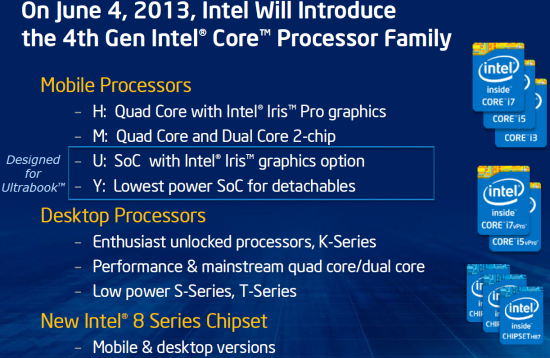 Today Intel officially announced their 4th Generation Intel Core Processor architecture code-named "Haswell." This is the "tock" in Intel's roadmap that many enthusiasts have been waiting over a year for. While the Intel Haswell processors remain on the tried and test 22nm process, they require a motherboard with the Z87 chipset and LGA 1150 socket. The good news is that no changes were done to the HSF mounting holes, so all existing Intel CPU coolers should still work.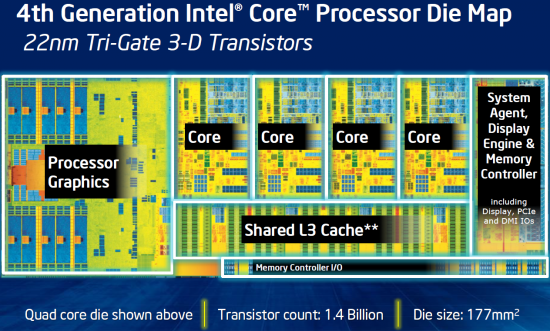 The 4th Generation Intel Core processors are primarily quad-core processors with a transistor count of 1.4 billion and a die size of 177mm2. It also has integrated processor graphics, shared L3 cache, dual-channel DDR3 support up to 1600MHz and all the other usual goodies.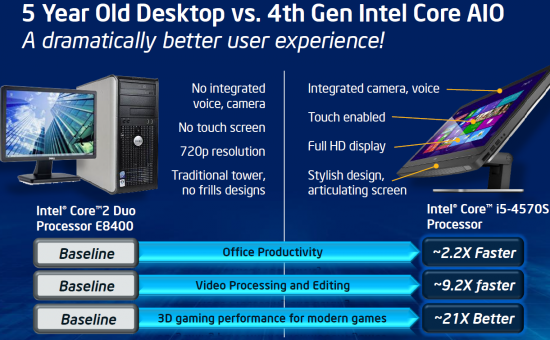 Intel has big hopes for 4th Generation "Haswell" processors and hopes to get people with older desktop systems to upgrade to newer desktop or All-In-One PC. Intel compared a new Core i5-4570S "Haswell" processor to an old Intel Core 2 Duo E8400 "Wolfdale" processor and shows that it is 21x better in games, 9x faster at video processing and more than twice as fast for office productivity. So, if you have an older system they hope that a modern 2013 system will have enough features to get you ordering a new system.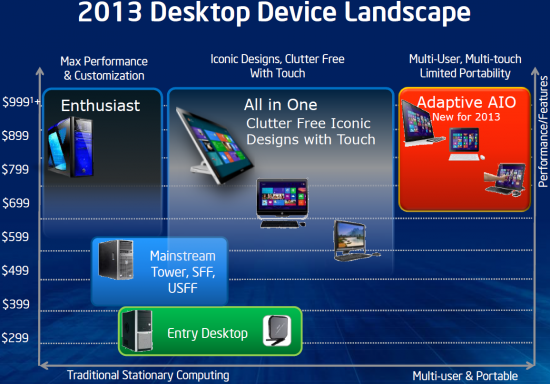 When it comes to the 2013 desktop device landscape the enthusiast desktop PC makes up a small part of the high-end market with All-in-One (AIO) touch screen systems and new convertible hybrid solutions filling up the majority of the $700 and up market. Intel recently announced that they were going to stop producing consumer desktop motherboards and this slide does a great job as showing why. Intel feels the future is with new form factors were BGA processors rule the roost. The good news is that LGA processors are still around and plenty of other companies make desktop motherboards!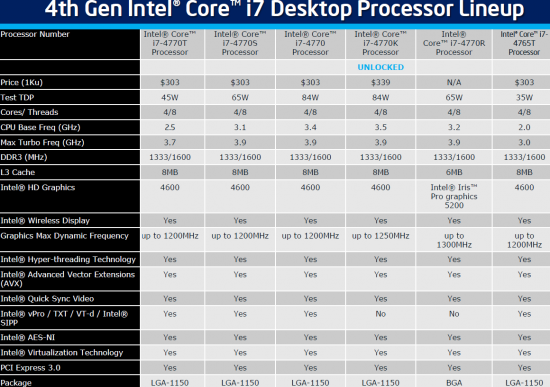 Intel has a a ton of desktop and mobile processors based on the Haswell core architecture, so we'll quickly going over the desktop models as that is the focus of this review. Intel will only be releasing Core i7 and Core i5 Haswell processors for the time being. Intel Core i3 Haswell models might be coming down the road, but not right now. The new Core i7 desktop processors include the Core i7-4770K, i7-4770R, i7-4770T, i7-4770S, i7-4770 and i7-4765T. The Intel Core i7-4770K processor is the flagship LGA1150 offering and on the embedded side the Intel Core i7-4770R will be the top dog. Intel 'K' SKU processors will be offered with an unlocked multiplier and aimed at enthusiasts that want more control over their processors. All the new 'R' SKU processors are for the embedded BGA market (think thin mini-ITX or Intel NUC) and feature Intel Iris Pro graphics. Only embedded 'R' series processors will have Intel HD Iris or Iris Pro graphics, so socketed desktop users do not have the ability to buy a high-end processor with the best graphics available right now. his is a bit of a let down to us, but it is something Intel might address by the end of the year with a new part.The Intel HD 4600 graphics is still a nice improvement over the last generation graphics, so there will be a graphics boost across the board with Haswell.
The 4th Generation Core i7 'T' and 'S' series are aimed at low power LGA-1150 solutions where users would like a 45W or 65W quad-core processor. In order to drop the TDP that much the clock speeds had to be lowered, so the performance goes down and the power savings increase.
When it comes to tray pricing, this is how it breaks down:
Intel Core i7-4770K – $339
Intel Core i7-4770 – $303
Intel Core i7-4770S – $303
Intel Core i7-4770T – 303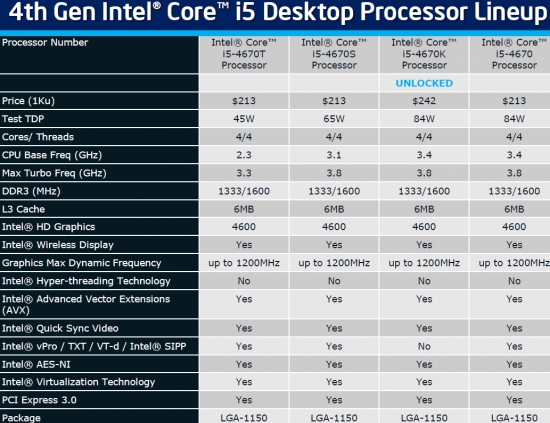 Intel also has seven 4th Generation Core i5 processors that range in price from $192 to $242. The Intel Core i5-4670K 3.4GHz quad-core processor is an interesting part as it is a full fledged "K" series with the unlocked multiplier that overclockers desire. None of the Intel Core i5 quad-core processors feature Intel Hyper-threading technology like the Core i7 processors and have a reduced L3 cache size. The official memory support remains the same at 1333 / 1600Mhz and you still get Intel HD 4600 series graphics, albeit with a sometimes lower Max Dynamic frequency (1150MHz – 1200MHz). The max TDP ranges between 35 Watts to 84 Watts, so no matter what Intel Haswell processor you go with 84W is the max TDP of any LGA1150 processor. This is great news as the HSF mounting system has not changed between LGA1155 and LGA1150, so all platform correct CPU coolers should be able to handle any of these new processors. It's bad enough that you have to buy a new board to be able to run Haswell, but at least you aren't forced to upgrade your CPU cooler if you have one for the last generation platform.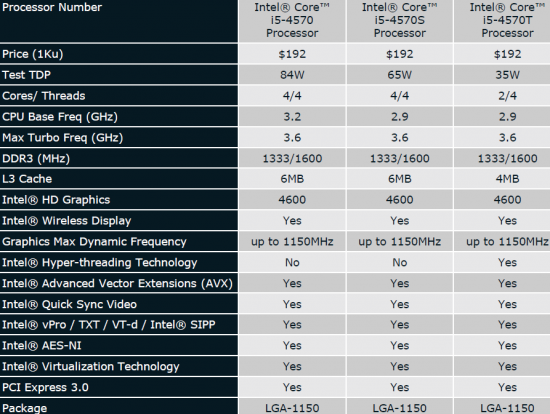 The last processor slide we are going to cover is of the three Intel Core i5-4570 processors offered by Intel. They are each priced at $192 and you get to pick the one that is right for you. The low power/silent PC crowd will like the Core i5-4570T with it's dual-core 2.9GHz processor with Hyper-threading and super low 35W TDP. From there you step up to the Intel Core i5-4570S 2.9GHz quad-core processor that is 65W TDP and then to the Core i5-4570 3.2GHz quad-core processor at 84W TDP. All of the Core i5-4570 processors feature Intel HD 4600 graphics with a max dynamic frequency of up to 1150MHz, so there is no graphics performance difference. Intel is really giving system builders and consumers a wide range of options so they can select the right processor for the power target they are wanting to hit.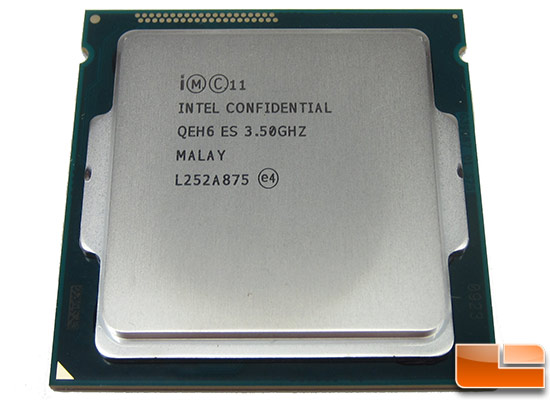 We were sent an Intel Core i7-4770K processor for testing. The chip we have is an Intel Engineering Sample processor with batch a number of L252A875. You can also see the S-Spec number QEH6 on the integrated heat spreader (IHS) and that it was made in the country of Malaysia. The Core i7-4770K is a quad-core CPU with a base clock of 3.5GHz and Turbo clock of 3.9GHz. It features Intel HD 4600 series on-die graphics, and since it is a K-SKU, it is fully unlocked!
Now that we know the basics, let's head into some of the changes in Haswell and then get to benchmarking the Intel Core i7-4770K processor that we were sent!