Intel Atom Processor Z3770 Bay Trail First Look and Performance Testing
By
Benchmarking Bay Trail By Legit Reviews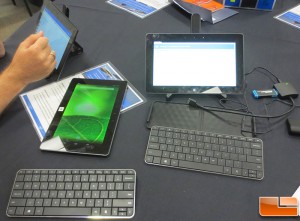 To test out the Intel Bay Trail processor, we were given early access to the Intel Bay Trail Tablet Reference Design. This tablet will never see the light of day since it is a reference design that is never coming to market, but we spent some time with it and tried it out on both Android 4.2.2 and Windows 8.1. The Windows 8.1 systems are fairly optimized and nearly ready to go, but the Android versions still needed some software optimizations and was considered to be using pre-beta software drivers. That means we were experiencing a numbers of bugs like crackling audio, flickering screens, the inability to run anything using WebGL JavaScript.
Intel Bay Trail Tablet Reference Design Specs:
CPU: Intel Atom Processor Z3770
Frequency: Up to 2.4GHz
Memory: 2GB LPDDR3-1067
Display: 2560×1440
OS: Android 4.2.2 and Windows 8.1
We were very happy to be given a chance to use and benchmark the reference design, but we aren't exactly sure what to do with the performance numbers that we were getting. This tablet and the software that is on them will never make it into the hands of consumers and we've never tested any other tablet running Windows 8.1. That makes comparisons rather pointless, but it does give you a general idea of the overall performance at this still early stage.
We are comparing the Intel Bay Trail reference system to both versions of the very popular popular Google Nexus 7 by ASUS. This means that we were putting the Intel Atom Processor Z3770 w/ Intel HD Graphics up against a quad-core Qualcomm Snapdragon S4 Pro APQ80641AA SoC (1.5 GHz quad-core Krait 300 and an Adreno 320 GPU) on the Nexus 7 (2013). Both systems have 2GB of RAM and feature high-end quad-core processors, so this should be interesting.
We highly suggest running some of these apps on your tablet or smartphone as well to give you an idea of how Intel Bay Trail performs against what you are using today.
Android Testing:
Intel Bay Trail (2013)
Nexus 7 (2013)
Nexus 7 (2012)
Quadrant 2.1.1
21,315
5,241
3,525
Vellamo 2.0 Metal

1,112
743
404
AnTuTu v4.0.1
36,054
20,863
12,270
CF-Bench 1.3

27,753
15,364
11,657
SunSpider 1.0 (ms)
531.6
1083
1468
Browsermark 2.0

2960
2356
2135
MobileXPRT 2013

241
157
119
GFXBench 2.7.2 T-Rex Offscreen

16
15
3.2
GFXBench 2.7.2 T-Rex Onscreen

11
15
5.4
GFXBench 2.7.2 Egypt Offscreen

41
40
9.7
GFXBench 2.7.2 Egypt Onscreen

30
39
14
3DMark Ice Storm Extreme

8,409
7,300
3,523
BasemarkX Offscreen

10.419
7.893
6.153
BasemarkX Onscreen

6.366
8.252
3.086

SunSpider: lower scores are better. Higher is better on all other benchmarks.

The Google Nexus 7 (2013) is a fast tablet that has solid performance and offers a good user experience, but we found the Intel Bay Trail reference tablet to be very impressive. We weren't that impressed with Clover Trail and its poor performance, but Bay Trail is the real deal. Intel has finally come up with a tablet processor that is competitive with others that are on the market today! The CPU scores are off the chart in popular benchmarks like AnTuTu, Quadrant, Vellamo 2.0 Metal and CF-Bench. The web browsing was also impressive as the SunSpider and Browsermark scores were significantly faster!
Windows Testing:
We actually don't have any Windows tablets available right now to compare the Bay Trail reference design to, so here are some quick tests that we ran.
Sisoftware Sandra:
Sandra Memory 8.83GB/s Aggregate
Sandra Arithmatic 17.82GOPS Aggregate Native Performance
Sandra Multi-Media 35.9Mpix/s
Sandra Cryptographic Bandwidth 566mb/s
Cinebench 11.5:
5.93 FPS (OpenGL)
1.45 (CPU)
0.39 (Single-CPU)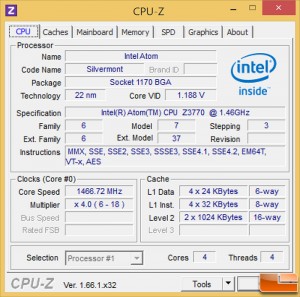 The latest build of CPU-Z wasn't exactly working correctly, but showed a nominal speed of 1.47GHz on our Intel Atom Z3770 processor.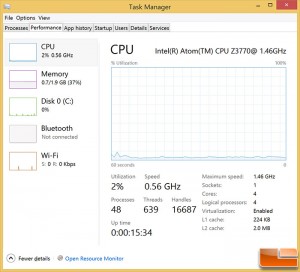 In an idle state the Intel Atom Z3770 processor would idle around 560 MHz.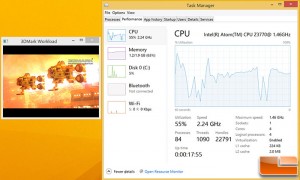 In most load scenarios we were hitting 2.24 GHz on the quad-core CPU.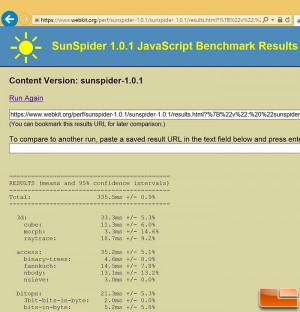 Using IE 11 we were able to get an impressive SunSpider 1.0.1 score of just 335.5ms!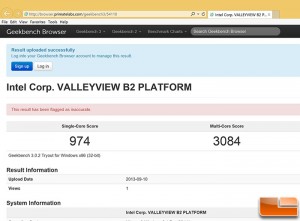 Geekbench scores were 974 for the single-core test and 3084 for the multi-core test. This is impressive as it scores nearly identical to the NVIDIA Shield did (both in single core and multi core tests). The NVIDIA SHIELD uses an NVIDIA Tegra 4 SoC and scores around 960 in the single-core test and 3000 in the multi-core test!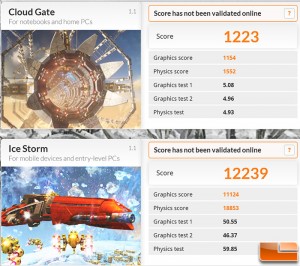 3DMark testing showed an overall score of 12,239 in the IceStorm test and 1,223 in the Cloud Gate test.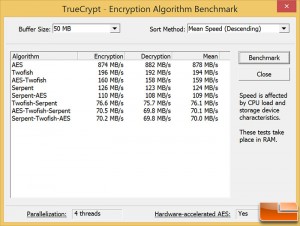 TrueCrypt had the AES encryption algorithm test at 878 MB/s.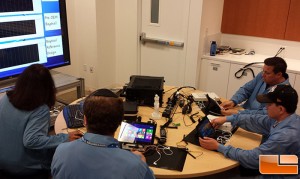 We didn't have time for battery testing in our time with Bay Trail, but Intel has several tablets pulled apart and connected to advanced power monitoring hardware and software. This means that Intel was able to measure the power use of the whole tablet and even just the SOC. They had a several tablets available Bay Trail, Bay Trail pre-production and Clover Trail. They showed us a number of benchmarks and workloads, but the one that stood out to us was when they ran SunSpider. The Bay Trail platform SoC pulled about 1.4 watts (CPU + GPU) while the Clover Trail SoC was slightly lower at 1.25 watts (CPU + GPU). Not bad, but remember the Bay Trail tablet is faster! Like it finished in just over 300ms and the Clover Trail finished in over 700ms. Not only are we seeing humongus performance gains on the GPU and CPU, but Intel has significantly lowered the power as well. It looks like Bay Trail will be competitive there as well!
Final Thoughts and Conclusions:
After looking at early pre-production hardware, it looks like Intel is on the right track and might have a market disruptor on their hands. That is a pretty big deal as this is the first time Intel will have something available on the mobile market that looks good. Intel's Clover Trail and the Clover Trail+ refresh that happened earlier this year were nothing to write home about and most of the competing processors and platforms were able to make short work of them.
We expect Intel to get more tablet design wins than ever with Bay Trail and it should get the attention of companies like ARM, Qualcomm and NVIDIA as Intel is finally in the same league thanks to what we have seen with the quad-core Intel Atom Processor Z3770! Keep an eye out for Bay Trail this holiday as we expect there to be dozens of products on the market that are powered by this SOC!
We are excited about the devices that will be built around this SOC and can't wait to see what the final hardware and software will run. If they further optimize things and iron out the few bugs we found, Intel will have a winner!