Intel Atom Processor Z3770 Bay Trail First Look and Performance Testing
By
Intel Bay Trail Performance Details
Intel isn't holding back any punches and straight away claims to be outperforming the best ARM SOCs on the market today. The slide above shows Intel beating the Qualcomm Snapdragon 800 and NVIDIA Tegra 4 SOCs by a fairly significant margin in SPECint_base2000.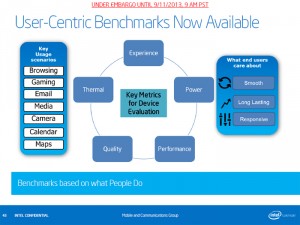 Intel says that user-centric benchmarks are now available to better test mobile devices.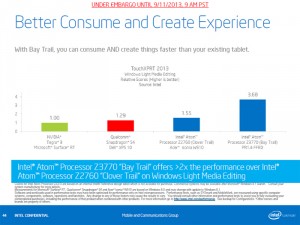 The benchmark that Intel says is ideal for mobile devices is TouchXPRT 2013 by Principled Technologies. Of course that benchmark shows Intel leading the way with not only Bay Trail, but Clover Trail.
TouchXPRT 2013 is a benchmark for evaluating the capabilities of your Windows 8 and Windows RT devices. TouchXPRT runs tests based on five user scenarios (beautify photo album, prepare photos for sharing, convert videos for sharing, export podcast to MP3, and create slideshow from photos) and produces results for each of the five test scenarios plus an overall score.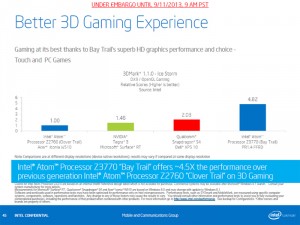 Intel's own benchmarking shows that the 3D gaming performance on Bay Trail (Intel Atom Processor Z3770) was about 5x greater than that of the Clover Trail system (Intel Atom Processor Z2760)!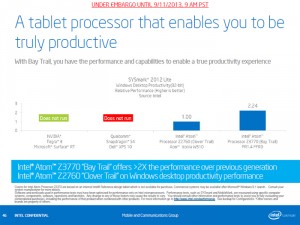 Of course Intel also shows that they can run on BAPCo's SYSmark 2012 Lite benchmark , which is something the other SOCs can't do.
That is all fine and dandy, but what about our testing?