Intel Atom Processor Z3770 Bay Trail First Look and Performance Testing
By
Intel Bay Trail Processor – Overview of The New Atom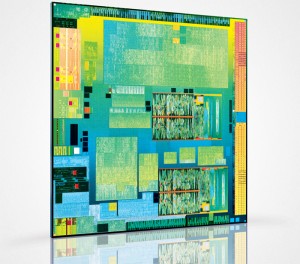 Today Intel introduced the world to "Bay Trail," Intel's first 22nm system-on-a-chip (SoC) for mobile devices. Bay Trail is a complete redesign of the Intel Atom processor series and offers performance that comes closer to Intel's mainstream processors lines. Since Bay Trail is based on the company's new low-power, high-performance Silvermont microarchitecture, you can expect to see roughly two to three times the performance of the current "Clover Trail" Atom with better battery life! Intel hasn't had too many design wins in the tablet market with Clover Trail, but Intel is starting fresh and has high hopes to Bay Trail to capture a significant chunk of the Android and Windows tablet designs and even a fair number of 2 in 1 devices.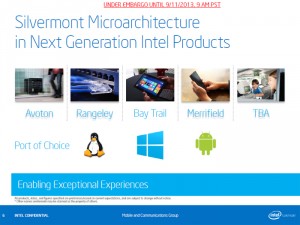 The new processors will be known in the consumer market as the Intel Atom Z3000 series. Many might be wondering why Intel kept the Atom branding, but that is what they decided to do.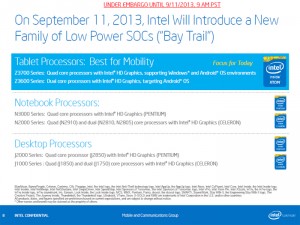 The Intel Atom Z3000 series would be split into two product lines, the Atom Z3700 series and the Atom Z3600 series. The flagship parts will be Intel Atom Z3700 processors, which are Quad Core SoCs that target both towards Windows and Android Operating Systems. The Intel Atom Z3600 processors are all dual-core SOCs that are aimed at just the Android OS.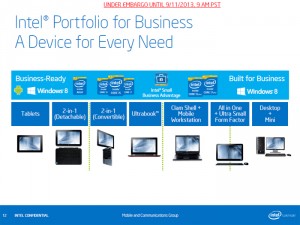 With the new Intel Atom Z3000 added to the existing processors lineup, Intel believes they have a CPU for every usage scenario.
Intel will be launching six Atom Z3000 series 'Bay Trail' processors:
| | | | | | | |
| --- | --- | --- | --- | --- | --- | --- |
| | Atom Z3770 | Atom Z3770D | Atom Z3740 | Atom Z3740D | Atom Z3680 | Atom Z3680D |
| Process | 22nm | 22nm | 22nm | 22nm | 22nm | 22nm |
| Cores | 4 | 4 | 4 | 4 | 2 | 2 |
| L2 Cache | 2 MB | 2MB | 2MB | 2MB | 1MB | 1MB |
| Frequency | 2.4 GHz | 2.4 GHz | 1.8 GHz | 1.8 GHz | 2.0 GHz | 2.0 GHz |
| Memory Technology | LPDDR3-1067 DC | DDR3L 1333 | LPDDR3 1067 | DDR3L 1333 | LPDDR3 1067 | DDR3L 1333 |
| Memory Bandwidth | 17.1 GB/s | 10.6 GB/s | 17.1 GB/s | 10.6 GB/s | 8.5 GB/s | 10.6 GB/s |
| Memory Capacity | 4 GB | 2 GB | 4 GB | 2 GB | 1 GB | 2 GB |
| Display Resolution | 25601600 | 19001200 | 25601600 | 19001200 | 1200800 | 19001200 |
The processors differ by more than just cores, cache and frequency though as now you have to note the memory capacity, max display resolution and the type of memory that each device uses.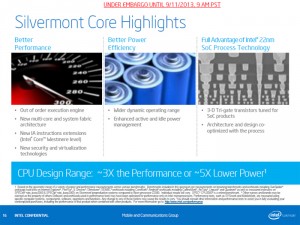 The Silvermont core uses an out of order execution engine, a new multi-and system fabric architecture featuring new IA instructions on the level with Intels Westmere Core series and new security and visualization technologies. On the power side, the Silvermont would be highly efficient featuring wider dynamic operating range and enhanced active and idle power management.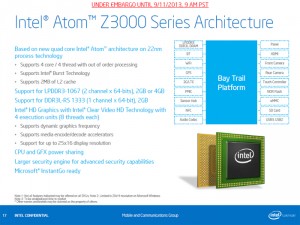 The Intel Atom Z3000 series architecture is completely different, but that is why Intel feels Bay Trail processors are going to be very competitive with the SoCs from Apple, Qualcomm, NVIDIA, and Samsung. The Atom Z3000 Series architecture features support for LPDDR3-1067 dual-channel and and DDR3L-RS 1333MHz single-channel memory configurations. the Intel Intel HD Graphics with Intel Clear Video HD Technology with 4 Execution Units or EUs with 8 threads each. The graphics processor would feature dynamic frequency mode adjusting the clock speeds from a low clock speed up to 667MHz depending on the usage scenario. The max supported resolution will be up to 25601600, which is plenty for a tablet right now.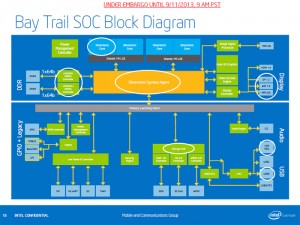 Here is a quick look at the Bay Trail SoC Block Diagram for those that are curious. Connectivity is very good with support for Bluetooth, WiFi, GPS, 3G/LTE, PMIC, Sensor Hub, NFC, Audio Codec, Panel, HDMI, Front Camera, Rear Camera, Touch Controller, NDR Flash, eMMC, SD Card and USB 3.0/2.0.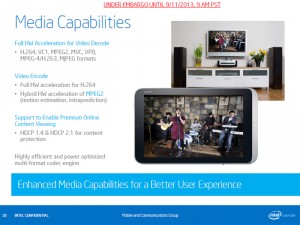 The media capabilities of the new Intel Bay Trail SOCs are pretty robust with full HW acceleration and support H.264, VC1, MPEG2, MVC, VP8, MPEF-4/H.263, MJPEG formats. It also has HDCP 1.4 and HDCP 2.1 support for online content that uses High-bandwidth Digital Content Protection (HDCP).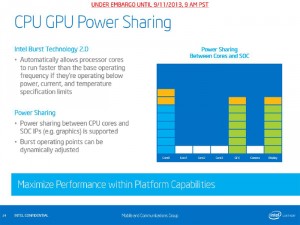 Intel is very happy with the power efficiency of Bay Trail and has put a ton of time and effort into making sure the power and clock management is done correctly for this mobile platform. Bay Trail uses Intel Burst Technology 2.0 which is similar to their Intel Turbo Boost 2.0. This solution allows processor cores to automatically run faster than their base frequency if they are running below their power, current and temperature limits. You can also power share between the CPU and GPU cores on the fly, which is very impressive.
To better show this we made a quick animated gif that can be seen above. This better shows you how power sharing works and that it goes beyond just the CPU and GPU cores now the camera and display are in the equation.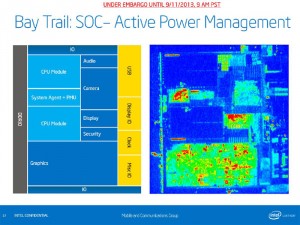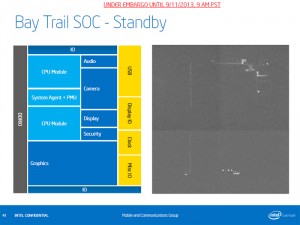 Intel also has greatly improved the active and standby power management with the new 22nm SoC design, so better "all-day" battery life can be expected. Intel was not ready to talk about Max TDP numbers just yet, but they say it is looking good.