Inateck FD2102 USB 3.0 Docking Station Review With Offline Clone Function
By
Inatek FD2102 – Drive Cloning Performance
One of the key selling points of this docking station is the fact that you can clone two storage drives offline with no drivers needed. You just pop in two drives that are 8TB or smaller (no 10TB hard drive support) and you should be able to duplicate the drive without any software. There are tons of software programs that will do this for you, but those require software and the use of open storage drive ports inside your PC or with an external USB docking station.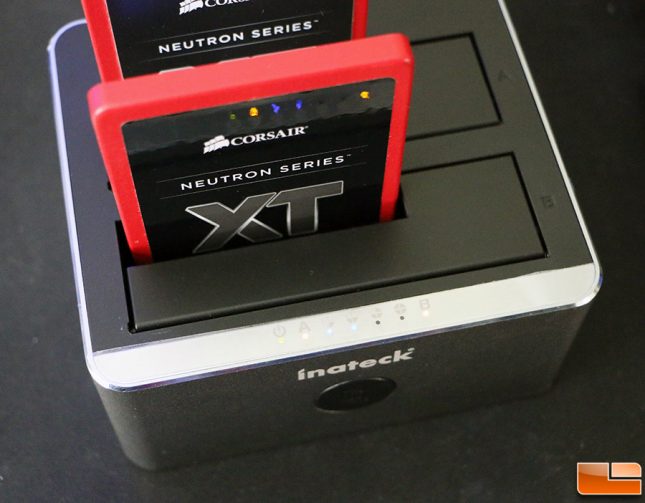 We had a pair of matching Corsair Neutron XT 240GB drives that we secure erased and installed a fresh copy of Windows 10 Pro 64-bit Anniversary Edition with all the system drivers and Windows updates on one of them. We wanted to clone the clean install to the other drive to have a 'backup' of the clean install. We first used the free Corsair cloning utility to clone the drives using the Inateck FD2012 to hold the empty drive that was to have the image cloned to it.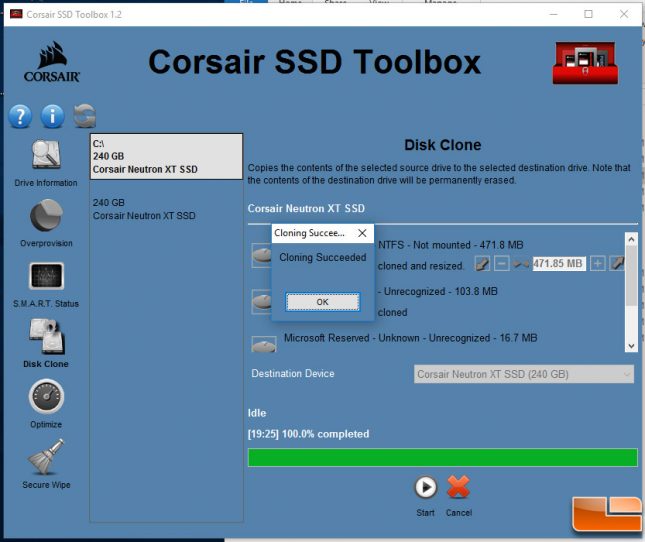 The process took 19 minutes and 25 seconds to complete and we ended up with a fully functional backup of the original C: drive. We ran a secure wipe on the drive copy that we just made and shut down the system. We then placed the C: into the Inateck FD2012 docking station slot A and the empty drive in slot B and ran the clone mode. In just 7 minutes and 15 seconds we were able to clone the drive, so we nearly saw a 3x improvement in the time it took to clone the drive by doing it in offline. Keep in mind that this drive had just Windows 10 Pro v1607 installed and nothing else, so a full drive will take much longer to clone. Cloning from a hard drive to another hard drive or an SSD will also take longer.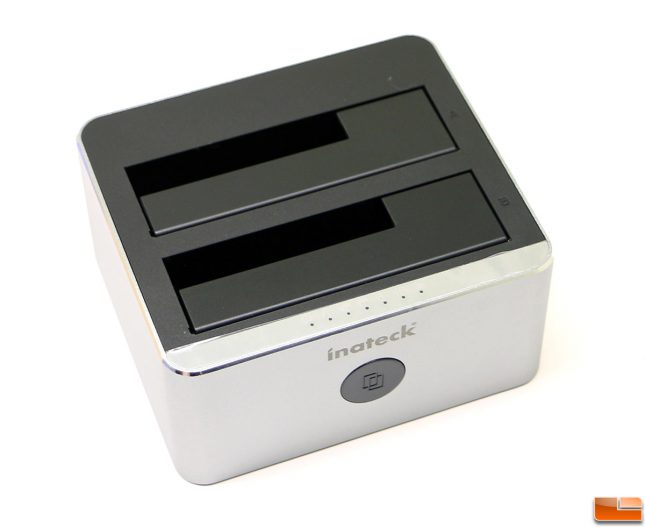 Final Thoughts and Conclusions:
The Inateck FD2102 worked as advertised and the offline cloning mode is a nice touch. If you have an older docking station that is going out or are looking for your very first, the FD2102 shouldn't disappoint. It looks good and has respectable speeds thanks to using the newest ASMedia controller available. Our performance tests showed that our sequential performance topped out at 440 MB/s read and 389 MB/s write. These are respectable performance numbers and will give you quick access to the data you need to get to.
When it comes to pricing the Inateck FD2102 USB 3.0 to SATA Dual-Bay Docking Station runs $40.99 shipped on Amazon and that is pretty fair for a dual-drive docking station. You are generally looking at $35 to $50 for dual-drive docking stations from Anker, Sabrent, Inateck or StarTech.com. In fact, Unitek appears to have the same exact enclosure in white for $39.99 shipped. From what we can tell it looks like might be a design from an OEM and then it is being re-branded by multiple companies as no one has exclusive rights to it.
Update 10/16/2016: The Inateck FD2102 is not priced at $39.99, so it is the same price as the dock that appears to be identical under a different brand name.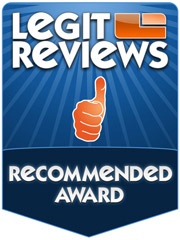 Legit Bottom Line: If you are looking for a new docking station you might as well get one with offline cloning abilities and the Inateck FD2012 is solid.