Inateck FD2102 USB 3.0 Docking Station Review With Offline Clone Function
By
Offline Clone Function Comes To Dual-Drive Docking Stations
If you have ever needed to clone or copy a hard drive you know that can be a daunting task if you don't have the correct software. The folks over at Inateck have developed a USB 3.0 to SATA Dual-Bay storage drive docking station that also features an offline clone function by simply pressing a button. That means no PC is required. You just insert the drive you want to clone in slot A and a blank drive without partitions into slot B and press the "Copy" button for several seconds until the LED will start flashing and the cloning process will begin. Cloning a hard drive (HDD) or Solid-State Drive (SSD) without a PC has never been so simple! The best part about the Inateck FD2102 is the price, $39.99 shipped, as that is basically the same price as most data backup and management software utilities. For example our go to backup software for cloning is Aconis True Image 2017 and a copy for one PC runs $49.99.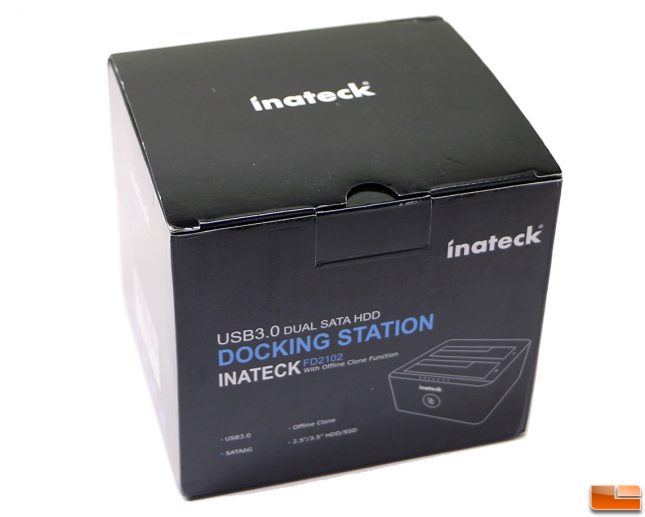 Inateck FD2102 Aluminum Dual Bay HDD Docking Station Features:
USB 3.0 external, SATA-III internal, especially made for 2.5 inch and 3.5 inch SATA HDD/SSD, USB 3.0 SuperSpeed & supports UASP, even faster data transfer.
Aluminum-alloy body offers an effective heat dissipation besides its ultra-light portability and exquisite craftmanship.
Support two 8TB hard drives; Support offline clone, no drivers needed, easy installation; Completely new cloning technology, computer-independent duplicating/cloning without computer support possible, high efficiency.
Stable and reliable DC power source: The power supply is highly efficient (12V, 3000mA), so that a stable energy supply is guaranteed; Entering sleep mode without operation in 30 minutes.
laptops hard drive to a solid state drive and I used this Inateck docking station to copy over my files without a hitch. All I had to do was place the hard drive into the bay (it supports both 2.5 and 3.5 inch drives).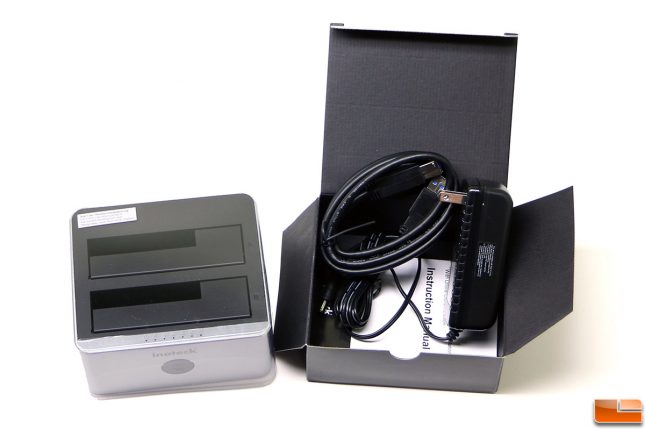 The Inateck FD2102 comes with the with a clear plastic dust cover, USB 3.0 data cable (about four feet long), wall AC-to-DC power adapter and some simple written instructions.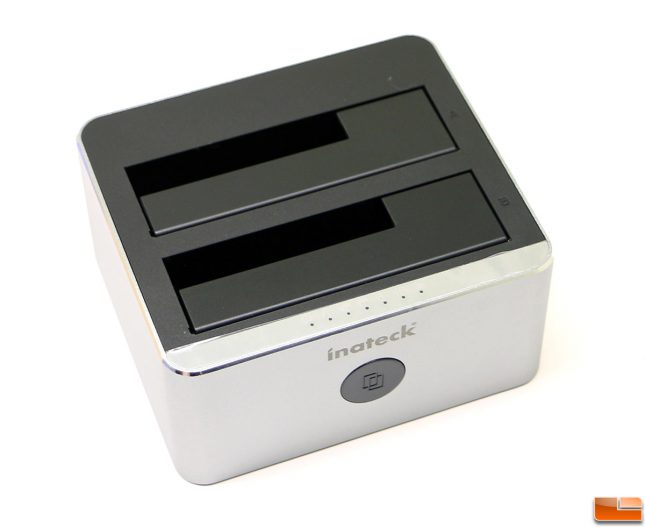 Inateck talks about the FS2102 HDD Docking Station being aluminum, but only really the silver sides of the device are aluminum. The bottom and top panels are both plastic as is the cloning button on the very front of the enclosure. The enclosure measures 130 x 62 x 115 mm (LxWxH) and weighs 356 grams, so it's fairly small and isn't too heavy.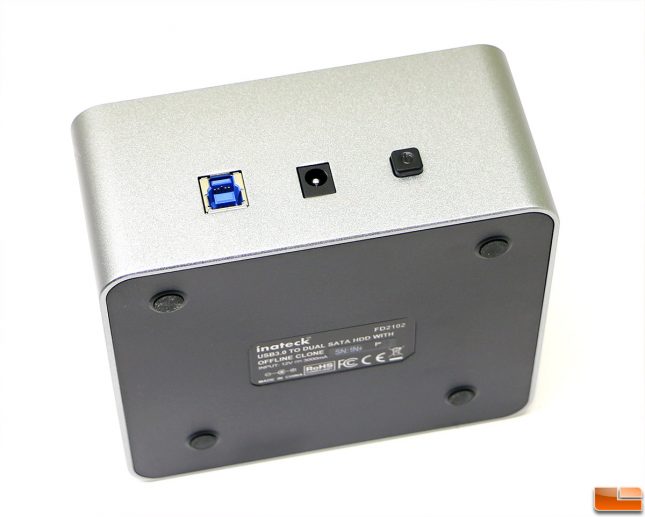 Here is a look at the back of the FD2102 enclosure that shows the USB 3.0 port on the far left, power input and then the power button. The black plastic bottom has four rubber feet that help keep the SATA III docking station from moving around too easily on your desk.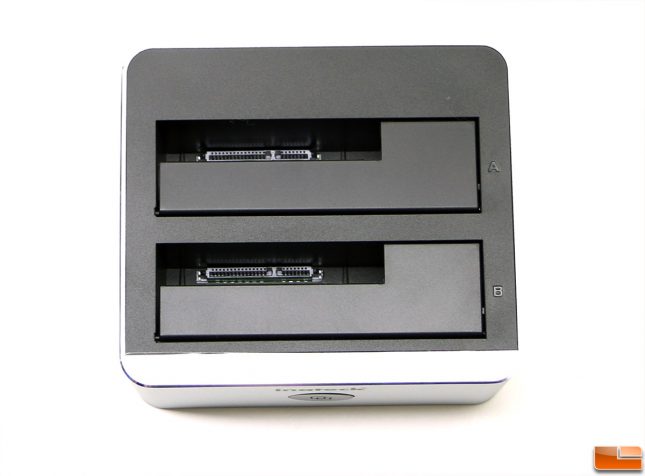 The two SATA III (6Gbps) drive bays will fit either 2.5″ or 3.5″ storage drives and features a toll free design and no drivers are needed. There is no eject button on this dock, so you'll just need to hold the base and yank the drives out when you are ready to remove them. Inateck is using an ASMedia Technology ASM1153E bridge chipset, which is the latest (3rd) generation USB 3.0 to SATA II bridge chipset offered by the company and is more power efficient than the older ASM1053E bridge chipset that is widely used on existing docking stations.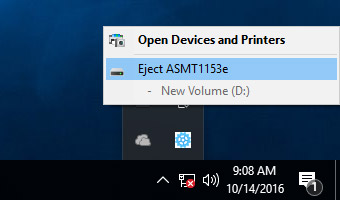 The only downside to using a single bridge chipset is that you can't safely eject one of the drives. You need to eject the one bridge controller that handles both drives. That means if you are using it as a dock and have two drives plugged in you need to remove both to safely take out one of the storage drives. Inateck also setup the bridge controller to put the drives to sleep after 30 minutes of idle time. The only really work around to this is to use a 3rd party software program to keep the drives awake. A program called NoSleepHD can be used as it is a simple program that writes data to a folder ever 10 minutes it places on the drive to keep it awake. This will of course increase the writes to the drive and having it powered on all the time will use more power and may reduce the overall lifespan of your drive.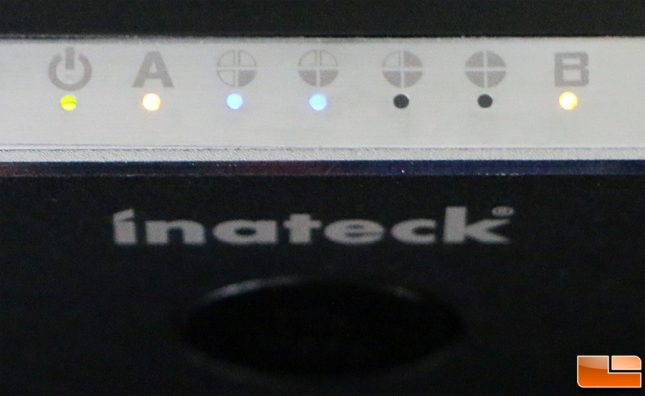 Along the front edge of the aluminum enclosure are some LED lights. The far left is a power light and then there are lights below drive slots A & B to show if they are populated. To clone a drive you need to put the drive you want to clone in slot A with a bare drive without partitions in slot B. The capacity of the drive in slot B must be equal to or greater than disk A to work. You then press the clone button on the front of the housing until one of the four cloning indicator lights come on (hold for 3 seconds) and then let go and press it again quickly. The Inateck FD2012 will begin the clone process and has indicator lights of 25%, 50%, 75% and 100% to show how close the cloning process is to being done. Once done all four of the blue cloning lights will stay lighted (solid) and none will be flashing. Once they are all lighted the cloning process is done and you can remove the drive.
Let's take a look at the test system and then some performance numbers.