Inateck FD1006C UASP USB 3.0 Docking Station Review
By
Inateck FD1006C Review
Are you looking for an affordable USB 3.0 docking station with USB Attached SCSI Protocol (UASP) support that can be used with both 2.5-inch and 3.5-inch SATA storage drives? The Inateck FD1006C docking station costs just $26.99 shipped and features a UASP-enabled host controller that will allow you transfer data at speeds of over 450MB/s on both Read and Write operations with the the right hardware. Those are blazing fast speeds and if you are looking for something fast to access your drives that won't break the bank, the Inateck FD1006C might be the device you are looking for.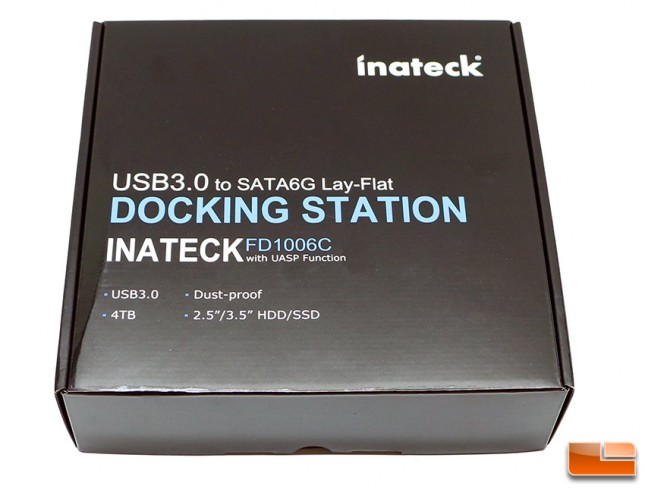 The Intatek FD1006C docking station (product website) ships in a fairly plain looking cardboard box that has the devices basic information on the front with a list of the features on the back.
Inateck FD1006C Features:
UASP (USB Attached SCSI Protocol) support for even faster performance UASP requires UASP capable host system
Enhanced Radiating Design, Ergonomic design easier operation
Compliant with 2.5″ and 3.5″ SATA HDD/SSD up to 6TB in capacity (The 4TB listed on the front of the box has been updated in later printings)
Compliant with USB 2.0 or lower version
Compliant with SATA6G, SATA3G and SATA 1.5G
Inateck FD1006C Specifications:
Model: Inateck FD1006C
Output Interface: USB 3.0/2.0
Compatible: 2.5″, 3.5″ SATA HDD/SSD
Power: Input 100-240V, 40/60Hz, 0.8A | Output 12.0V 2000mA
System Support Windows XP, Vista, 7, 8, 8.1 and Mac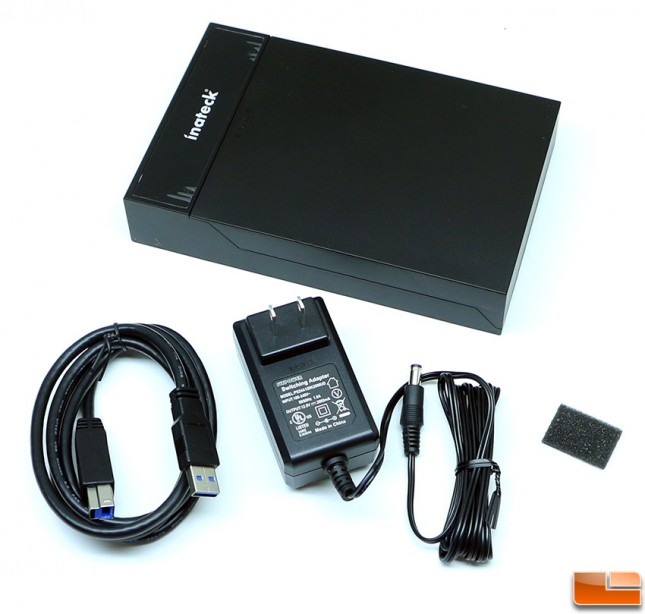 Inside the Inateck FD1006C packaging you'll find the 2.5″/3.5″ SATA III drive enclosure along with a USB 3.0 cable, DC power adapter and a small foam pad. No instructions were included in the box, so you'll have to figure out how to use this external drive all by yourself. The included foam pad might be a mystery for some, but we are fairly certain that it is placed inside the top housing that slides open to keep rotational drives from rattling if they are tall enough to reach the top cover. The included SuperSpeed USB 3.0 cable features USB Type A to USB Type B ends and measures in at around 28-inches or 70cm in length. The USB 3.0 cable itself supports transfer speeds of up to 5 Gbps, 10x faster than USB 2.0. It also carries the power needed for your 2.5″ storage drive, so no external power is required. If you use a 3.5″ hard drive you'll have to use the AC to DC wall power adapter.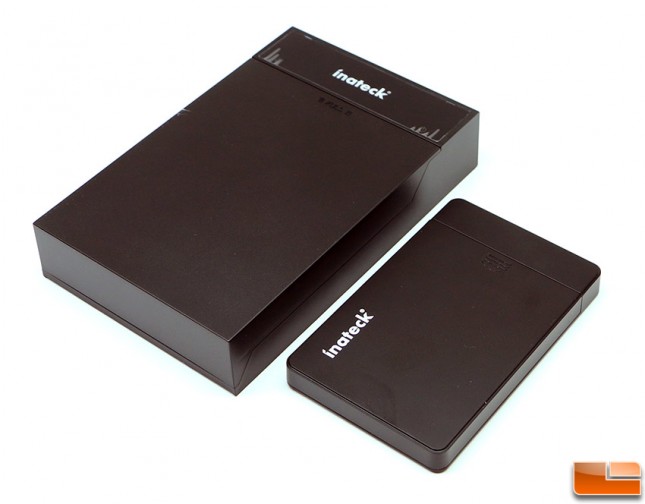 Here is a shot of the Inateck FD1006C (left) sitting next to the Inateck FE2006 (right) to give you a quick size comparison difference between a 3.5″ and a 2.5″ enclosure. The Intatech FD1006C docking station features a lay flat design and measures in at 179 x 116 x 35 mm (7.05 x 4.57 x 1.38 in) with an empty weight of 146g (5.15oz).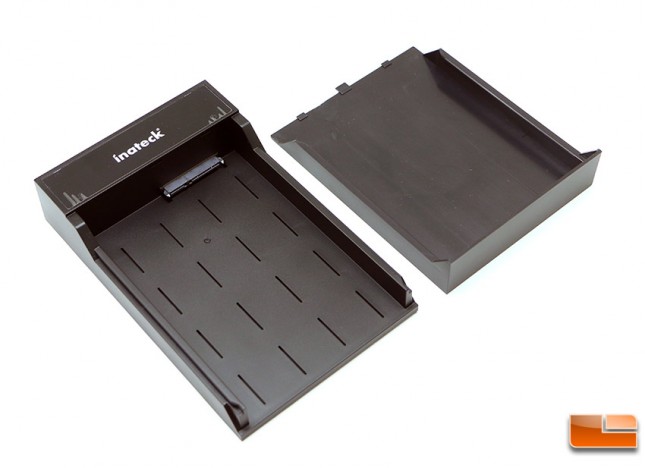 Like most all Inateck products, the FD1006C is a tool-less drive, so you won't need to fiddle around with any screws or screwdrivers to get this up and running. You just slide open the top plastic cover and then you can insert a 2.5″ or a 3.5″ SATA storage drive. Once you have your hard drive (HDD) or Solid-State Drive (SSD) installed you just slide the cover back on and connect the docking station to your system with the included USB 3.0 cable. Inateck calls this design dust-proof as once the cover is on there are no holes on top of the docking station. The bottom of the housing does have some ventilation holes though, so calling it dust-proof might be a bit of a stretch.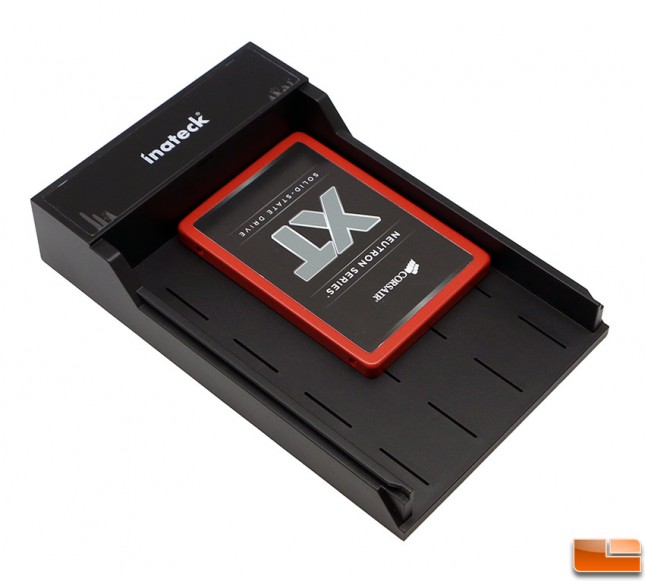 Legit Reviews will be using a Corsair Neutron XT 240GB SSD for testing. We had no issues installing this 7mm z-height drive in the Inateck FD1006C enclosure, but keep in mind that nothing other than the SATA connecetors are keeping the drive from moving around. This is not something you'd want to travel with. The Corsair Neutron XT is not available to the public just yet, but it is one of the fastest we have on hand and we wanted to really push the Inateck enclosure to see how fast we could get on the USB 3.0 interface. The Corsair Neutron Series XT will be coming to market in in Q1 2015 and Legit Reviews published an early review of it here.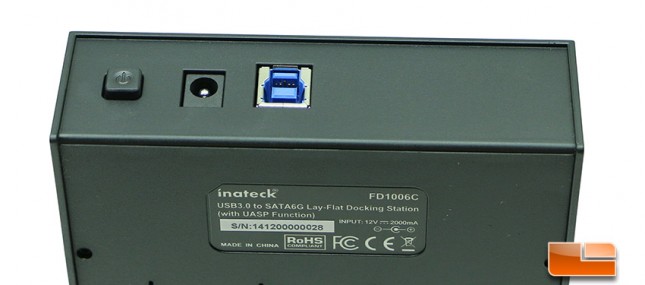 On the business end of the enclosure you'll find a power button, DC 5V power input and the USB 3.0 port. The power and activity LED lights are on the top of the enclosure. We used both hard drives and SSDs and all of the 2.5″ notebook models worked fine without the need for DC 5V power being added. All of the 3.5″ rotational hard drives did need the external power plugged in.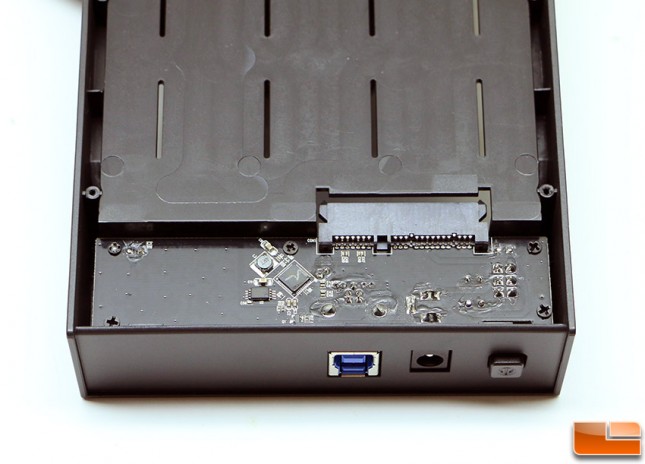 With the back cover removed we can see the ASMedia Super Speed USB 3.0 & SATA III 6.0Gbps Bridge Controller for direct conversion from SATA III to USB 3.0 with support for the USB Attached SCSI Protocol (UASP). The 3.3V power converter and other components are on the other side of the PCB.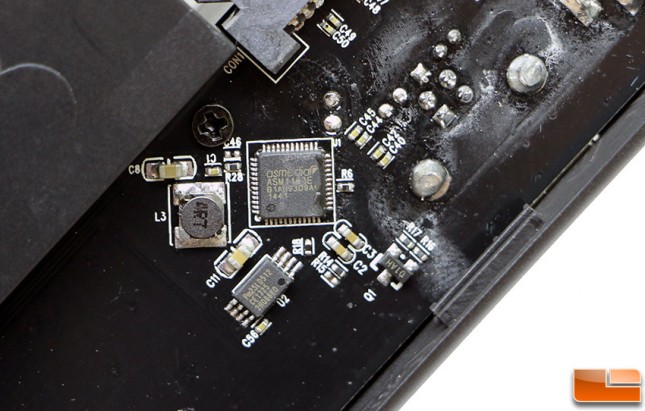 Inateck went with the ASmedia ASM1153E single chip controller to bridge the Serial SATA host interface with SuperSpeed USB3.0 interface. The ASMedia ASM1153E is a third generation chip and is fully compliant with USB 3.0 Specification Revision 1.0 and Serial ATA Specification Revision 3.0. This means that it will work with USB 2.0 and 3.0 devices as well as SATA 1.5, 3.0 and 6.0 Gbps devices on the SATA side.
Let's take a look at the test system and move along to the benchmarks!