Inateck BH1001 Wireless Sport Headset Review
By
Inateck BH1001 Wireless Sport Headset
Inateck is a German manufacturer of various PC-related accessories, with a full range of Bluetooth products such as keyboards, speakers and headphones available, in addition to an array of other products such as external SATA enclosures and USB 3.1 hubs. For most of our readers, Inateck is likely a name that you haven't come across on store shelves or had personal experience with, but that doesn't mean they should be ignored. We previously have reviewed Inateck products here at Legit Reviews and have come away impressed with the performance and value they offer, giving several of their offerings our Recommended Award. We also have found Inateck to have good reviews across Amazon, where they have gained a lot of their retail traction. When Inateck approached us to review their latest offering, we were definitely interested to see what they had in store.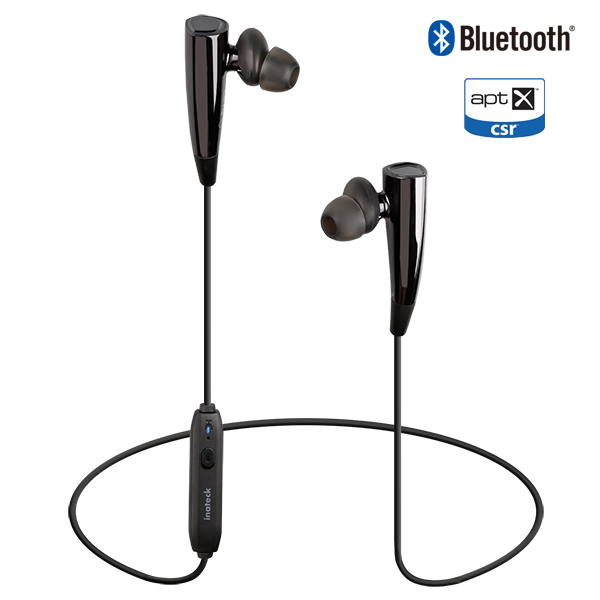 Chipset: CSR 8645
Bluetooth Version: 4.1
Sound Channel mode: Stereo
Waterproof level: IPX4
Supported profile: Headset, Hands-free, A2DP, AVRCP, Apt-X
Charging time: about 3hrs
Continuous play/ talk: Up to 8hrs (typical value)
Today we are looking at the BH1001, a stylish Bluetooth 4.1 compatible headset from Inateck (product page). Despite carrying a basic name and $32.99 price tag, the BH1001 carries an impressive feature set for the price, offering an in-line microphone and Bluetooth 4.1 compatibility, along with a modern, stylish design that will appeal to most senses. Marketed as being sweat proof, the BH1001 headset is geared towards active users and carry an IPX4 rating, meaning they should be able handle several minutes of being splashed with water without sustaining damage or affecting functionality. Inateck is promising a lot of functionality and a decent feature set with the BH1001 headset, let's see if they deliver a solid user experience.
The BH1001 is packaged in a small black cardboard box with the Inateck brand name and the model information printed on a blue sleeve that surrounds the box. There is a line drawing of the stylishly angled ear buds on the front of the box. The box is very small, taking up very little space. It would fit perfectly in an airport vending machine, for example.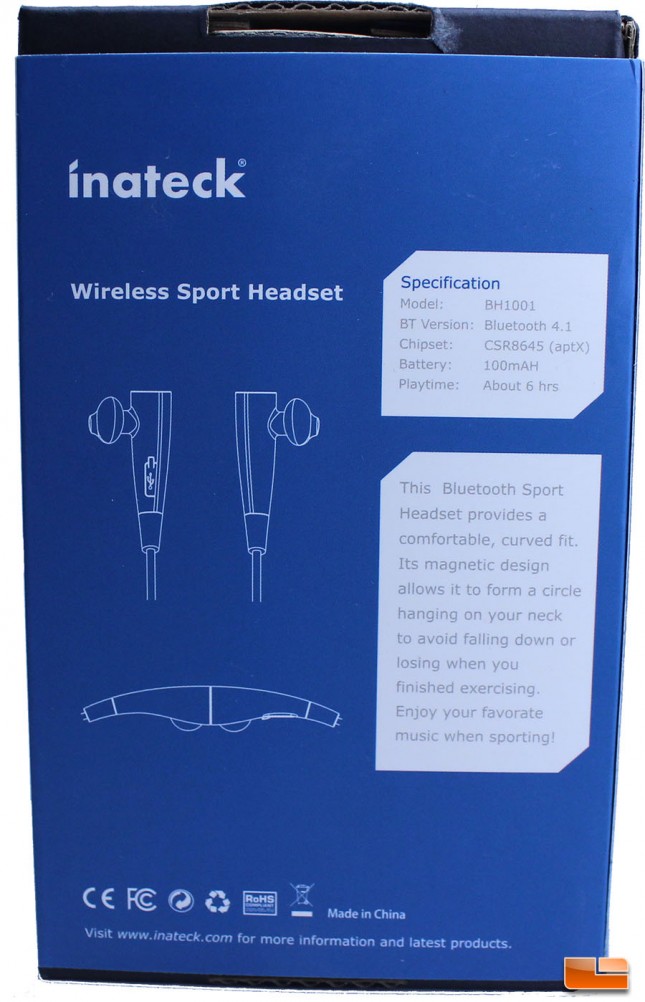 The rear of the sleeve has additional line drawings of the ear buds along with basic specifications denoting the Bluetooth version (4.1), battery type and amount of expected life out of a single charge (about 6 hours). The text printed on back denotes the comfortable, curved fit of the BH1001 while pointing out the capability of the headset earbuds to snap together due to a magnetic design, allowing them to hang around your neck while not in use.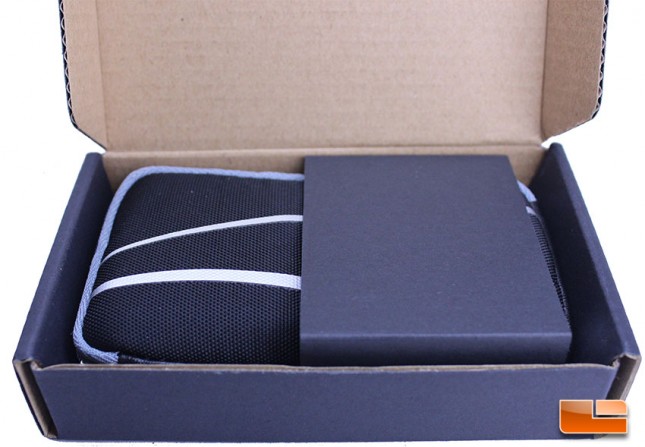 Sliding off the sleeve and opening the box reveals a silver and black carrying case covered with a black cardboard insert to keep it secure during shipping.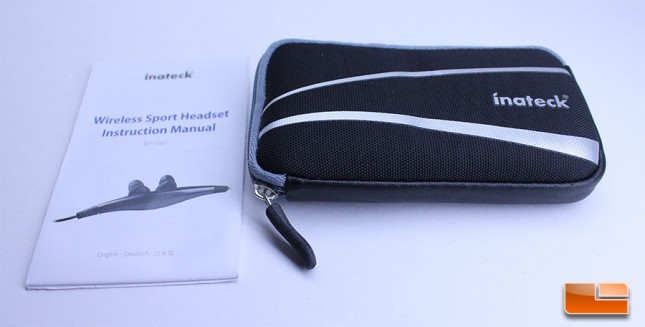 This carrying case is made of durable material and has water resistant properties, making it ideal for transportation and use at the gym, or when doing outdoor activity in damp conditions. The case uses a zipper to be opened and closed, rather than using Velcro or a drawstring, which is a bonus. Given the price point of this headset, we think this carrying case is more than adequate and it adds value to the overall package. Also included is an instruction manual in English, German and Chinese. The manual explains various functions and how to pair the headset with a Bluetooth device.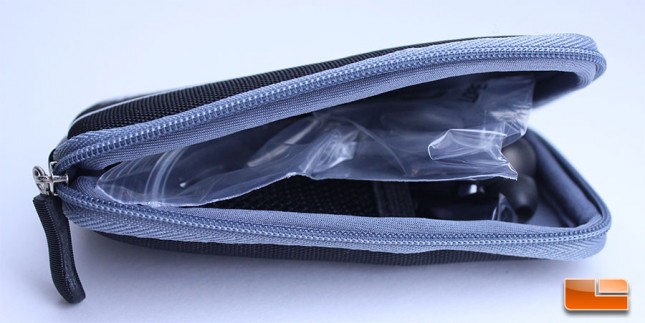 Opening the carrying case reveals the BH1001 Wireless Sport Headset and USB 2.0 charging cable, along with a set of spare earbud tips in a plastic zip bag.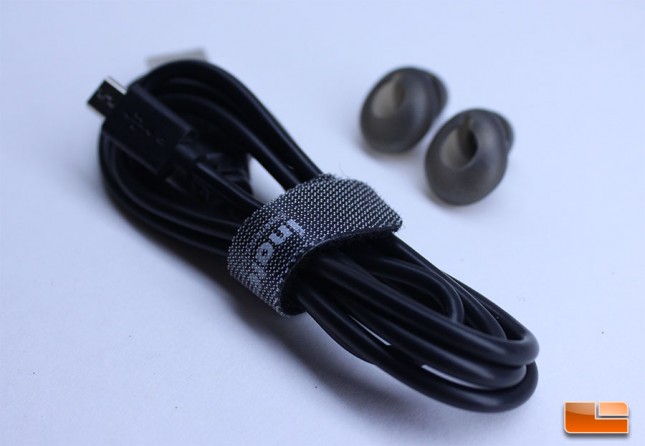 The USB 2.0 charging cable is about three feet long and connects to the BH1001 via a MicroUSB connector that plugs into the right earbud casing, meaning should you lose the cable, a replacement will be easy to find. The cable that Inateck includes has a nice insulation coating and the end is very solid and firm, allowing for easy plugging in and out of the MicroUSB port on the headset.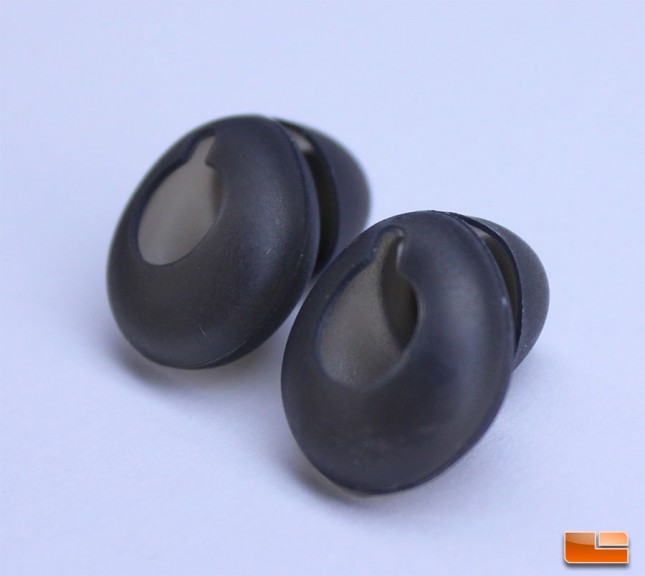 The extra earbud tips are slightly smaller than the stock tips, which will allow flexibility in customizing the headset for your exact needs. These earbuds are soft and have a decent thickness to them, which should assist with comfort.
The accessory package included with the headset is completely adequate and the travel case is a very nice touch. It is nice to see an extra set of earbud tips, especially given the low price of the headset. While the packaging isn't cheap, it is indicative of the price of the BH1001, lacking over the top marketing slogans or a fancy opening mechanism. Since Inateck isn't a major player in retail stores, we have to assume a majority of their sales are going to be from online customers, so the retail packaging of the product matters less and they can focus their manufacturing costs on the product itself. Now that we've examined the packaging and accessories, let's take a closer look at the BH1001 headset and its features.