HyperX Savage 240GB SSD Review
By
HyperX Savage 240GB SSD – The New Flagship SSD From Kingston
The original Kingston HyperX SSD series was released back in 2011 and refreshed in 2012 when the HyperX 3K SSD was unleashed. The HyperX 3K has remained the flagship drive in the Kingston SSD arsenal, but after three years of holding that position it is finally time for something new to come along and head up the brands SSD offering. That new drive is the HyperX Savage SSD series that is available in 120GB, 240GB, 480GB and 960GB capacities.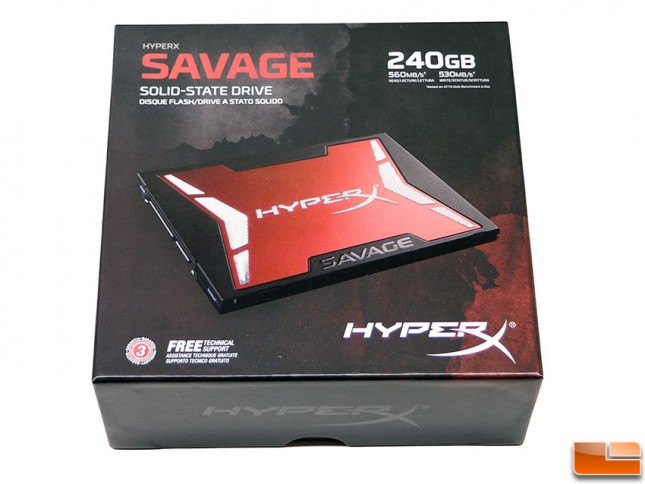 The HyperX Savage was optimized to deliver the best performance possible when it comes to the SATA III interface. Kingston went with a quad-core, 8-channel Phison PS3110-S10 controller that when paired with Toshiba's A19 64Gbit MLC NAND is capable of sequential transfer speeds of up to 560MB/s read and 530MB/s write on benchmarks like ATTO. When it comes to 4K random write performance you are looking at up to 100,000 IOPS read and 89,000 IOPS write. Those are great performance numbers for SATA III (6Gb/s) drives although they might not be as impressive as some ratings seen on recent SSDs using the PCI Express interface like the HyperX Predator series that we reviewed earlier this year.
HyperX Savage SSD 2.5-inch SATA SSD Performance:
| | | | |
| --- | --- | --- | --- |
| | ATTO (Read/Write) | Random 4K (Read/Write) | Total Bytes Written (TBW) |
| 120GB | 560/360 MB/s | 93k IOPS / 83k IOPS | 113 TB |
| 240GB | 560/530 MB/s | 93k IOPS / 89k IOPS | 306 TB |
| 480GB | 560/530 MB/s | 92k IOPS / 89k IOPS | 416 TB |
| 960GB | 560/530 MB/s | 97k IOPS / 89k IOPS | 681 TB |
When it comes to pricing you are looking at $0.46 to $0.58 per GB depending on the capacity of drive that you are looking at purchasing.
HyperX Savage SSD 2.5-inch SATA SSD Series Pricing:
The HyperX Savage 240GB SSD bundle kit (part number SHSS3B7A/240GB) that we are looking at today runs $0.63 per GB, which is a fair dollar amount for the high-end drive of a company. No matter what capacity you buy they all have a Mean Time Between Failures (MTBF) of 1 million hours and are backed by a 3-year limited warranty with free technical support. The 3-year warranty might not be as long as what is offered by other companies, but Kingston told us that their warranty is unconditional and is not voided by how much data is written to the drive within the warranty period. Some manufacturers are denying warranty claims if the drive writes per day exceeds the started value for that particular drive. Kingston gives the Total Bytes Written (TWB ) and Drive Writes Per Day (DWPD) for their drives, but will not penalize you if you exceed this amount.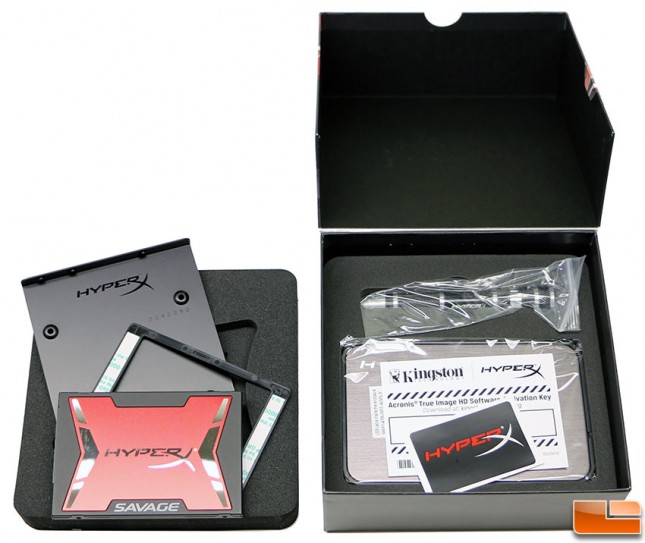 On some Kingston SSDs you'll find models that come with either notebook desktop upgrade bundle. With the high-end HyperX drives you have your choice of either a bare drive or one that comes with a full bundle. The drive that we are looking at today is the HyperX Savage 240GB drive with the upgrade kit (part number SHSS3B7A/240GB).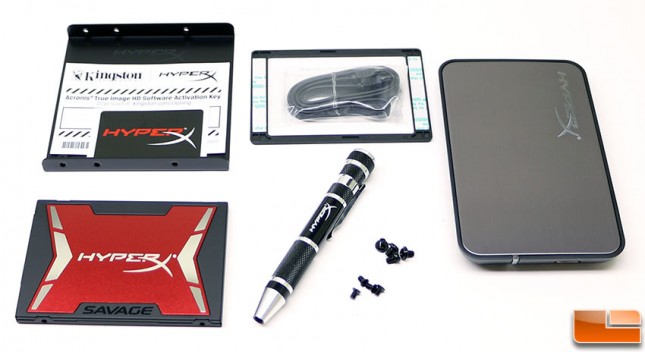 This upgrade kit comes with everything you'll need to update your existing drive to the HyperX Savage SSD or to just install it in your desktop or laptop PC. Desktop users might find the 3.5″ desktop mounting bracket, screws and SATA cable handy. Laptop users will benefit from 7mm to 9.5mm adapter and the 2.5″ SATA to SuperSpeed USB 3.0 drive enclosure and included USB 3.0 data/power cable that is stored inside inside the housing. Both laptop and desktop users can utilize the multi-bit screwdriver and Acronis True Image HD Software. The included serial number for Acronis True Image HD Software will allow you to download and use drive cloning software if you need it! Kingston includes everything you need for a fast and easy migration right out of the box!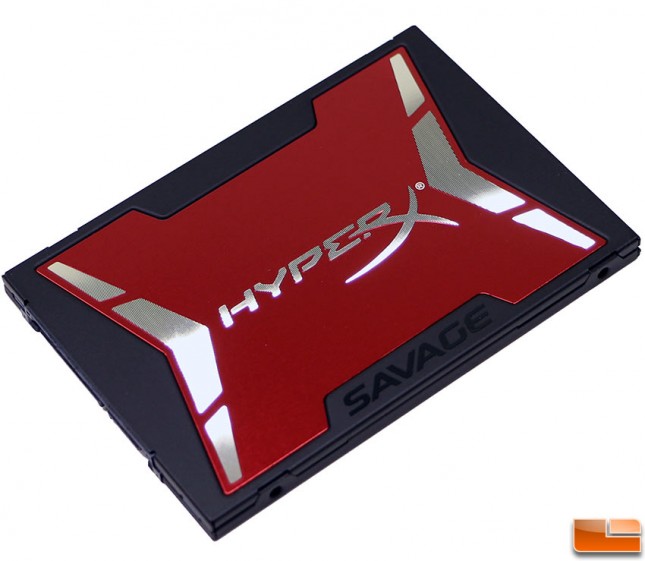 The HyperX Savage SSD is a 7mm thick drive that features a black and red enclosure that looks pretty sharp. Kingston does not offer any color choices on the HyperX Savage series, so you'll have to bust out the paint and mod the drive yourself if you wanted a different color.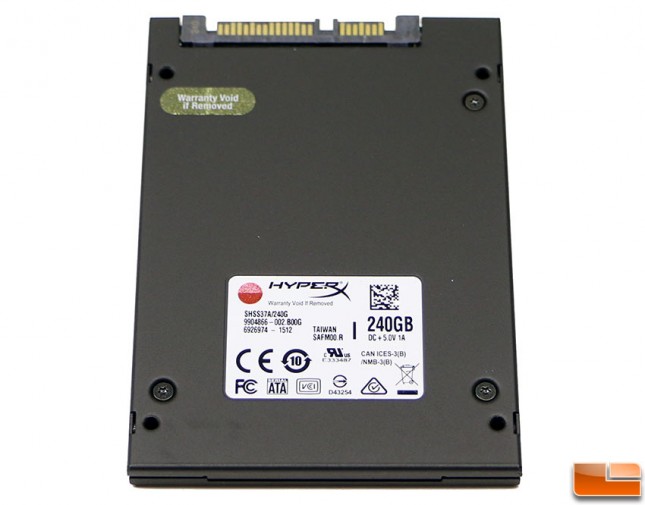 On the back of the 2.5-inch enclosure you'll find the information label that gives you the basics on the drive. You can see that this drive operates on the 5V power rail and uses 1A of power. The power consumption numbers for the HyperX Savage series given to us by Kingston shows that the drive uses 0.39 Watts at idle, 0.5W during typical usage scenarios and then with it peaking at 1.4W during read and 4.35W during write operations. This drive does not have DevSleep, so if you are looking for a power efficient drive for notebook use you might want to search for a drive that has the DevSleep ultra low power state enabled. Kingston told Legit Reviews that they don't see a need for DevSleep in the channel or aftermarket upgrade DIY community. This drive is about performance and not efficiency.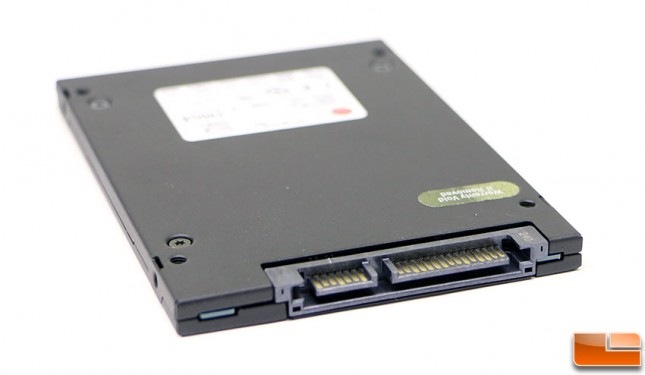 The HyperX Savage Solid-State Drive series has the standard drive mounting along with the standard Serial ATA power and data connectors. This means that you should be able to use this SATA III (6Gbps) drive in pretty much any system. As we already noted, Kingston does include a 3.5″ desktop mounting tray, so you are in luck if you have an older PC case that doesn't have 2.5″ drive mounting points. The HyperX Savage series has a z-height of 7mm, but it does come with a 9.5mm adapter if one is needed.
We'll wrap up the introduction with the HyperX Savage SSD promotional video and then move along to the test system and benchmarks!