HyperX Cloud Flight Wireless Gaming Headset Review
By
HyperX Cloud Flight Wireless Gaming Headset
HyperX is a California-based manufacturer of computer peripherals and components designed to meet the needs of PC enthusiasts. Legit Reviews has been reviewing HyperX products for over fifteen years and the company has earned a reputation for producing quality products at competitive prices. HyperX are perhaps best known for producing what many consumers consider to be the best gaming headsets on the market, The Cloud and Cloud Alpha. While HyperX was earning accolades for their wired gaming headsets for years, many wondered when the company would release a wireless headset to compete with other manufacturers. Today I am looking at the Cloud Flight ($159.99 shipped), the very first wireless gaming headset from HyperX. HyperX developed the Cloud Flight after listening to consumer feedback on their wired gaming headsets and determining what would make the perfect wireless headset for gamers. Since HyperX produces my current favorite overall gaming headset in the Cloud Alpha, I had been anticipating arrival the HyperX Cloud Flight for quite some time.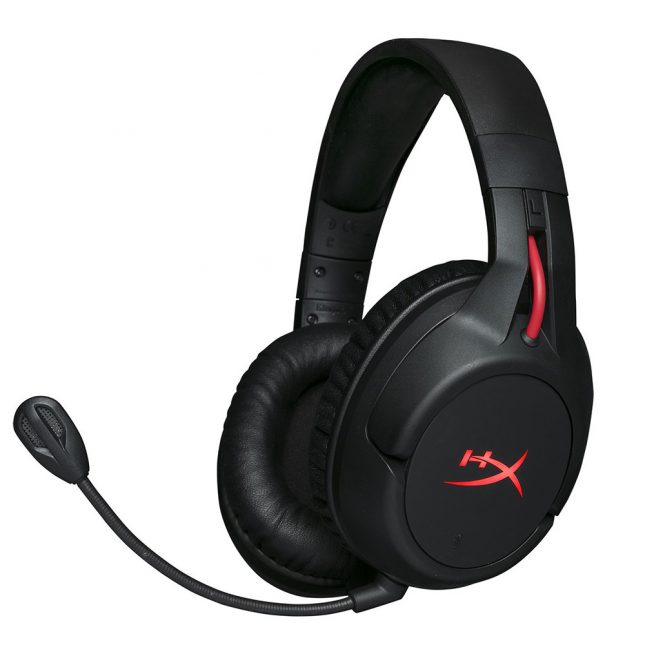 Wireless gaming headsets give a freedom of movement and convenience factor that can't be afforded by wired units. Unfortunately, many wireless gaming headsets traditionally suffer from bad sound quality when compared to wired headsets, thanks to lackluster wireless technology paired with inferior drivers. Even the best wireless gaming headset I'd previously tested, the SteelSeries Arctis 7, while sounding good compared to other wireless headsets, can't compare to the sound quality I get from my wired HyperX Cloud Alpha over a decent sound card. With the HyperX Cloud Flight, rather than placing an emphasis on surround sound, software EQ, RGB lighting or other gimmicks, HyperX placed a lot of the emphasis on comfort and sound quality, something I've come to expect out of HyperX based on my experience with their previous headsets.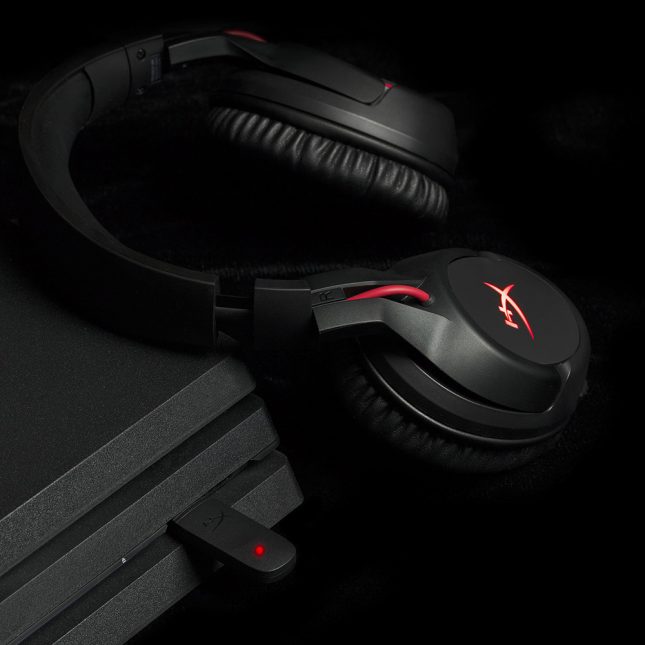 The HyperX Cloud Flight Offers PC and PS4/PS4 Pro Support Over Wireless
HyperX Cloud Flight Wireless Gaming Headset Specifications
Headphone
Driver:
Dynamic, 50mm with neodymium magnets
Type:
Circumaural, Closed back
Frequency response:
Wireless:
20Hz20,000Hz
Analog:
15Hz23,000Hz
Impedance:
32
Sound pressure level:
106dBSPL/mW at 1kHz
T.H.D.:
< 2%
Weight:
300g
Weight with mic:
315g
Cable length and type:
USB charge cable (1m) + Detachable 3.5mm headphone cable (1.3m)
Microphone
Element:
Electret condenser microphone
Polar pattern:
Noise-cancelling
Frequency response:
100Hz-7,000 Hz
Sensitivity:
-45dBV (0dB=1V/Pa,1kHz)
Battery life1
30 hours –
LED off
18 hours –
Breathing LED
13 hours –
Solid LED
Wireless Range3
–
2.4 GHz
–
Up to 20 meters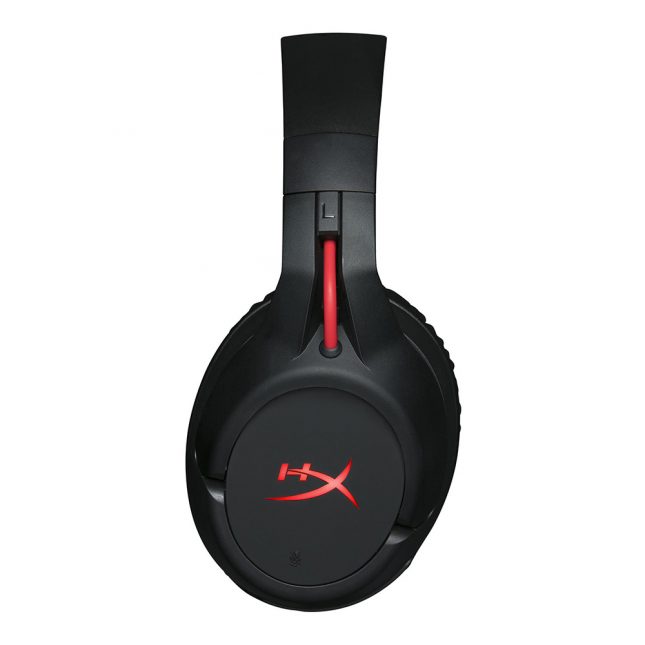 The HyperX Cloud Flight are a closed back around-ear headset capable of a frequency response of 15Hz-23,000Hz when in analog mode, but this range is reduced to 20Hz-20,000Hz when in wireless mode over the included USB receiver. It it interesting to see HyperX produce and spec the Cloud Flight headset for better frequency response when in analog mode and it points to the limitations of the wireless technology being used, though a 20Hz-20,000Hz range is totally acceptable and the exact same frequency range of competing wireless gaming headsets like the Corsair Void Pro and SteelSeries Arctis 7. Like competing wireless headsets, HyperX is using a proprietary low latency 2.4GHZ wireless connection for communication with the Cloud Flight headset.
The lack of microphone support over a 3.5 mm connection is a let down, as this means that the HyperX Cloud Flight microphone can't be used through a DAC or sound card in wired mode, which can come in handy when the batteries die and you want to keep gaming before you have a chance to charge the headset, or if you just want the improved sound output and recording quality provided by a DAC. Since most users buying gaming headsets don't use dedicated DAC's or intend on using the headsets in wired mode often, the inability to use the microphone in wired mode probably won't be a deal breaker for many users.
HyperX packages the Cloud Flight in packaging similar to their other headsets, with a black box featuring white and red text throughout. HyperX notes PS4/PS4 Pro and PC compatibility on the top banner of the box so that customers searching for a headset on store shelves will know immediately if the Cloud Flight is for them. Currently, the Cloud Flight isn't compatible with the XBOX One except for over the 3.5 mm input on the controller, which will eliminate microphone support.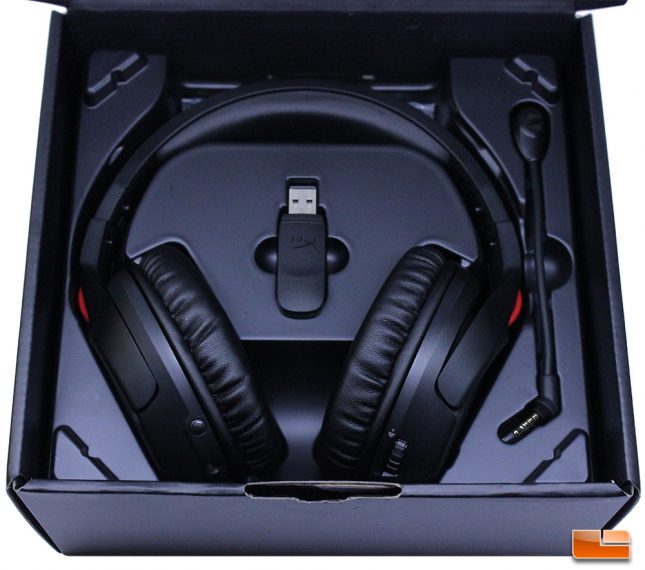 The HyperX Cloud Flight come packaged securely in a custom black clamshell within the box, which also is used to hold the removable microphone and USB receiver in place. Everything is laid out very well in the clamshell and HyperX made sure to ensure proper cutouts were around each device for easy removal.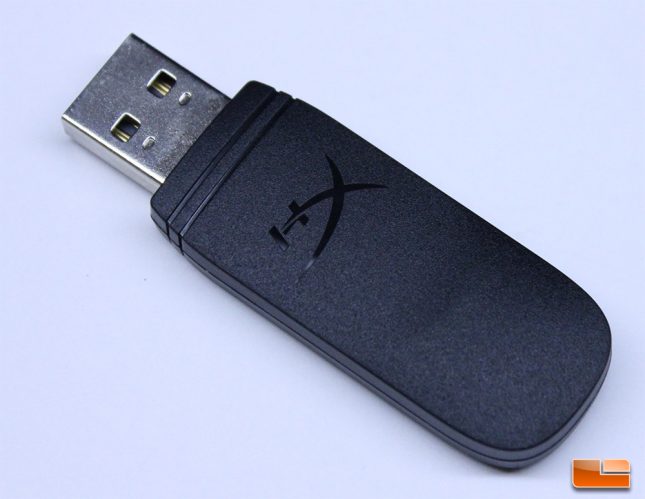 The HyperX Cloud Flight USB receiver is proprietary and comes paired with the Cloud Flight out of the box. The receiver included with the Cloud Flight is pretty small and unobtrusive, with a HyperX logo stamped into the base. A single red LED is on the USB receiver of the Cloud Flight and this LED blinks when the Cloud Flight is turned off and turns solid when the headset is turned on and actively communicating with the receiver. HyperX did a good job of making this receiver stand out less than the ones included with the Corsair Void Pro and SteelSeries Arctis 7, sporting a low profile and non-flashy black exterior.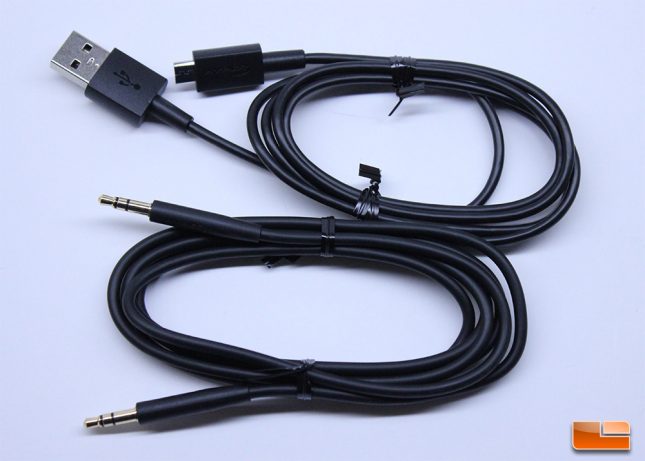 A three foot long HyperX-branded Micro USB charging cable is included with the Cloud Flight for charging purposes and the headset can be used in either wireless or analog mode while it is being charged. I do wish that HyperX had opted for a USB-C connector and associated cable to charge the Cloud Flight, as this connector is reversible and less likely to break over multiple uses. Also included with the HyperX Cloud Flight is a four foot long 3.5 mm cable for analog connections, which disable the microphone while allowing for greater frequency range.
Besides the necessary accessories, HyperX includes a user guide and pamphlet in the box. The users guide is useful and has detailed instructions on how to install the Cloud Flight and how to do things like turn on and off the microphone, toggle the LED and more. I would have liked to see some additional accessories included with the HyperX Cloud Flight, like a carrying case or a set of velour ear pads, especially given the $159 price point, but the accessories and included literature were sufficient and indicative of a quality product. The HyperX pamphlet that is included is showing off some of the older HyperX products, so perhaps they should update it with their current lineup.
Let's take a closer look at the HyperX Cloud Flight wireless gaming headset on the next page.