HyperX 1GB DDR400 Registered Memory
By
Benchmarks:
AIDA32 Version 3.85:
AIDA32 is a professional system information, diagnostics and benchmarking program for Win32 platforms. It extracts details of all components of the PC. It also tests the actual read and write speeds of your memory giving a fairly accurate look of true memory performance.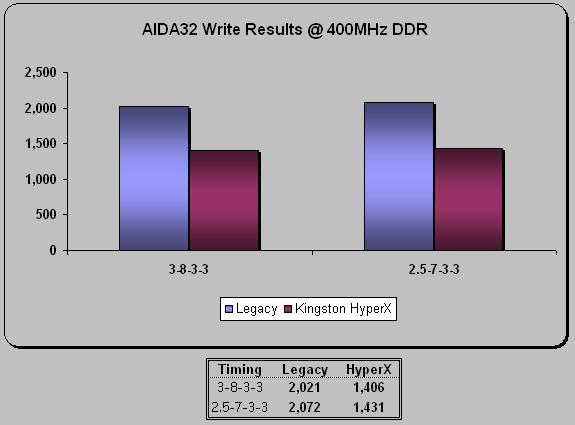 Results: AIDA32 found a huge difference in write speeds between the two brands of PC-3200 Registered memory. At CL3 the Legacy modules could write 615mb per second or 30% more than the Kingston HyperX modules! This is a significant difference that results from the form factor!
Epic Games; Unreal Tournament 2003:
Using the full installation of Unreal Tournament 2003 along with the newest patch gives us a very nice real world benchmark! We also used [H]ardOCP's UT2003 Benchmarking utility version 2.1. A resolution of 1024×768 was tested in Direct3D on the built-in CPU test to see if any differences could be observed.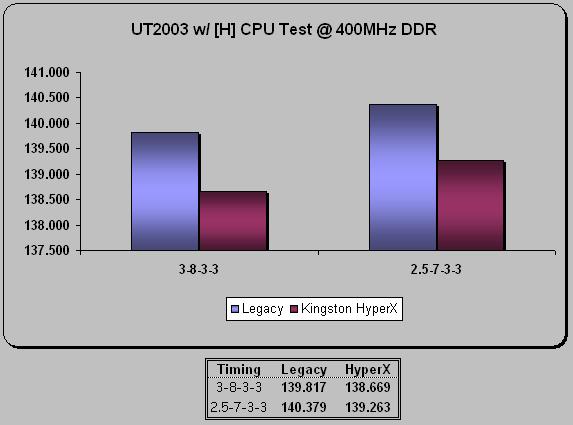 Results: Although only a one frame per second difference is observed, it follows the same trend as all the other graphs with the Legacy modules ahead of the Kingston memory.
Conclusions:
Let's start off the conclusion by going into a little bit of the politics that is found behind the DRAM industry! Hopefully by now you know that memory modules tend to be manufactured in line with JEDEC specifications. According to the JEDEC guidelines PC-3200 registered modules are supposed to be built using the BGA form factor instead of the standard TSOP form factor. More than likely you are thinking, "Why would JEDEC approve a form factor that is slower than what is currently available?" to be honest it leaves us scratching our heads also.
When Kingston was developing their DDR400 Registered Memory Module they could either follow the JEDEC specifications or disregard the "qualification status" and enter the market with a TSOP module with lower latencies. It is obvious that Kingston went along with the JEDEC standards and thus became the only "officially supported" memory module at the time of the AMD Athlon 64 FX processor launch. By being qualified by AMD, this allows Kingston to open the door to the IT market for workplace servers and workstations by purchasers that demand and only purchase qualified products. Qualified products are usually among the most stable and come with the peace of mind that they have been tested by numerous individuals before the product hits the market. If you are looking for a qualified product or want something rock solid then look no further.
On the other hand this product comes with the HyperX name and I am confused how this product got the HyperX name. Kingston began offering the HyperX memory line for gaming enthusiasts and I in no way see how their DDR400 Registered Memory Module this fits in this category. It can be clearly seen that the TSOP design produces a faster memory module and since gamers are wanting the best, how is this "gamers memory"? Sure the Athlon 64 FX processor is designed for gamers and enthusiasts, but just because a memory module works on it doesn't mean it should be branded gamers memory! Gamers really hate having high latencies (3-3-3), but that made sense when we found out that timings of 3-3-3 are the JEDEC specification for Registered ECC DDR400 modules! Sadly, it was JEDEC standards and not gamers that this HyperX module was built around.
Bottom Line: Kingston's HyperX DDR400 Registered Memory is very stable, follows JEDEC guidelines, and has been qualified by AMD. Gamers and enthusiasts who want the fastest products on the market should look to TSOP designs for better performance!
If this line of memory does not suit your needs check to see if Kingston has any memory for your individual needs!