HyperX 1GB DDR400 Registered Memory
By
Memory Performance:
Our Test System:
AMD Athlon 64 FX-51 @ default
ASUS SK8N Motherboard
nVidia Geforce FX 5900 Ultra 256mb
Thermaltake Venus 12 HSF (Air Cooled)
Western Digital 36Gb Raptor Serial ATA 150 Hard drive
Antec TrueControl 550W Power Supply
Memory Used:
1GB Kingston HyperX PC3200 Reg (KRX3200K2/1G)
1GB Legacy PC3200 Reg (88S6HDAR-1TDG)
Driver Versions:
NVIDIA Detonator 52.16
NVIDIA Forceware UDP 3.13
ASUS SK8N BIOS version 1003
Testing Procedure :
All testing was done on a fresh install of Windows XP Professional build 2600 with Service Pack 1A and DirectX 9.0b. All benchmarks were completed on the desktop with no other software programs running. No overclocking was done on the video card unless noted. Our testing was done at 200×11 = 2.2GHz. Firewire was disabled in the BIOS menu for all the testing competed during this review.
All testing was completed at 2.6Vdimm unless otherwise noted!
Testing Notes: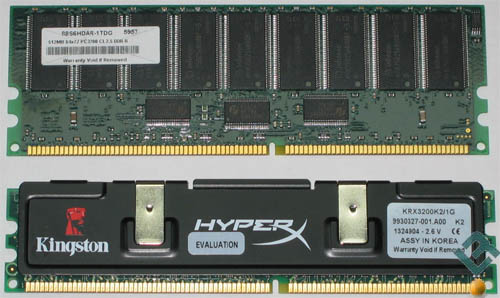 Just by looking at these modules you can tell that there are some serious differences in design! Legacy uses a TSOP designed PCB manufactured by KCA with 5ns IC's from Infineon. On the other hand, Kingston HyperX uses a micro BGA PCB manufactured by Samsung along with 5ns Samsung IC's. We fully expect to see a clear winner in this review with so many differences in these Registered PC-3200 modules!
Sisoft; Sandra 2004:
Sisoft Sandra 2004 is designed to test the theoretical power of a complete system and individual components. The numbers taken though are, again, purely theoretical and may not represent real world performance. Higher numbers represent better performance in memory bandwidth.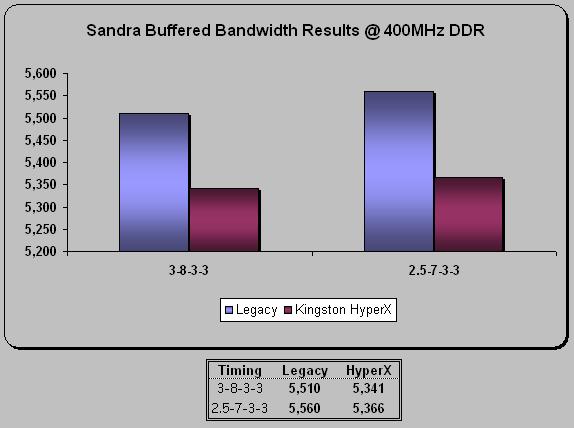 Results: More bandwidth is always a good thing and the Legacy modules with their TSOP design have taken a dominating lead!