Huawei MateBook Review
By
Final Thoughts and Conclusions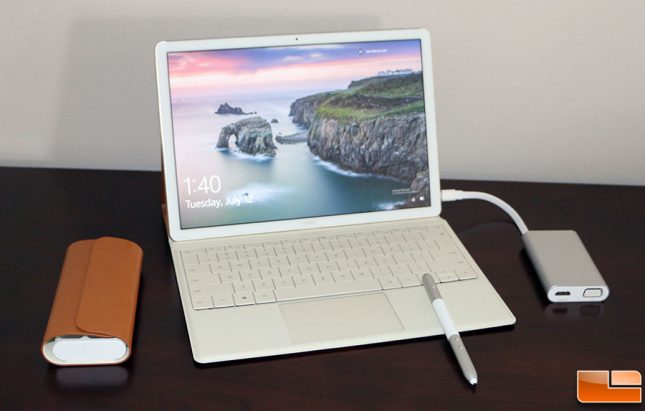 After using the Huawei Matebook for a short period of time we found that the 12-inch tablet was a pretty damn good 2-in-1 for Huawei's first foray into the PC market. We were happy with the performance of the MateBook model that we tested with the Intel Core m5 processor as it was able to handle daily PC tasks with ease. We weren't doing heavy transcoding or crazy stuff like that, but basic image editing and web browsing with multiple tabs open was more than acceptable.
When it came to battery life we generally got 5-6 hours out of it on average and while the aluminum back of the Matebook got warm during heavy usage periods it was never too hot. It would have been nice to get closer to the advertised 9 hours of battery life, but that is something Huawei can work on for the next version. We also wouldn't mind seeing a multi-position kickstand and keyboard similar to what the Microsoft Surface Pro 4 has!
Basically the tablet itself is great with regards to style and performance, but the MateDock and Portfolio Keyboard could most certainly use some refinements.
Price and Availability
The Huawei MateBook became widely available starting July 11th, 2016 and there are six configurations of the MateBook ranging in price from $699 all the way up to $1,599. The MateBook W29 series with the Intel Core m7 series is not yet available in the United States as Huawei is undecided whether it will ever be released here.
MateBook W09 – Intel Core m3, 4GB RAM, 128GB SSD: $699.00
MateBook W19 – Intel Core m5, 4GB RAM, 128GB SSD: $849.00
MateBook W19 – Intel Core m5, 8GB RAM, 256GB SSD: $999.00
MateBook W19 – Intel Core m5, 8GB RAM, 512GB SSD: $1,199.00
MateBook W29 – Intel Core m7, 8GB RAM, 256GB SSD: $1,399.00
MateBook W29 – Intel Core m7, 8GB RAM, 512GB SSD: $1,599.00
After you purchase the MateBook of your choice you then then need to add on all the accessories that you'd like to use with the MateBook. The Huawei MateBook Portfolio Keyboard is $129.00, the MateDock USB-C multiport adapter is $89.00 and the MatePen stylus is another $59.99. If you are purchasing the MateBook and plan on using it daily then the Portfolio Keyboard and MateDock are a must. The MateDock houses two USB 3.0 ports, an Ethernet port and HDMI and VGA Display output connections. If you use external hard drives for data storage/backup or want to connect multiple USB Type-A devices (memory card reader, flash drive, optical drive) the MateDock will make life with the MateBook easier as your primary PC.
The MateBook W19 (4GB RAM and 128GB SSD) that we looked at today with all the accessories would set you back $1127 if you bought it all on Amazon right now. Not exactly something you run out and buy on an impulse, but it's certainly worth looking into if you are in the market for a 12-inch 2-in-1 tablet running Microsoft Windows 10. Keeping in mind that this is Huawei's first Windows Tablet, they did pretty damn good for their first Windows PC. They most certainly got the tablet style down and if they would have nailed the accessories we could have seen the MateBook really challenging everything on the market today.
Legit Bottom Line: The Huawei MateBook performs well, but it needs a redesigned keyboard and improved dock for it to do well on the 2-in-1 Windows 10 tablet market.