Huawei MateBook Review
By
Huawei Matebook – First Windows PC By Huawei
The Huawei MateBook 2-in-1 PC is the latest high-end convertible tablet to hit the market running Windows 10 Home. With clean lines, leather accents and a sharp 12 inch IPS TFT LCD display featuring a screen resolution of 2160 x 1440 pixels, the MateBook will certainly turn some heads as will the $699 entry price point. That price point is lucrative as it is $200 less than the lowest priced Microsoft Surface 4! Huawei selected the Intel Core m3 processor for the base model that also sports 4GB of RAM and a 128GB SSD.
The Intel Core M3 should be powerful enough for normal day-to-day tasks, but there is a faster model with an Intel Core m5 processor for an additional $150 or with an Intel Core m7 processor for $700 more. If you want more storage and memory space you can go all the way up to 8GB of RAM and 512GB SSD if you don't mind spending $1599 for the decked out model. That price sounds staggering, but you can purchase a Microsoft Surface Pro 4 with an Intel Core i7 processor, 16GB of memory and a 1TB SSD for $2,699!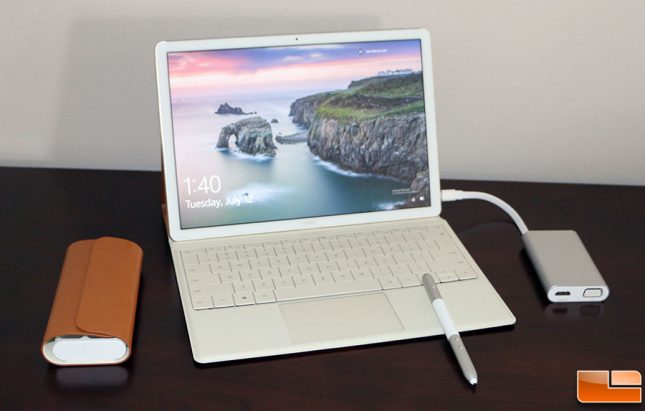 We'll be taking a look at the Huawei Matebook W19 that features the Intel Core m5 processor, 4GB of RAM and a 128GB SSD for $849. The Intel Core M5-6Y54 processor (more CPU info) that our fanless test unit has features a 4.5W TDP, a base clock of 1.1 GHz, a boost clock of 2.7 GHz and Intel HD Graphics 515. The Intel Core M3/M5/M7 series of mobile processors are ideal for tablets as they don't need an active cooling solution (fan) and the system builder can configure the TDP of the processor up or down depending on the application.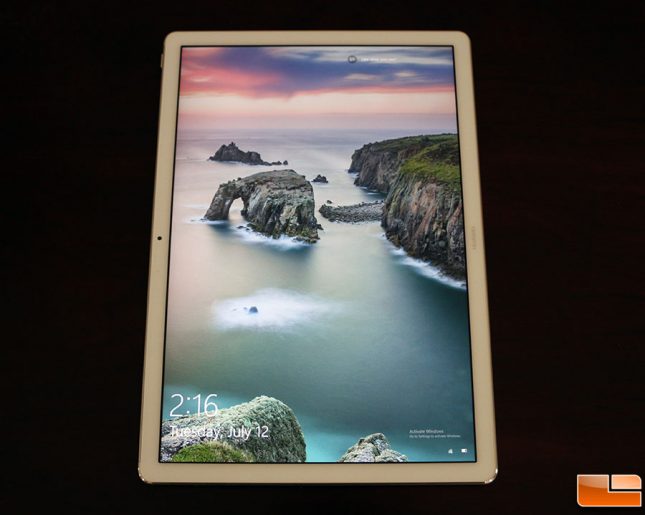 If you like large tablets (278.8mm x 194.1mm x 6.9mm) you'll quickly fall in love with the Matebook's 12-inch LCD display as it looks great straight on or at an angle. We found that it provided realistic colors, had adequate brightness along with solid touch solution. The Matebook bezels are about 10 mm thick, which is enough room to hold the tablet, but not have your fingers in the way. The front of the tablet has a 5MP front-facing camera and it should be noted that there is no rear-facing camera whatsoever.
The overall construction and feel is excellent with an all metal and glass construction that puts the the MateBook at 1.41 pounds. You'd likely never know that this is the first PC that Huawei has ever released!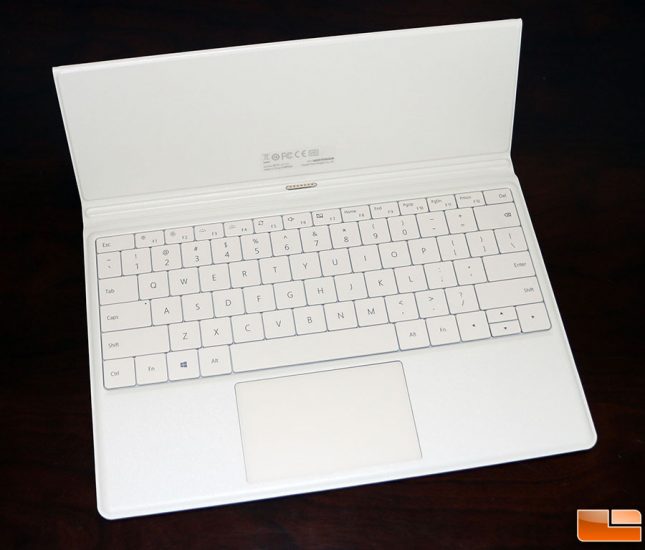 The optional MateBook Portfolio Keyboard is basically a must have, so factor in the $129 add-on cost if you plan on doing a bunch of typing. The Matebook doesn't have an integrated kickstand, so this magnetic dock is as good as it is going to get for your Matebook. The magnets were strong enough to keep the POGO connector where it needed to be when typing on a solid flat surface, but if you don't have it on a solid surface we found that it can get easily come apart. Huawei says you can use the stand at two angles, but our use found the magnets are only strong enough for one. The backlight on our keyboard also only stayed on for a number of seconds and wouldn't stay lit as long as we liked. The Portfolio Keyboard is a must for typing, but the keyboard felt flimsy, didn't make for a good stand as and the POGO connector magnet wasn't strong enough for anything except for flat surface use. For $129 we had were hoping for a better user experience.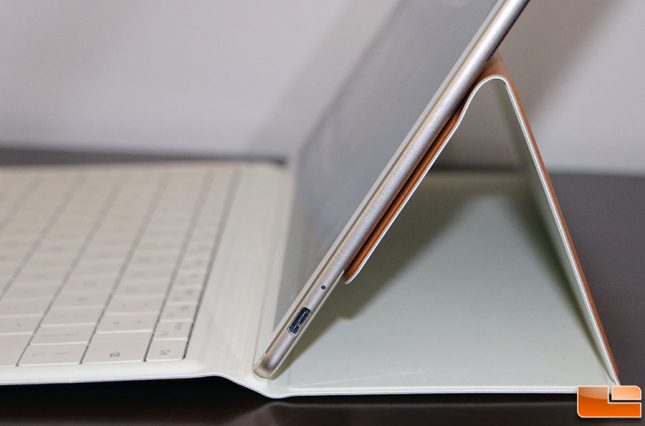 The Matebook has a single USB 3.0 Type-C port and a 3.5mm audio jack and that is it. Huawei ships the tablet with a power adapter and one Type-C to micro-USB converter and that is all you get. Just above the USB Type-C port you can see one of the microphones that make up the dual-microphone solution that the Matebook uses.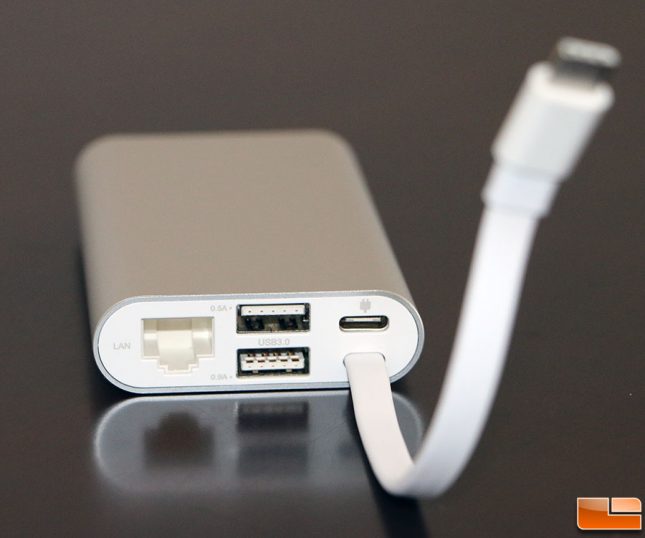 The optional Huawei MateDock is available for $89 and adds two standard USB 3.0 ports, VGA & HDMI display outputs and a single hard wired Gigabit Ethernet port for spots where there is no wireless available. It also has a pass-through USB-C port so you can continue charging the Matebook while the dock is in use. These extra USB ports will come in handy as you can plug in a USB mouse, keyboard, storage device, network adapter, printer, or scanner that has your typical USB Type-A connector on it.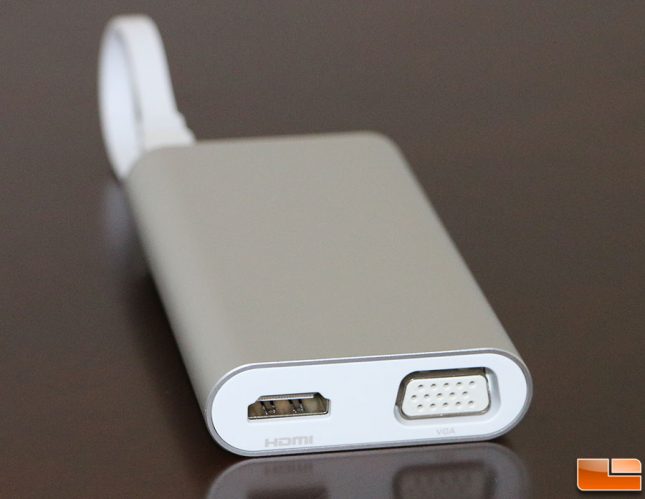 On the other end of the Huawei MateDock you'll find the HDMI and VGA connectors for connecting the tablet to a TV, projector or a monitor. The leather case for the MateDock looks okay, but the magnets weren't strong enough to keep it closed and the USB Type-C connector was always sticking out and getting caught on things in our bag when we traveled with it. We also would have really liked to see an SD card reader in the dock as we needed to pack our USB memory card reader when we used the MateBook.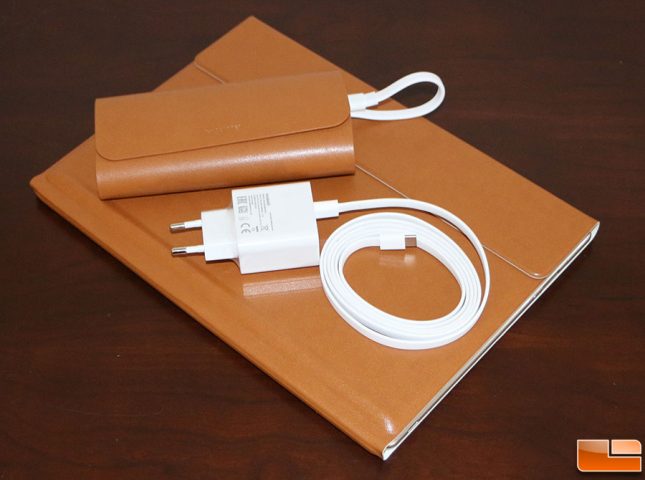 Our Hauwei Matebook was shipped to us with only the European style wall charger, so we were quickly reminded that Type-C wall chargers are far and few between right now. We took the Huawei Matebook on a trip and left the charger behind because we thought we could charge it with the USB Type-C port on our Dell XPS 13 laptop only to find out that couldn't be done.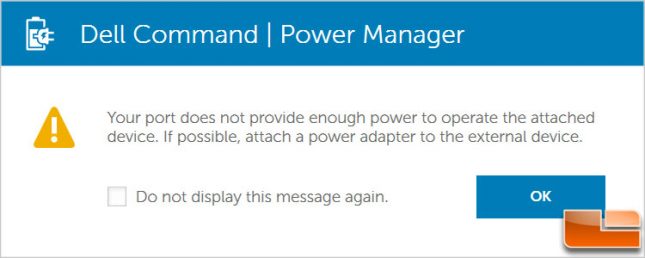 The Dell XPS 13's USB Type-C power doesn't provide enough power to charge the Matebook, so be prepared to travel with an additional charger if you plan on using the Matebook for an extended period of time. The MateDock charging port is rated at 0.9A for those that are curious. In our testing with the Matebook we got about 3.5-4 hours of battery life when playing 1080P HD movies and 5-6 hours of general web surfing on Google Chrome.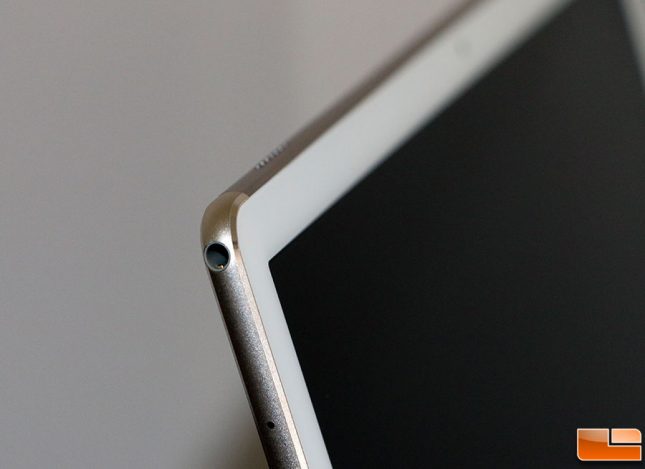 It's odd seeing no Micro SD card slot for storage expansion or file transfers from say a smartphone or a tablet, but at 6.9mm or 0.27-inches thick it is one of the slimmest tablets on the market.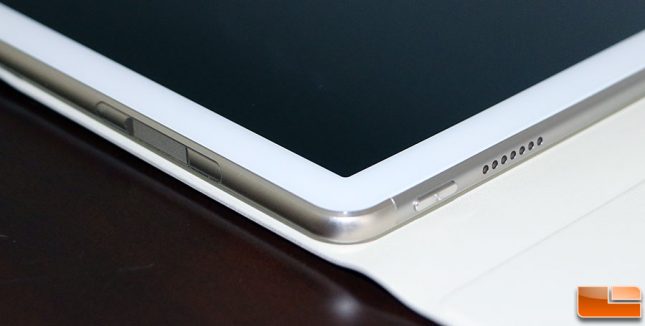 Along the top edge you have two speakers and then to the far right you have the physical wake and power button. Around the corner on the right side you have the hardware volume rocker with a fingerprint reader in the middle of the rocker! You can use the fingerprint sensor if you'd like to enable Windows Hello for faster Windows 10 logins.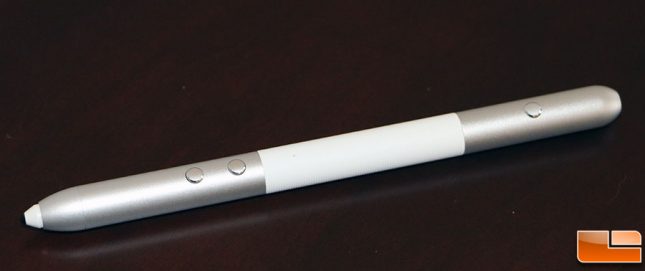 The optional HUAWEI MatePen is a stylus designed specially for the HUAWEI MateBook, featuring 2048 levels of pressure sensitivity for pen-and-paper precision. This Bluetooth connected stylus is a must for artists and content creators! From the tip of the pin you have a dedicated erase button, right-click button and a laser pointer button.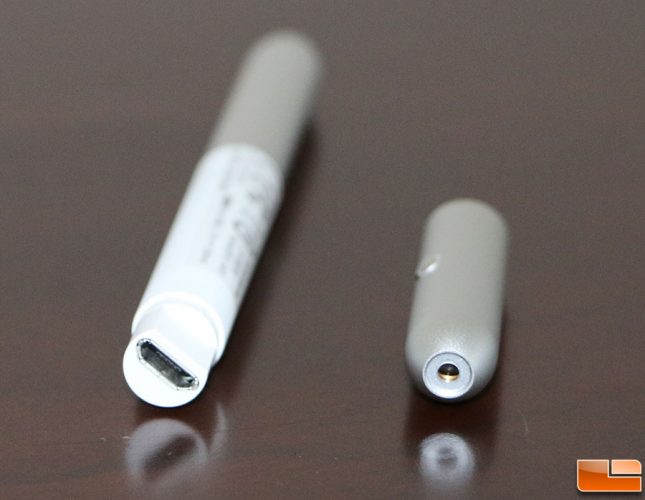 The MatePen has an integrated lithium ion battery that provides approximately one month's usage after a one hour charge (assuming that the MatePen is used for 3 hours a day). You recharge the MatePen through a micro-USB connector that is hidden under the laser pointer.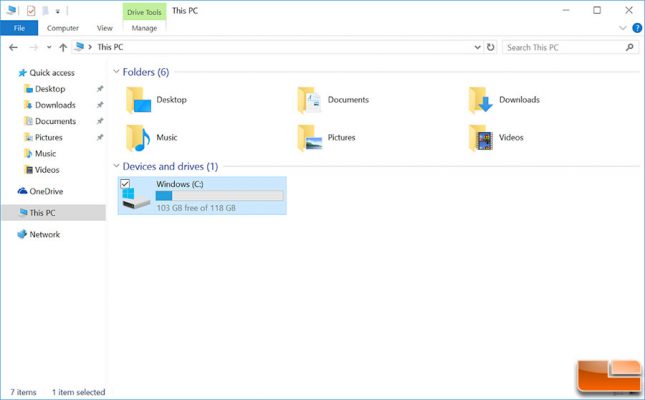 Our Matebooks 128GB SSD came out of the box partitioned into one C: drive with 103GB of storage available. Other notables inside the Matebook would be the 4,430 mAh (33.7Wh, 7.6V) internal non-removable li-ion battery that is rated for up to nine hours of use. You also have an 802.11 ac dual-band wireless solution with MIMO and Bluetooth 4.1.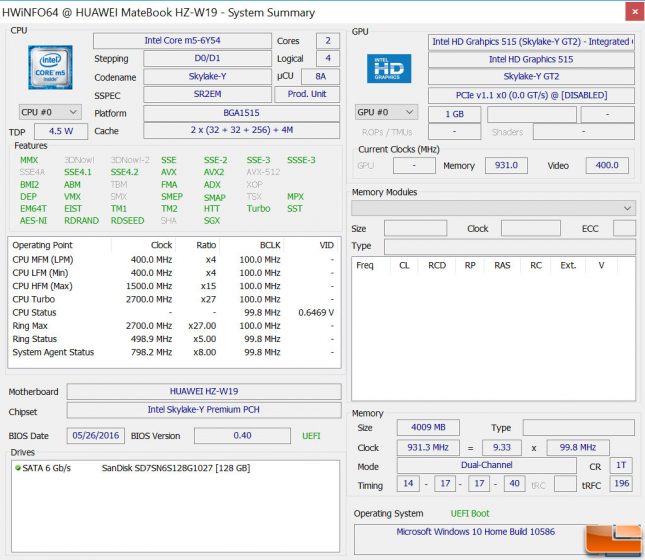 Here is the HWiNFO results for the MateBook HZ-W19 that shows additional information for that that are curious about the hardware or BIOS version our tablet was running.
Now that we know the basics let's take a look at the general performance of the Huawei Matebook!