HP SSD EX920 1TB M.2 Drive Review
By
HP Goes For Enthusiast Performance Numbers With EX920 Series
Last week, Legit Reviews took an in-depth look at the HP SSD EX900 M.2 drive series to see how HP's first DRAM-less storage drive performed. Today, we'll be taking a look at the HP SSD EX920 drive series that includes DRAM on the M.2 2280 gumstick SSD. HP went with the Silicon Motion SM2262 controller for this drive and paired it with Micron 64-layer TLC NAND Flash memory. That combination gives the HP SSD EX920 drive series offers sequential speeds of up to 3200 MB/s read and 1800 MB/s write. Random 4K performance is also good with up to 350,000 IOPS read and 260,000 IOPS write. The HP SSD EX920 M.2 series is available in 256GB, 512GB, 1TB right now with plans for a 2TB drive at a future date. Right now the HP SSD EX 920 M.2 series is priced at $109.99 shipped for the 256GB, $199.99 shipped for the 512GB and $369.99 shipped for the 1TB drive. These prices are about 10% lower than competitors using the same controller, so this could be a price versus performance winner!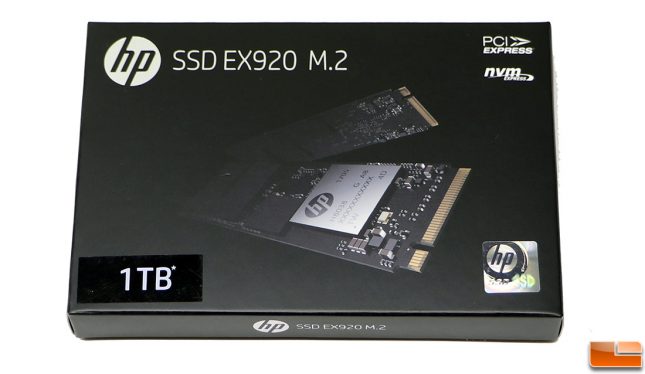 HP SSD EX920 M.2 Series Features:
Form Factor: Double-Sided M.2 2280
Interface: PCIe Gen 3.0 x4
Capacities: 256GB / 512GB / 1TB / 2TB
Controller: Silicon Motion SM2262
NAND: Micron 64-Layer 3D TLC (Second Generation)
MTBF: 2,000,000 hours
Sequential Read: Up to 3200 MB/s (all capacities)
Sequential Write: Up to 1200 MB/s (256GB), Up to 1600 MB/s (512GB), Up to 1800 MB/s (1TB/2TB)
4K Random Read: Up to 180K IOPS (256GB), Up to 340K IOPS (512GB), Up to 350K IOPS (1TB/2TB)
4K Random Write: Up to 250K IOPS (256GB), Up to 260K IOPS (512GB), Up to 250K IOPS (1TB/2TB)
Operating Temperature: 0C to 70C
Power Consumption (Typical – Mobile Mark 2007 Workload):

Active: 4.29W (256GB), 5.61W (512GB), 6.23W (1TB), 7.28W (2TB)
Idle: 0.73W

Endurance:

256GB: 100 TBW
512GB: 200 TBW
1TB: 300 TBW
2TB: 400 TBW

Warranty: 3-Years
HP selected the Silicon Motion SM2262 8-channel controller to power the EX920 PCIe Gen3 x4 NVMe 1.3 SSD series. This is the same controller we discovered on the Intel SSD 760p 512GB drive that we reviewed! The block diagram for the SM2262 controller is below for those that would like to take a quick look.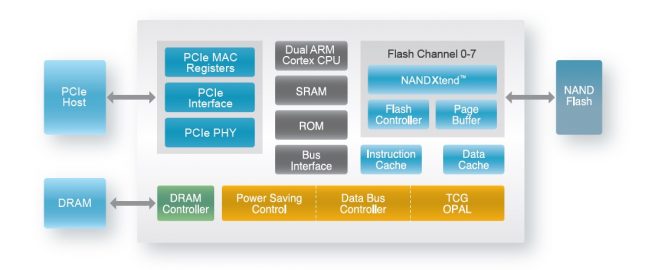 When paired with Micron 64-Layer 3D TLC NAND Flash memory the performance numbers for the HP SSD EX920 M.2 series is pretty impressive as you can see from the specifications table below.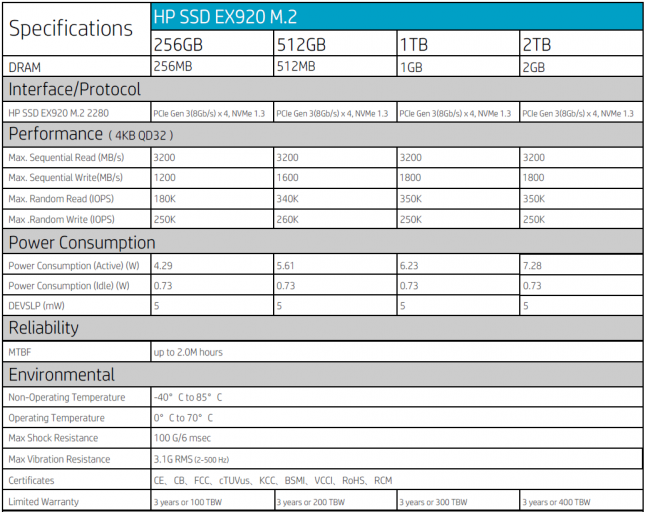 The exact model that we'll be testing today is the HP SSD EX920 M.2 1TB PCIe NVMe SSD that is sold under part number 2YY47AA#ABC for $369.99 shipped or $0.37 per GB. This is the flagship model for this series as has the highest sequential speeds ratings of 3200 MB/s read and 1800 MB/s write. This capacity drive has a 300 TBW endurance rating and is backed by a 3-year warranty. When we looked at the datasheet for this drive we noticed the fine print said that the HP SSD EX920 M.2 will have a minimum of three years of useful life under typical client workloads with up to 80% of the full capacity of host writes per day.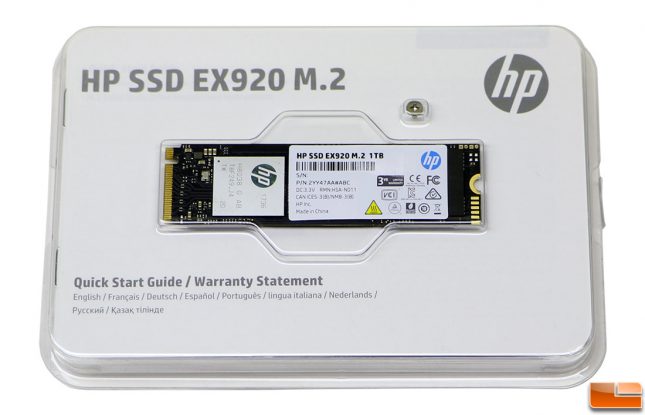 Inside the retail packaging you'll find clam shell packaging that contains the drive, quick start guide and an extra screw for your M.2 slot if you happened to misplace the one that came with your motherboard.

The HP SSD EX920 series features a black PCB design heatsink with a white label over some two Micron 64-layer 3D TLC NAND Flash memory chips and a Nanya cache chip. The controller is located on the far left of the drive and is covered by a thin piece of heat dissipating metal that is labeled HP H8038. If you peel this off you'd find the top of the actual SMI SM2262 controller. There two red LED lights on the drive located under the sticker that show drive activity.

On the back of the this double-sided M.2 2280 drive, we find another Nanya DRAM cache chip and two more NAND Flash packages located there. Each of these NANYA DRAM chips are 512MB in size, so there is 1GB of DRAM on this drive. Before we forget, the HP EX920 M.2 series has full compatibility with HPdst.exe (HP Software Pre-installation Environment) and is ideal for upgrading HP PCs as it was fully tested and certified in HP Laboratories.
HP does not have a free software utility for drive management, so let's take a look at the test platform and get straight to the benchmarks!