HP EX900 500GB M.2 PCIe NVMe SSD Review
By
HP Tries To Gain Market Share in SSDs
Today, Legit Reviews is taking a look at the HP SSD EX900 series of M.2 PCIe x4 NVMe 1.3 certified SSDs that just happen to be aimed at entry-level market with capacities of 120GB, 250GB, and 500GB. Actual street pricing for these three drives are $59.99, $94.52 and $179.99, respectively. The HP SSD EX900 drive series offers sequential speeds of up to 2100 MB/s read and 1500 MB/s write. Random 4K performance is also good with up to 120,000 IOPS read and 110,000 IOPS write. To get these speeds the folks at HP went with the Silicon Motion SM2263XT controller and Micron 64-Layer 3D TLC NAND Flash memory. Not bad performance for a budget friendly drive with solid performance numbers and using the latest NVMe 1.3 protocol.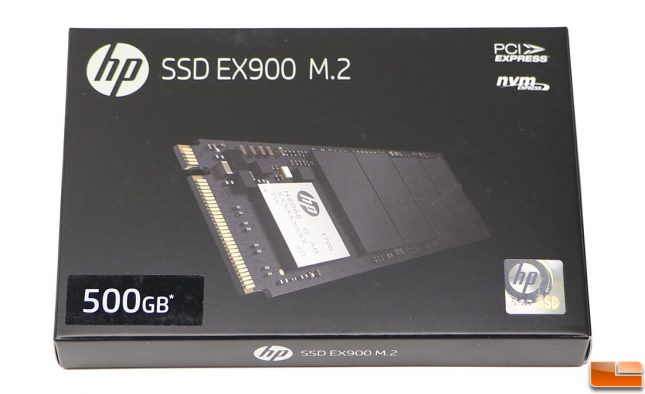 HP SSD EX900 M.2 Series Features:
Form Factor: Single-Sided M.2 2280
Interface: PCIe Gen 3.0 x4
Capacities: 120GB / 250GB / 500GB / 1TB
Controller: Silicon Motion SM2263XT HMB
NAND: Micron 64-Layer 3D TLC (Second Generation)
MTBF: 2,000,000 hours
Sequential Read: Up to 1900 MB/s (120GB), Up to 2100 MB/s (250/500GB)
Sequential Write: Up to 650 MB/s (120GB), Up to 1300 MB/s (250GB), Up to 1500 MB/s (500GB)
4K Random Read: Up to 110K IOPS (120GB), Up to 120K IOPS (250/500GB)
4K Random Write: Up to 100K IOPS (120GB, Up to 105K IOPS (250GB), Up to 108K IOPS (500GB)
Operating Temperature: 0C to 70C
Power Consumption (Typical – Mobile Mark 2007 Workload):

Active: 2.46W (120GB), 2.99W (250GB), 3.52W (500GB)
Idle: 0.68W

Endurance:

120GB: 70 TBW
250GB: 100 TBW
500GB: 200 TBW

Warranty: 3-Years
The Silicon Motion SM2263XT PCIe Gen3 x4 NVMe 1.3 SSD Controller is new to us here at Legit Reviews, so we took a closer look at it. It turns out the SM2263XT has a DRAM-less design that supports the Host Memory Buffer (HMB) architecture. This means that the SSD uses your PCs DRAM to cache needed data (mapping tables) and you can visually see that in the block diagram below. That sounds scary at first. What happens when the power goes out or the drive is accidentally removed. It turns out the NVMe 1.3 specification was written to ensure the controller on HMB drives won't have data loss or data corruption while the Host Memory Buffer feature is being utilized. Basically the controller writes updated mapping information to the HMB, but there is still a master copy on the drives NAND Flash before being flushed. This is said to have very little impact to CPU resources and and a tiny hit to the systems memory bandwidth and capacity. We tried to see how much memory was being used by this design and noticed about 0.3 GB less RAM being available on systems with 8GB and 16GB of system memory. Windows 10 began enabling this feature (Host Memory Buffer) by default with the Fall Creators Update and is not officially supported on older operating systems.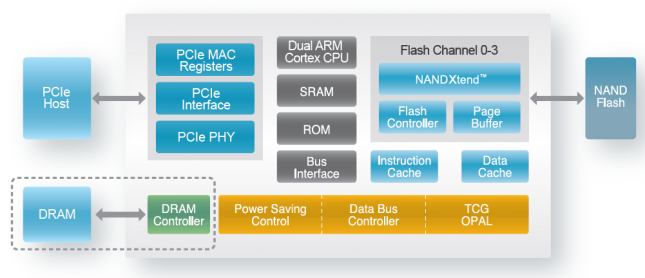 When you look at the official speed ratings from Silicon Motion in the table below, the SM2263XT controller has 280,000 IOPS for 4K Random Read with HMB, but only 140,000 IOPS without HMB. So, good news to those running the latest version of Windows 10. HP looks to have rated this drive without HMB enabled as a worst case scenario. You'll see in our testing that we hit close to 250K IOPS on the EX900 500GB drive, doubling HP's 4K Random Read rating of 120K IOPS. We reached out to Silicon Motion and were informed that HMB is something firmware set on the HP EX900 and it cannot be disabled by the end user.
SM2263
SM2263XT
SM2262
SM2262EN
Host Interface
PCIe Gen3 x4
PCIe Gen3 x4
PCIe Gen3 x4
PCIe Gen3 x4
PCIe Protocol
NVMe 1.3
NVMe 1.3
NVMe 1.3
NVMe 1.3
NAND Flash Channel
4
4
8
8
CE/Channel
4
4
4
4
DRAM
Yes
no DRAM
Yes
Yes
Seq. Read
2400 MB/s
2400 MB/s
3200 MB/s
3500 MB/s
Seq. Write
1700 MB/s
1700 MB/s
1900 MB/s
3000 MB/s
Random Read
300K IOPS
280K IOPS(HMB)

140K IOPS(no HMB)

370K IOPS
370K IOPS
Random Write
250K IOPS
250K IOPS
300K IOPS
300K IOPS
The exact model that we'll be testing today is the HP SSD EX900 M.2 500GB PCIe NVMe SSD that is sold under part number 2YY44AA#ABC for $179.99 shipped or $0.36 per GB. This is the flagship model for this series as has the highest sequential speeds ratings of 2100 MB/s read and 1500 MB/s write. This capacity drive has a 200 TBW endurance rating and is backed by a 3-year warranty.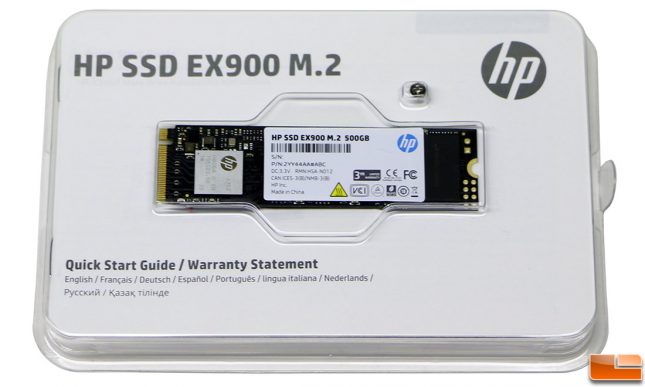 Inside the retail packaging you'll find clam shell packaging that contains the drive, quick start guide and an extra screw for your M.2 slot if you happened to misplace the one that came with your motherboard.

The HP SSD EX900 series features a black PCB design heatsink with a white label over some of the 3D TLC NAND Flash memory. The controller is located on the far left of the drive and is covered by a thin piece of heat dissipating metal that is labeled HP H8068. If you peel this off you'd find the top of the actual SMI SM2263XT controller. There are four Micron 64-Layer 3D TLC NAND Flash packages on this drive that are labeled BW29F1T08EMHAF. On the lower left corner in the picture above you might be able to make out an LED light and things blinks red when the drive is actively being used.

The bottom of the this single-sided M.2 2280 drive doesn't have a place for any components to be mounted. Before we forget, the HP EX900 M.2 series has full compatibility with HPdst.exe (HP Software Pre-installation Environment) and is ideal for upgrading HP PCs as it was fully tested and certified in HP Laboratories.
HP does not have a free software utility for drive management, so let's take a look at the test platform and get straight to the benchmarks!