How Will Doom 3 Play On My Notebook?
By
Introduction: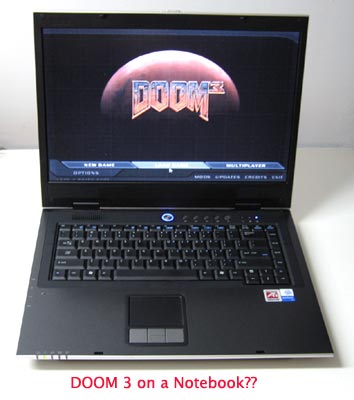 After attending Quakecon 2004 and meeting some dedicated readers we found that one of the most asked questions at Quakecon 2004 was: "How well does Doom 3 play on laptops?". We had our laptop there, but honestly had never installed Doom 3. We got back home and installed Doom 3 on our ASUS M6N notebook that we had built and started benchmarking to see how the hardware hungry game does.
The first choice we had to make was what video card driver to use on our notebook that contained discrete graphics via the ATI Mobility 9600 64mb chip. We couldn't make up our minds so we went ahead and used four different drivers to see which worked best. We went with the official ASUS V8.01 (this is officially the correct and latest driver for the ASUS M6N notebook). We then modded ATI CATALYST Drivers version 4.7, 4.8, and 4.9 Beta for use on our notebook.
| | |
| --- | --- |
| ASUS Version 8.01 | CATALYST 4.8 |
If you are wondering how we installed CATALYST drivers on our notebook you will need to download a simple program called
DH Mod tool V2.0b. Without the mod program when you try to install a CATALYST driver onto a notebook it will give you
an error prompt saying INF not found.
That's where the mod tool comes in. Simply run the mod tool and point it to the install files and it will modify them to install on your notebook. The above screen shot shows the video card properties with the original ASUS driver on the left and the just released ATI CATALYST 4.8 driver on the right after we installed them via the mod tool.
Our Test System
ASUS M6N Notebook
Intel Pentium-M 1.7
ATI Mobility 9600 64mb
Kingston PC-2700 512mb 200-pin SO-DIMM's
40GB Fujitsu 5400RPM Hard Drive
Windows XP Professional w/ SP1A
Test Settings
High Detail: High Quality Special Effects, Enabled: Shadows, Specular, & Bump Maps
Low Detail: All the above disabled
It should be noted that the first time demo run was ignored so the game could be cached. We then took the average of the 2nd to 4th runs to get the numbers shown in the graphs.
So what is better for DOOM 3 & how well does DOOM 3 run on our notebook? Let's take a look at some benchmarks and see!