HighSpeed PC Tech Station Review
By
Installing Your Gear and Conclusion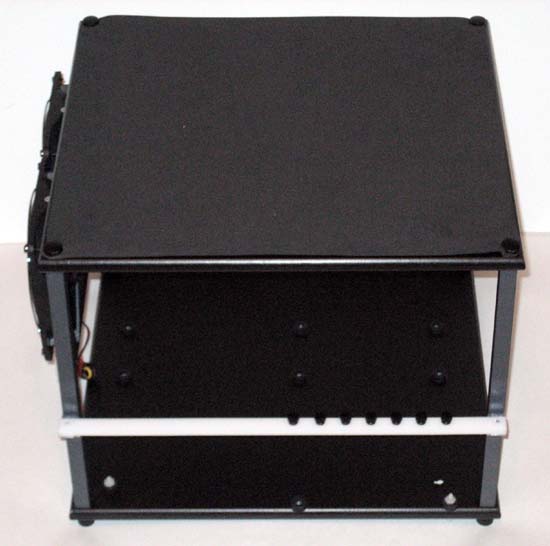 And here you have it! The completed HSPC Tech Station! It really is a thing of beauty. But what is beauty if it is not functional. Let's get our gear on it!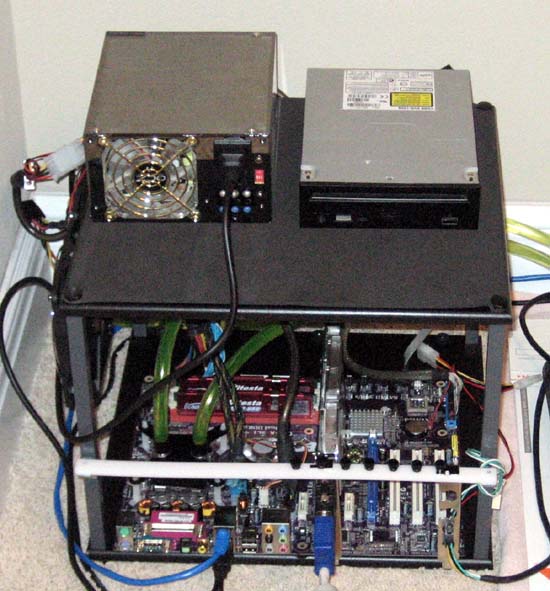 Now this is more like it! Everything is in its place and is ready to go! All the hardware is secured to the station except for the HDD. There really is no way to secure the drive to the included rails. The HDD just slides into place into the rails and just sits there. Now it did not seem to pose any problems, but the added security of some screws like the ones used on the card brace would give you that added sense of security.
Final Thoughts:
The Tech Station is exactly was I was looking for to hold all of my gear that I have in my test bench. It allows me to have everything in one easy to access location, and gives me the peace of mind that all of my gear is safe and secure. This was a very easy build, and really would not take much more than the 20 minutes that is claimed by HighSpeed PC. The materials that are used are of very high quality. You can tell that this product was built by and for the enthusiast.
The Tech Station comes in two different sizes: the standard stations is 14×9.5, while the large station comes in at 14×13. Both are available in 6 different colors, and they have a multitude of accessories that are available to purchase. We used the large version of the Tech Station with the optional 10″ legs for our review here today. You can also by this Tech Station preassembled so that it is ready to go out of the box. The large Tech Station, like what we have looked at here runs right at $139.00 from HighSpeed PC directly which might seem high to some, but think of the Tech Station like your new case! HighSpeed PC also offers the standard version (14″ x 9.5″) for $79.99, which is $60 less than the large version we reviewed here today. A quick search on the web produced only one other site right now that sells the Tech Station. This might be a little pricey for some, but the quality that you get I think is deserving of the price tag.
Legit Bottom Line:
The HSPC Tech Station is a quality product that puts your test/bench rig in a sturdy and organized environment. If you are in the market for something like this, you cannot go wrong by giving HighSpeed PC some of your hard earned cash for this product!