HighSpeed PC Tech Station Review
By
HighSpeed PC's Tech Station
Enthusiast. That word alone is used to describe someone who will go out of his way to make things do more than they are supposed to or are advertised for. It is also a word that describes someone who will do their very best to try and make difficult things easier, and then pass that on to others that he/she associates with.
In the realms of computer hardware, I am first and foremost and enthusiast. That is where I got my start. I spent many a night up till the wee hours of the morning with my internet friends tweaking the heck out of hardware and trying to do things that had never been done. Once we figured it out, we posted it for everyone to see. Now, I am still an enthusiast, but I am also a reviewer, and as a reviewer, I do many of the same things that I did as an enthusiast, but I get to tell alot more people about it! I want things to be easier, so that writing reviews gets easier. So where am i going with this? Why, into a review of a product that makes life easier for me as an enthusiast and a reviewer! So here we go! I want to introduce to you the HSPC Tech Station: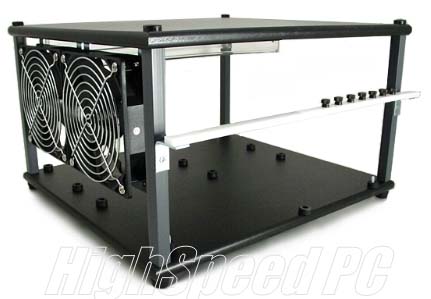 HighSpeed PC is a company that was built by enthusiast for enthusiast. Referring to themselves, their website says, "HighSpeed PC LLC was founded in the summer of 1999 and based on a love for cool pc gear." They are an internet store that sells enthusiast products, but they also have on of their own that they designed called the HSPC Tech Station. They describe it this way on their site:
"Fast-access computer case – It's a hardware workbench that brings PC components within easy reach yet keeps them safe and secure. Perfect for PC builders, upgraders, overclockers…"
Many enthusiasts have their equipment in a case, and when they have to swap it out, they have to open the case and take the time to remove everything just to swap out a motherboard. The other alternative is to have the equipment setting out where it could possibly get damaged, have food spilled on, or have a child (for those of us with kids) decide they want to play with it. HighSpeed PC has created the Techstation to help enthusiasts keep their hardware easy to access and swap out parts, as well as give a little more security and saftey to the hardware. Well, let's take a closer look at the HSPC Techstation and see what you get.