HGST Touro Mobile Pro 500GB USB 3.0 External Hard Drive Review
By
An Affordable Portable USB 3.0 Drive For Back To School
HGST, formerly Hitachi GST and now a Western Digital company, isn't a brand that we often look at here on Legit Reviews, so we jumped at the opportunity to take a look at the Touro Mobile Pro 500GB USB 3.0 external storage solution. Inside this portable drive you'll find a Travelstar 500GB, 2.5-inch 7,200 RPM hard drive. Many mobile devices use a slower 5400RPM hard drive, so this device should be quick thanks to the 7200RPM drive inside. This is also not a new product as it has been around since 2011. Why are we looking at it then? Well, it is back to school season and you have to have a portable drive these days if you are a student. Since this drive has been around for a bit, it also means that the prices have come down. Back in 2011 this drive would cost you $89.99, but now it is just $59.99 shipped and you get 3GB of free cloud storage. That breaks down to roughly 12 cents per GB. The average price of a 500GB portable storage drive is about $70 or 14 cents per GB, so you are saving about ten bucks by purchasing something that isn't brand spanking new. They also have a 1TB version of the same drive that just came out in 2013 with the same specifications for $79.99 shipped (12.5 cents per GB) if you are wanting a portable 7200RPM solution with more storage space.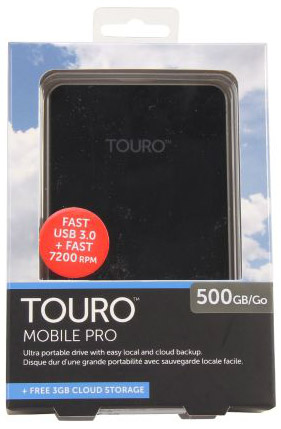 The HGST TOURO Pro isn't exactly a slim device and measures in at 126mm x 80mm x 14.5mm with a weight of 155 grams. At 15mm in thickness this drive isn't thin by any means. Earlier this year we reviewed the ADATA DashDrive Elite HE720 500GB portable drive and found that was the drive to get if you want something thin. It features a thickness of just 8.9mm, which is ~40% thinner than the HGST TOURO Mobile Pro. If you are a high school or college student that is going to be tossing your storage drive into a backpack, a few millimeters here or there should matter!
HGST TOURO Mobile Pro 500GB Drive Features:
| | |
| --- | --- |
| Model | 0S03105 |
| Capacity | 500GB |
| Color | Black |
| Dimensions (L x W x H) | 126 x 80 x 14.5mm |
| Weight | 155g (0.4 lb) |
| Interface (USB) | SuperSpeed USB 3.0 (backward compatible with USB 2.0) |
| Interface (HDD) | 2.5″ SATA II |
| System requirements | Windows XP, Windows Vista, Windows 7 / Mac OS X 10.5 or later / Linux Kernel 2.6 or later |
| Temperature | Operating 5C~50C; Storage -40C~60C |
| Accessories | USB 3.0 cable; Quick Start Guide |
| Texture | Smooth black with a mirror-like polish |
| Warranty | 2 years |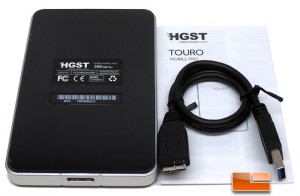 Inside the retail box you will find the quick start guide, the external hard drive and a 12″ long USB 3.0 data cable. The HGST TOURO Pro is powered completely from the USB 3.0 connector, which means no separate power cable is needed!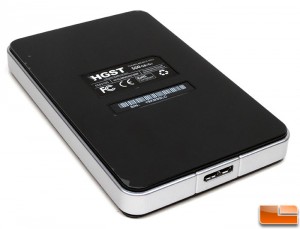 The ADATA DashDrive Elite HE720 measures 126 x 80 x 14.5mm, with a weight of 155g (0.4 lb). The bottom and top covers are black and the sides have a silver 'band' around it, for a splash of color. Due to the glossy finish on the main surfaces, it does show finger prints and smudges. has a titanium color to it and doesn't show finger prints that bad. Also on top is a bright blue LED activity light that stays on when the drive is powered on and flashes when the drive is being accessed by your PC.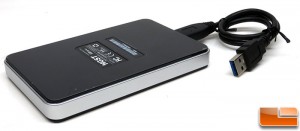 The HGST TOURO Pro utilizes the SuperSpeed USB 3.0 interface, but it is backwards compatible with USB 2.0. It will run slower if you use it on a USB 2.0 port, so always try to plug it into a USB 3.0 port on the PC you are using.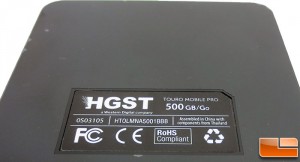 The label on the back of the drive shows the model number, capacity, serial number and other regional relevant information. The serial number will be needed if anything goes wrong during the drives 2-year warranty period.
Now that we know the basics, let's move on to testing this drive out to see how fast it is!