ADATA DashDrive Elite 500GB HE720 External Drive Review
By
The Slimmest External Hard Drive – ADATA HE720
Are you looking for an external hard drive that is thin for easy portability? The ADATA DashDrive Elite HE720 is the world's thinnest USB 3.0 external hard drive at just 8.9mm thick. That is slim enough to easily fit in your pant pocket, purse or laptop bag! This 500GB external hard drive also features a "One touch backup" function which automatically backs up and synchronizes data. ADATA sent over the ADATA DashDrive Elite HE720 500GB external HDD for to check out, so read on to learn more about it and to see how it performs!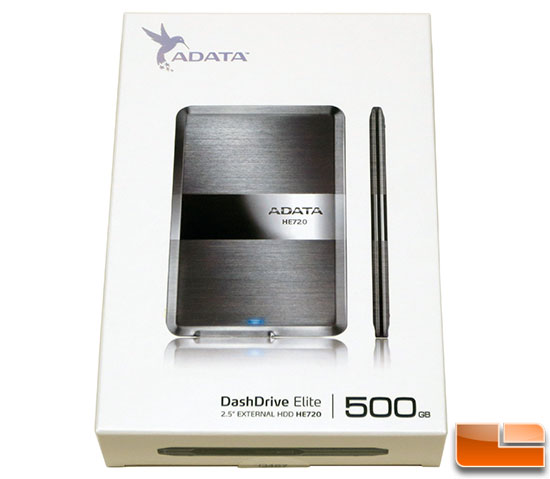 The ADATA DashDrive Elite HE720 comes in very straight forward packaging that shows the company logo, product, product name and the drives capacity. Right now the DashDrive Elite HE720 is only available in a 500GB model, so there isn't going to be too much confusion if you are trying to find this drive. Inside is a Seagate Momentus Thin 5400.9 ST500LT012 500GB hard drive. This hard drive by itself runs $69.09 shipped! ADATA is selling the DashDrive Elite HE720 external drive for $79.99 shipped, so you can't complain about the pricing on this product!
ADATA DashDrive Elite HE720 Features:
| | |
| --- | --- |
| Model | AHE720-500GU3-CTI |
| Capacity | 500GB |
| Color | Titanium |
| Dimensions (L x W x H) | 117 x 79 x 8.9mm (4.6 x 3.1 x 0.4in) |
| Weight | 164g (0.4 lb) |
| Interface (USB) | SuperSpeed USB 3.0 (backward compatible with USB 2.0) |
| Interface (HDD) | 2.5″ SATA II |
| System requirements | Windows XP, Windows Vista, Windows 7 / Mac OS X 10.6 or later / Linux Kernel 2.6 or later |
| Temperature | Operating 5ºC~50ºC; Storage -40ºC~60ºC |
| Accessories | USB 3.0 cable; Quick Start Guide |
| Texture | Stainless steel metal brushed surface, plus mirror-like polish |
| Warranty | 3 years |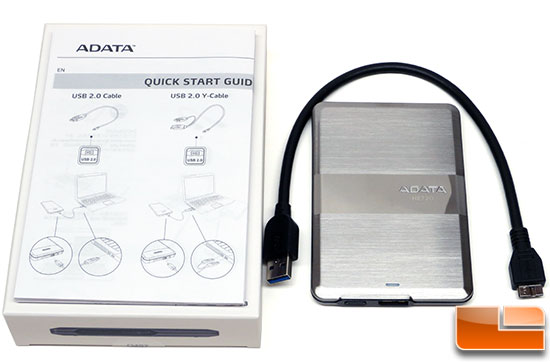 Inside the retail box you will find the quick start guide, the external hard drive and a 12″ long USB 3.0 data cable. The ADATA HE720 is powered completely from the USB 3.0 connector, which is nice as no power cable is needed!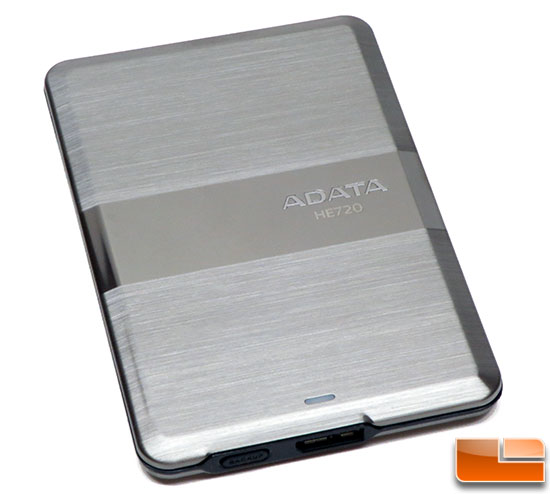 The ADATA DashDrive Elite HE720 measures 117 x 79 x 8.9mm (4.6 x 3.1 x 0.4in), with a weight of 164g (0.4 lb). At just 8.9mm thick, ADATA says this is the slimmest external hard drive on the market. The brushed cover has a titanium color to it and doesn't show finger prints that bad. Also on top is a bright blue LED activity light that stays on when the drive is powered on and flashes when the drive is being accessed by your PC.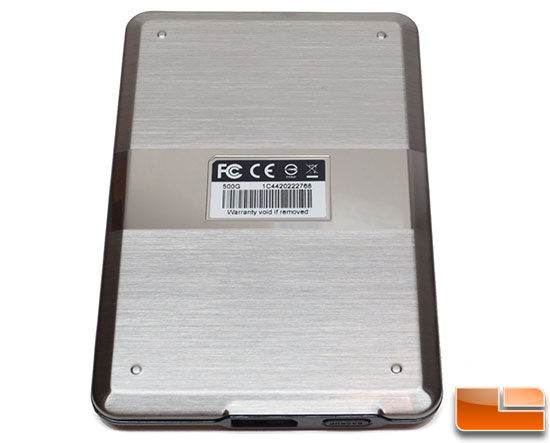 The back side of the ADATA HE720 has the warranty label and that is it. Note that ADATA pressed in some small 'feet' into the devices metal casing.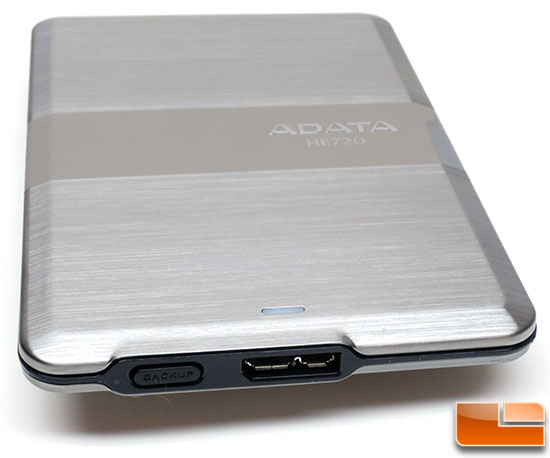 In this last photo we can see the backup button and the USB 3.0 power/data connector. It should be noted that USB 3.0 is backwards compatible with USB 2.0, but the HE720 will be slower. The backup button only works if you are using ADATA's One Touch Backup software that comes on the drive. This software allows you to backup and synchronize your critical data with just a touch of that button.
Now that we know the basics, let's move on to testing this drive out to see how fast it is!