Gigabyte Shows Off Upcoming Intel Z87 Motherboards
By
Gigabyte GA-Z87X-UD4H & GA-Z87X-UD5H
Next up we have the Gigabyte GA-Z87X-UD4H motherboard, which is more of a mainstream board. With the GA-Z87X-UD4H we see that Gigabyte went with a red and black color theme for a clean modern look. This motherboard keeps it simple and we like the color choice.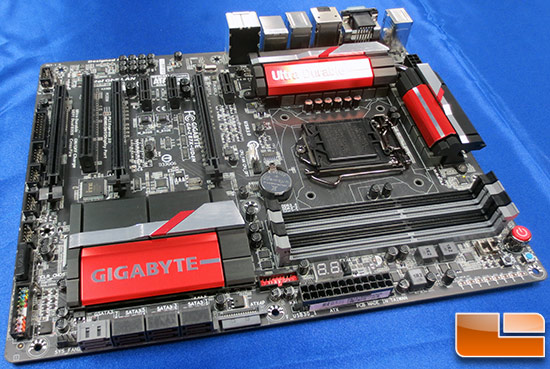 The Gigabyte GA-Z87X-UD4H comes with a 16 Phase VRM, 2 layer copper design PCB and the black solid capacitors that we have seen on most of the other boards. This board has three PCI Express x16 full sized lanes which operate as 16x, 8x, and 4x. This board also has three PCIe x1 lanes and an old school PCI slot! The board has eight SATA ports and four DDR3 memory slots.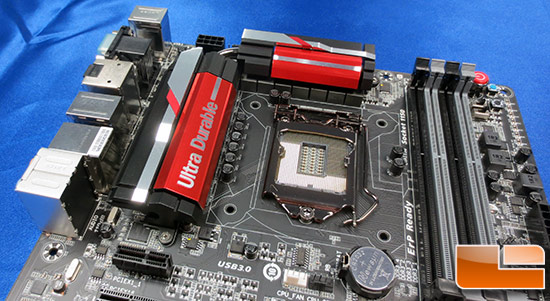 Here is a closer look at the Intel LGA1150 socket and the area around the CPU socket.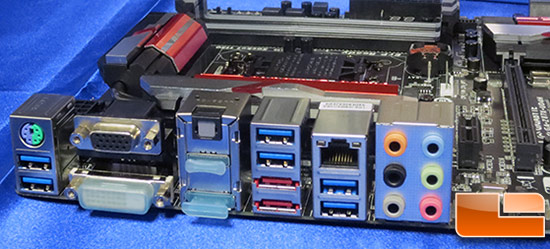 The I/O panel on the GIGABYTE Z87-UD4H gives us just about everything we could need. If you're taking advantage of the video from your 4th gen Intel Core processor, you have all the options available to you, DVI, VGA, HDMI, and DisplayPort. It packs a punch for USB with a total of six SuperSpeed USB 3.0 ports, as well as a pair of eSATA ports. On the audio side there is the typical six 3.5mm jacks as well as an optical SPDIF out. It is odd that a VGA port is still included on a board in this day and age, but keep in mind this board is part of the affordable standard series by Gigabyte and is not considered a high-end board.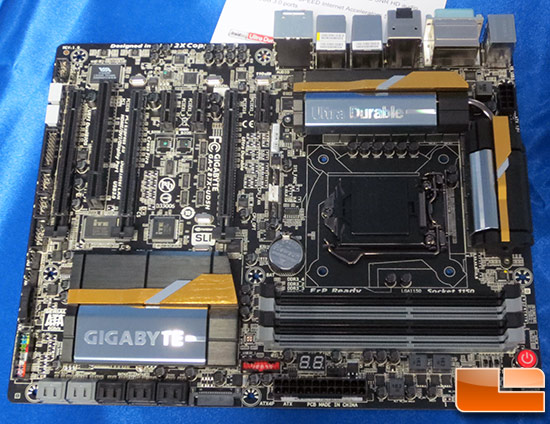 For those that are looking to take a step up we will end this preview by showing you the Gigabyte Z87X-UD5H motherboard. The Gigabyte Z87X-UD5H also uses 16-phase CPU VRM, but as you can see it has a black and gold color theme. This board also has three PCI-Express 3.0 x16 slots (x16/NC/NC or x8/x8/NC or x8/x4/x4), three PCI-Express 2.0 x1, and a legacy PCI slot. You have a total of ten SATA 6 Gbps internal ports, six connected to the Intel Z87 chipset and four by a third-party controller.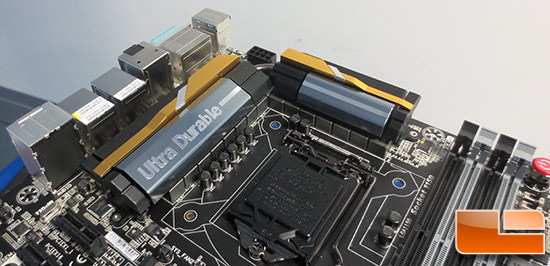 When it comes to video outputs you have two HDMI ports, dual-link DVI and DisplayPort. No old school VGA ports here! You also have 8-channel HD audio with TOSLINK digital output, two gigabit Ethernet interfaces, six USB 3.0 ports and a PS2 port.
Stay tuned for more information when we are allowed to publish it!