Gigabyte Shows Off Upcoming Intel Z87 Motherboards
By
Gigabyte G1 Sniper 5 w/ OP AMP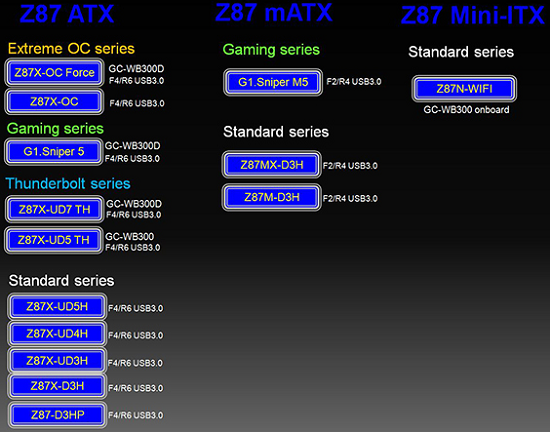 Gigabyte recently invited Legit Reviews to come out and take a look at some of their upcoming Intel Z87 motherboards and that is an offer that we could not resist. Gigabyte has roughly 30 Intel 7 series motherboards and expects to have about the same number of boards for the Intel 8 series. Gigabyte expects to have around 15 boards at launch, which is too many for any one site to cover. Today we'll be covering a handful of their upcoming Intel Z87 motherboards and going over some of the key features of those boards.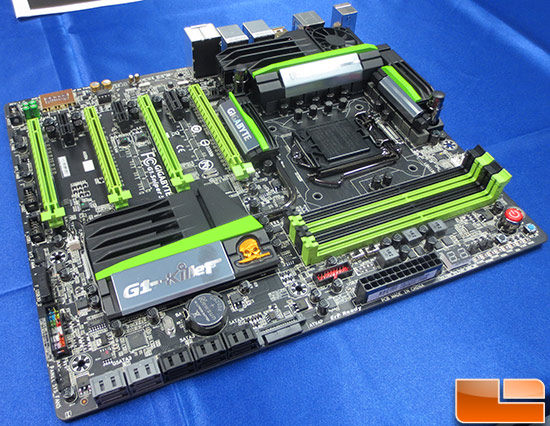 When it comes to the gaming focused boards we were happy to see the G1.Sniper product line is still alive and well. Gigabyte will be carrying the G1.Sniper 5 and G1.Sniper M5 motherboards and these are considered fairly high-end boards with a ton of interesting features. As you can see from the image above the G1.Sniper 5 is a full sized ATX motherboard that features four PCIe x16 3.0 slots, which can be configured a number of ways since Gigabyte is using the PLX PEX8747 48-lane PCI-Express 3.0 bridge chip. This means you can run it x16/-/x16/- or x16/-/x8/x8 or x8/x8/x16/- or x8/x8/x8/x8. This means you can do 4-way NVIDIA SLI or AMD CrossFireX.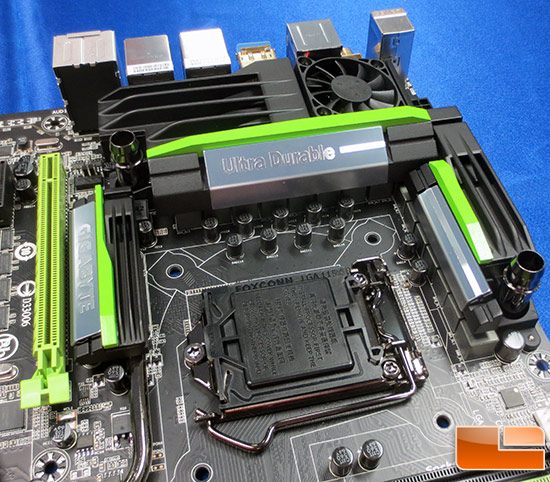 When you take a closer look around the Intel LGA socket you can see that this board has the option to be liquid cool the driver-MOSFETs, which is nice to see. The G1.Sniper 5 features 16-phase VRM and ferrite-core chokes.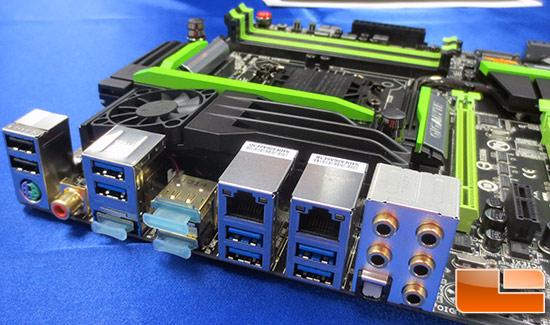 When it comes to the rear IO panel there are all the usual connectors. The highlights are the Qualcomm/Bigfoot Killer K2000 and Realtek RTL8111F gigabit Ethernet interfaces, six USB 3.0 ports, two USB 2.0 ports, dual-HDMI and DisplayPort display outputs, and legacy PS/2 keyboard/mouse combo connector.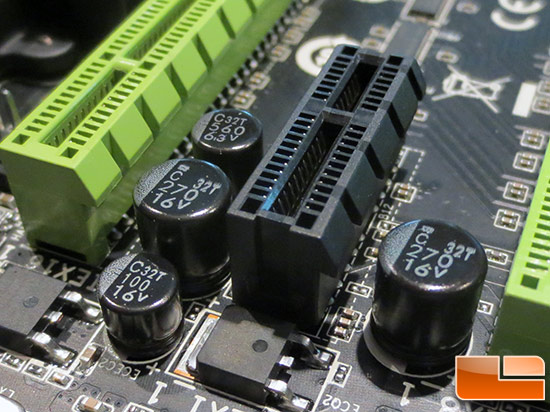 Gigabyte uses all solid-state black capacitors on the entire board with the exception of the audio components where higher-end audio parts were sourced. The black capacitors look nice and we have a feeling that this is going to become the standard on enthusiast DIY boards from this point on.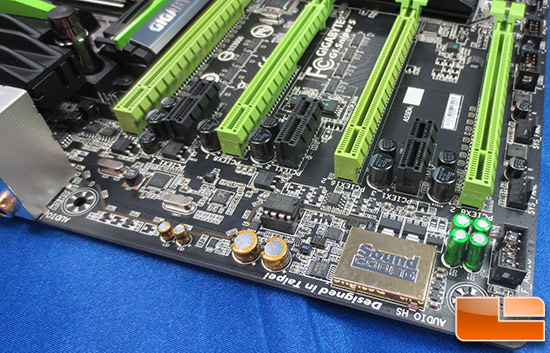 Gigabyte has put a ton of time and effort into the audio on some of the Intel Z87 series boards that they will be offering. The Gigabyte G1.Sniper 5 and G1.Sniper M5 motherboards both feature Creative Sound Core 3D chips, but also removable operational amplifiers that allow you to customize the boards audio characteristics.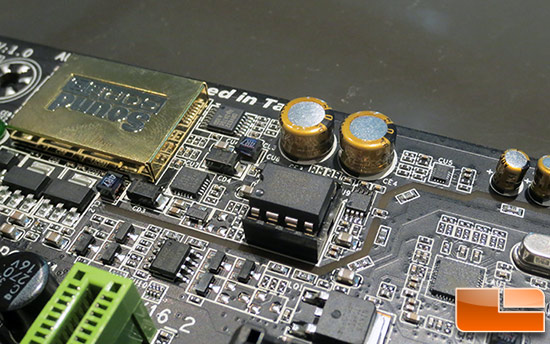 The Creative audio solution features a gold-coated cover for shielding, Nichicon high-end audio capacitors, audio noise guard with path lighting and gold plated connectors for HDMI, Coax, Displayport, and the analogue 7.1 audio ports. Directly in the middle of this image you can also see the Op-Amp socket.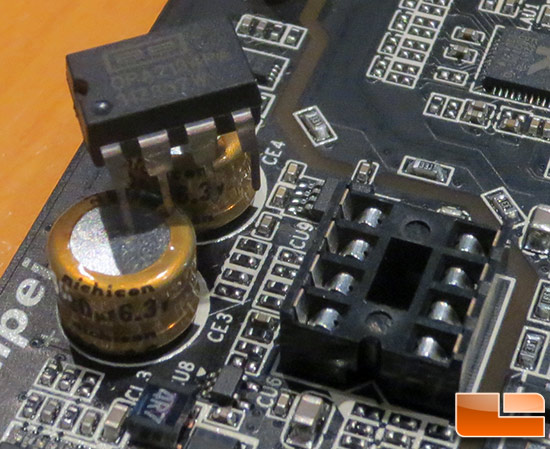 Here is a closer look at a Op-Amp socket with the OPA2134 Burr-Brown standard Op Amp removed. Gigabyte will be including two amplifiers with boards that have this audio feature, but you can also purchase more on your own. The other one that will likely be included is the AD827 by Analog Devices.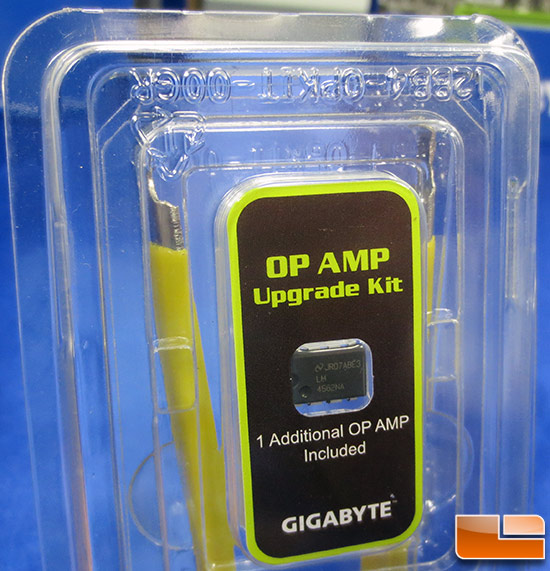 Gigabyte will be offering an upgrade kit for the op-amps which includes an LM4562NA op-amp and an IC extractor. This optional kit isn't priced just yet, but you can take a look at it above.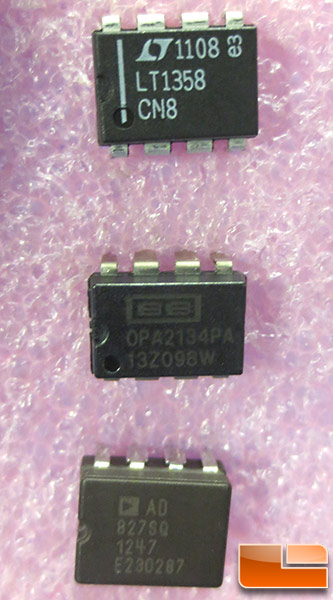 Numerous Op-Amps are available for purchase online and all of them cause the motherboards audio characteristics to sound different. We have been told they range in price from a few dollars all the way up to around forty bucks, so you can spend some money if you really wanted to.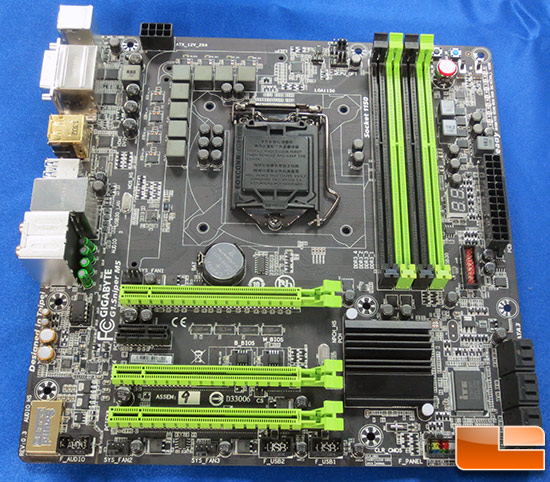 The Gigabyte G1.Sniper M5 micro-ATX motherboard is very similar, but is obviously smaller and has some of the features removed. This board measures 240mm by 240mm and features an 8-phase CPU VRM, four DDR3 DIMM slots, two PCI-Express 3.0 x16 slots (x16/NC or x8/x8), one PCI-Express 2.0 x16 (electrical x4), and a PCI-Express 2.0 x1 slot. You get six SATA 6Gbps ports that are all thanks to the Intel Z87 chipset and it looks like all the toasty components will be getting passive cooling solutions.

The rear IP panel has two USB 2.0 ports, four USB 3.0 ports, a PS2 port, dual-link DVI, two HDMI, DisplayPort, Intel Gigabit Ethernet and all the audio ports.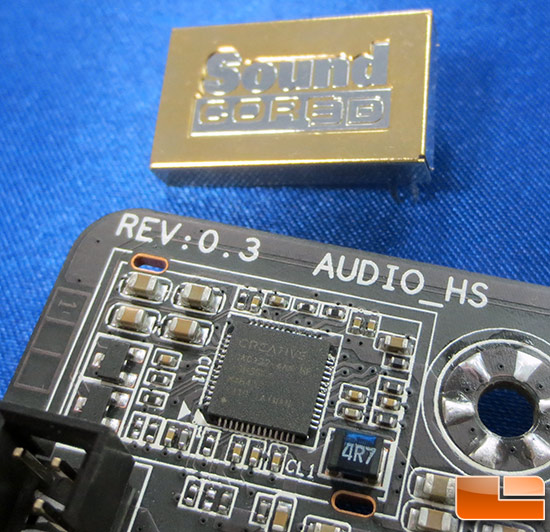 Here is a look at the Creative Sound Blaster chip that makes up the Sound Core 3D technology possible. The metal shield easily pops off, so we thought we'd give you an up close look. As you can see this board has most of the critical features of the G1.Sniper 5, but in a micro-ATX form factor and likely less money. Let's take a look at some of the other boards.