Gigabyte BRIX S BSi7H-6500 Ultra Compact PC Kit Review
By
Gigabyte's BRIX Mini PCs Get Skylake Processors
Today we have Gigabyte BRIX S Ultra Compact PC Kit in the hot seat. This isn't the Gigabyte BRIX S BXi5H-5200 Ultra Compact PC Kit that we reviewed last year, but rather the Gigabyte BRIX S BSi7H-6500 Ultra Compact PC Kit. This is one of the many revamped Gigabyte BRIX models that debuted at CES 2016! Gigabyte updated the exterior to have an arguably improved brushed aluminum finish and also updated the inside to include the latest Intel 6th Generation Core 'Skylake' processors along with M.2 PCIe SSD storage support.

Gigabyte offers a wide number of BRIX models, but you can simplify things by understanding that the new 2016 models only have three processor models to pick from: Core i3-6100U, Core i5-6200U, or Core i7-6500U. Once you figure out the processor that you want you then need to select if you want just one M.2 PCIe SSD storage slot on the board or the M.2 slot the ability to use a 2.5″ SATA III hard drive. The models that support just an M.2 storage drive are less expensive and the enclosure is just 1.4-inches in height versus the models that support both drive formats that is 1.8-inches in height. If you go shopping for a Gigabyte BRIX, the model numbers that have an 'H' in them are the taller models that support both drives types.
One would think that pricing would be higher for the models that support two drives as it has a 2.5″ drive tray, SATA data/power cable and an enclosure with more material, but it appears that those models are usually priced below the sleeker models that offer fewer storage options. It just goes to show that companies are clearly charging a premium for going small! The model that we are looking at today is the GB-BSi7H-6500, which features the mighty Intel Core i7-6500U dual-core processor with Hyper Threading. This processor has a base clock of 2.5 GHz and with a peak turbo frequency of 3.1 GHz. The TDP on this processor is configurable between 7.5W and 25W and it appears that Gigabyte adjusted this one to operate at 15W.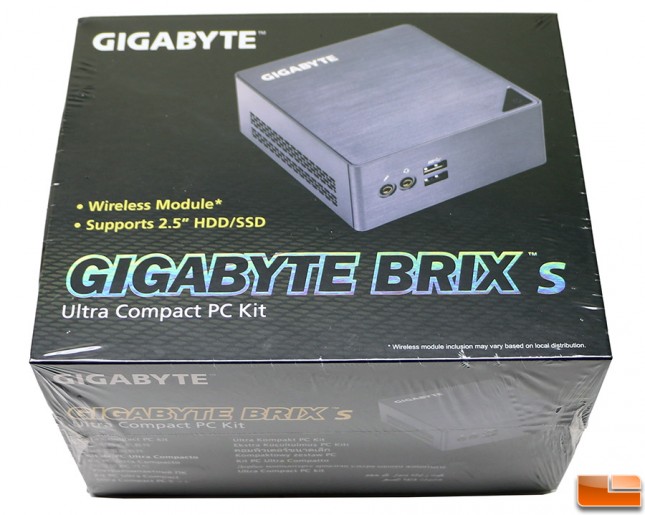 This 'PC Kit' is more or less a barebones kit that comes with an Intel Dual Band Wireless-AC 3165 module pre-installed and wired up, but it lacks a storage drive of any kind, DDR3L memory kit (DRAM) and lacks the operating system. The GB-BSi7-6500 already costs $529.99, so if you had to buy the remaining components you'll be spending well north of that figure to get this kit running. We'll be using a Samsung SSD 950 Pro 512GB M.2 PCIe SSD ($322.57), G.Skill Ripjaws 8GB (2x4GB) 1866MHz DDR3L SO-DIMM kit ($39.22) and Windows 10 Pro ($98.90). That puts the build cost at right around $990, so you can expect to spend right around a grand if you want load this up with a high-end M.2 PCIe SSD with NVMe support and a decent memory kit.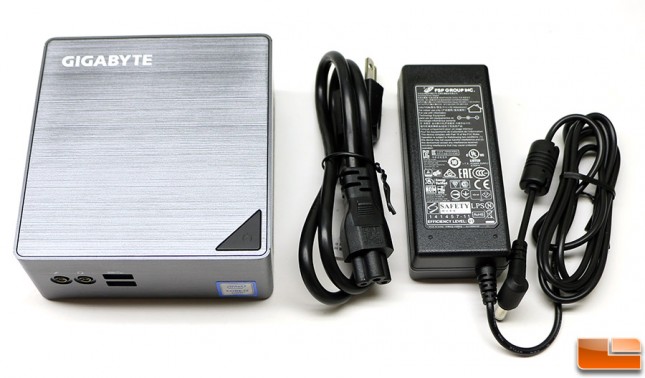 The Gigabyte BRIX S models come with a VESA mounting bracket and mounting screws for that and 2.5-inch drive if you are getting an applicable model. You also get a driver disk and an owners manual, but the important things are pictured above. That would be the BRIX unit itself, the 3-prong mickey-mouse power cable and the 65 Watt FSP Group AC to DC power adapter (model FSP065-REBN2). The external power brick measures 108 x 49.2 x 30mm in size and meets Energy Star EPS2.0/ErP lot 7 specifications.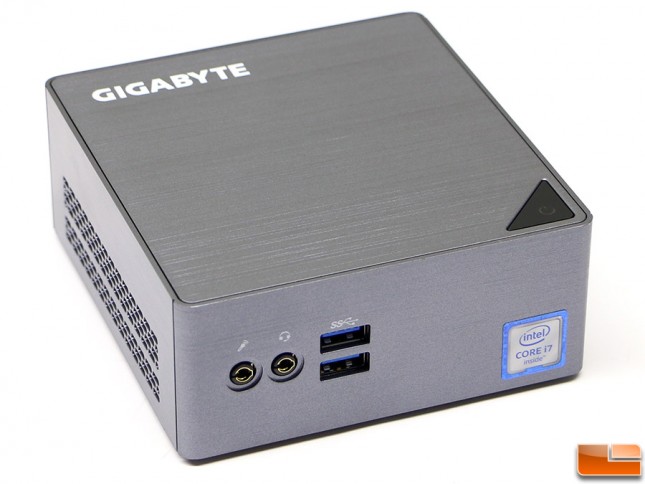 The front panel on the BRIX has two USB 3.0 ports as well as standard sized jacks for your headset and microphone. Gigabyte is using a Realtek ALC255 audio codec The power button is the black triangular shaped button on the top housing cover. The power button features a white LED light that isn't too bright, which is a good thing as we didn't see an option to disable it in the BIOS/UEFI.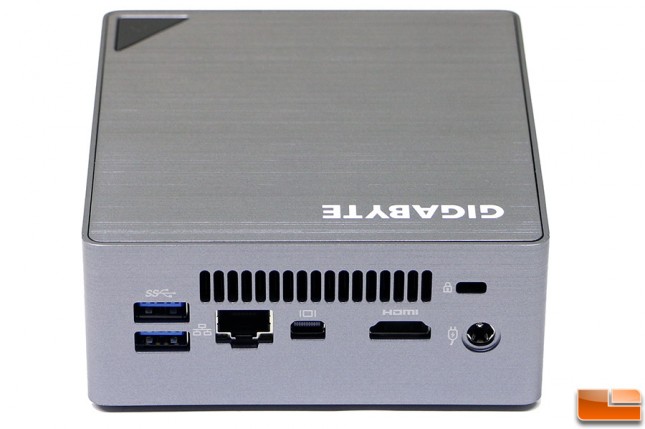 The unit features an HDMI 1.4a port and a Mini DisplayPort 1.2 for display connectivity. This means that this model of the BRIX supports a maximum display resolution of 3840×2160 at 60Hz on the Mini DP and 4096×2160 at 24Hz on the HDMI. This model features Intel HD Graphics 520, so the refresh rate might be an issue as you won't be gaming at Ultra HD resolutions on this system with integrated graphics! The good thing about Intel HD Graphcis 520 is that they support the DirectX 12 API and OpenGL 4.4 specifications. You also have two more USB 3.0 ports, the RJ45 Gigabit ethernet port for the Intel i219V controller, kensington lock and the power port.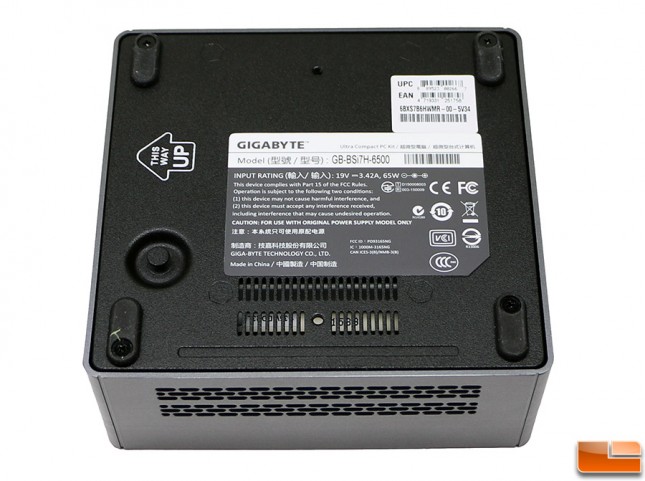 On the bottom of the unit you'll find four rubber feet that have Philips screws inside them that hold the bottom cover onto the BRIX. You can also make out the two screw holes in the middle of the cover for the standard VESA mounts that supports both 75 x 75 and 100 x 100 mm mounting configurations.
Let's take a look inside the Gigabyte GB-BSi7H-6500 BRIX S Ultra Compact PC Kit!