Gigabyte Brix Pro Review – GB-BXi7-4770R
By
We Finally Get To Try Out The Gigabyte Brix Pro
We first saw the Gigabyte Brix Pro Ultra Compact PC Kit in September 2013 at the Intel Developer Forum and instantly fell in love with the pint-sized system due to the hardware inside. Gigabyte managed to fit the Intel Core i7-4770R 3.9GHz quad-core processor along with Intels powerful new Iris Pro 5200 integrated graphics in a form factor that is just 62 x 111.4 x 114.4 mm or 0.79 Liters in size. We recently got our hands on the Gigabyte Brix Pro GB-BXi7-4770R, which is the flagship model that runs $649.99 plus shipping if you are lucky and can find a retailer that isn't out of stock at the moment. The Gigabyte Brix Pro is only available in limited regions and only available in black and red with the Intel Core i7 4770R processor. It should be noted that the $650 price tag includes the DIY PC kit that includes the Brix Pro, 802.11ac mini PCIe wireless card and the power adapter and cable. You still need to purchase a dual-channel DDR3L SO-DIMM memory kit and the mSATA Solid-State Drive and/or a 2.5″ drive, which will add to the price of this build.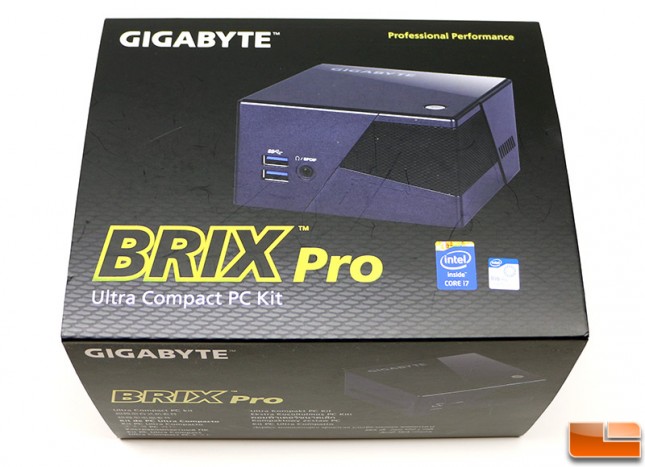 We'll be taking a look at the Gigabyte Brix Pro GB-BXi7-4770R in black today. This PC features a 4th Generation Intel Core i7-4770R 'Haswell' processor that runs at 3.2GHz (3.9GHz Turbo) and Intel Iris Pro 5200 graphics. This is the very best of the integrated graphics solution that Intel has to offer and is the same one used in some of the high-dollar Apple 2013 iMacs. This is a system that is aimed at high-end users that want a powerful CPU and graphics capable of playing some games and running a 4K or mufti-monitor setup.
Gigabyte Brix Pro GB-BXi7-4770R Features:
Intel 4th generation Core i7-4770R processor
Intel Iris Pro graphics 5200 w/ 128MB of EDRAM or embedded ram
Supports 2.5 thickness 7.0/9.5mm Hard Drives (1 x 6Gbps SATA3)
Ultra compact PC design – 0.79L (62 x 111.4 x 114.4 mm)
1 x mSATA SSD Slot
2 x SO-DIMM DDR3L Slots (1333 / 1600 MHz)
IEEE 802.11 a/b/g/n/ac Wi-Fi / Bluetooth 4.0 Mini-PCIe card
HDMI plus Mini DisplayPort Outputs (supports dual displays)
4K resolution output (4096 x 2304 via HDMI)
4 x USB 3.0
Gigabit LAN
Headphone jack with S/PDIF
VESA mounting bracket (75 x 75mm + 100 x 100mm)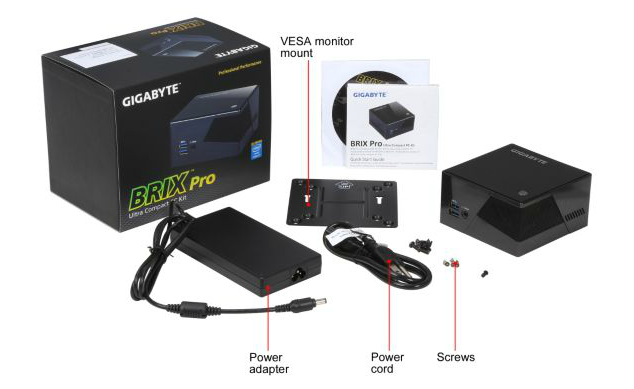 Inside the retail packaging you'll find the BRIX Pro, power adapter, power cord, VESA mounting plate, screws for the mounting plate and VESA bracket and then finally the instructions and a driver disc. I'm not sure why any company bothers to ship driver discs in this day and age, but you have a copy of the already outdated drivers on it!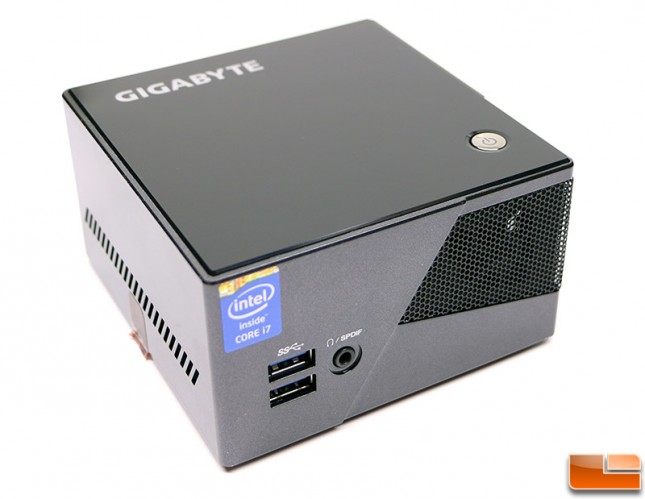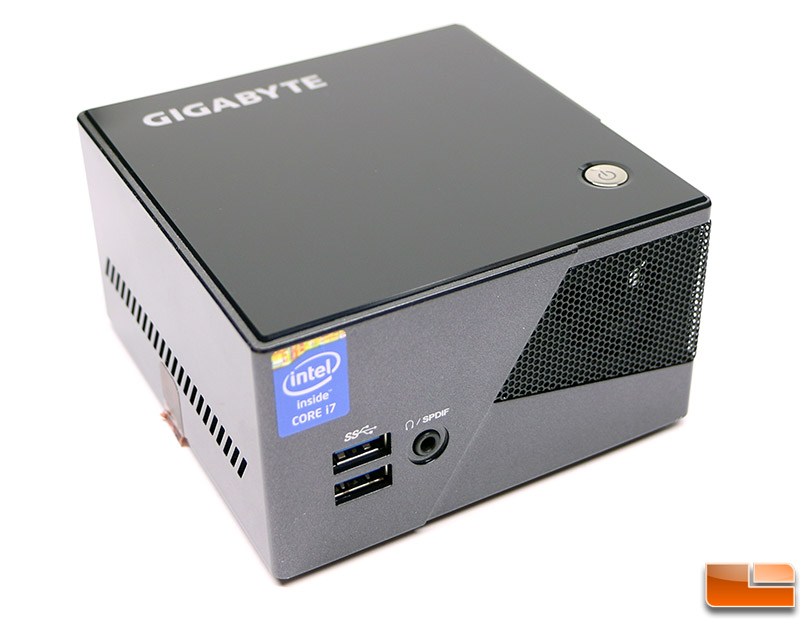 On the top of the Gigabyte Brix Pro you have a power button with an activity/status light built-in. It should be noted that the glossy black surface horribly shows fingerprints, so have your cleaning cloth ready if fingerprints bother you. On the front panel you have a pair of SuperSpeed USB 3.0 ports and for audio connectivity there is a SPDIF audio a front panel connector. This will be useful in Home Theater scenarios that use an A/V receiver. A good portion of the front housing is a mesh cover for improved airflow and on the side of the Brix Pro there are also ventilation slots.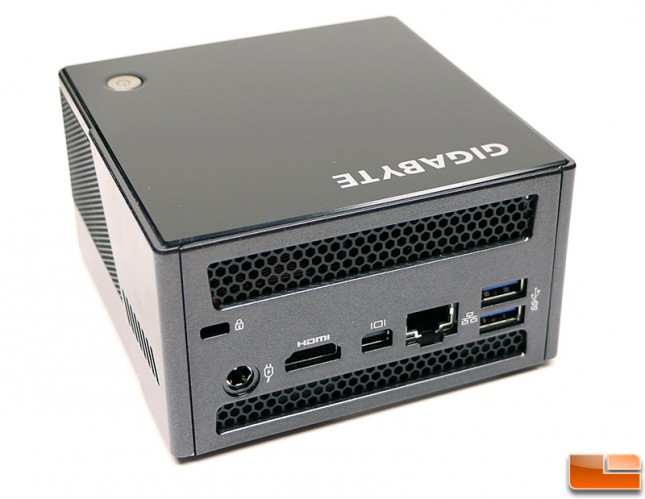 On the back of the Gigabyte BRIX Pro you'll find both Mini DisplayPort and HDMI ports on the rear panel, enabling support for simultaneous dual display connectivity. The GIGABYTE BRIX Pro also supports the latest 4K displays by offering support of screen resolutions of up to 4096 x 2304 via HDMI. You also have a Kensington Security Slot, DC power in, Realtek Gigabit LAN and another pair of USB 3.0 ports. The hot exhaust air from the CPU cooler is blown out of the large ventilation hole above the rear input/output ports and there are more vents and slots for cool air to enter on the side of the case and below the rear I/O panel. Cooling the mighty Intel Core i7 4770R processor is going to be a chore as this high-end chip is rated as being a 65W part under typical load scenarios, but can reach around 85 Watts under extreme load situations. Gigabyte is going to need a beefy cooler with a high CFM fan to keep this temperature running cool. In the past that has meant you'll end up with a noisy system, but we'll see if Gigabyte came up with a good solution.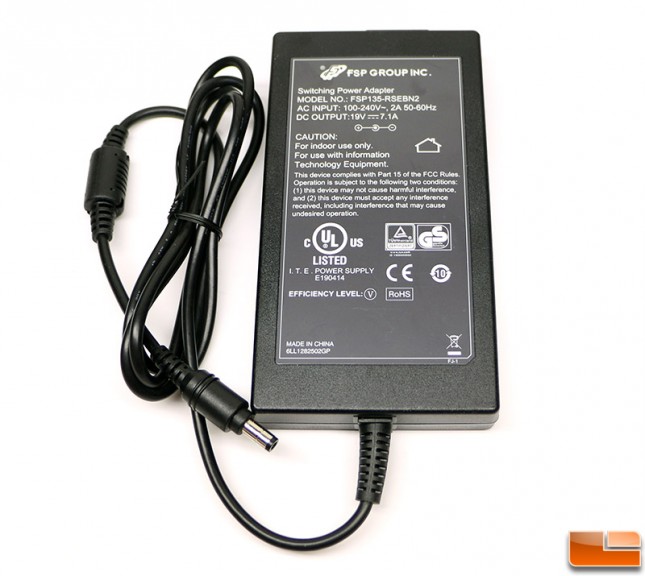 The power adapter that is included with the Giabyte Brix Pro is a 135W model with a DC19V output (7.1A) made by FSP Group. The exact model number is FSP135-RSEBN2 and we've run across this power adapter before on All-In-One (AIO) systems and tiny PCs. This power brick has a power efficiency level rating of V, which means it has to be 86% efficient at low voltage and 87% efficient at standard voltages. It also must have a true power factor of 0.9 or greater at 100% of rated load when tested at 115 volts @ 60Hz. This power brick does have a noticeable whine to it and can be heard in a quiet room especially at low loads.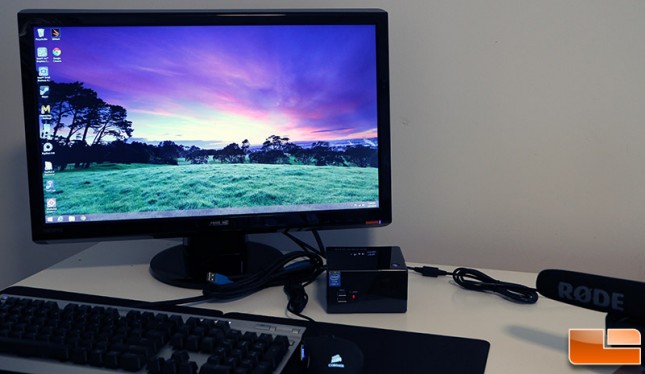 We've covered the basics of the Gigabyte Brix Pro, but before we get to benchmarking and performance testing, let's first take a look at the inside of the DIY PC kit and show you how we built ours.