GIGABYTE BRIX With Iris Pro Graphics Spotted at IDF 2013
By
Today at IDF 2013, GIGABYTE was showing off their latest BRIX ultra compact PCs which are powered by the latest Intel 4th Generation Core processors. What we found hiding next to these, were two sexy red and yellow aluminum chassis mini gaming versions, which feature the Iris Pro graphics! These Pocket Gaming PCs are definitely taller than their counterparts which do not have Iris Pro graphics. You have your choice of CPU, which include the i7 4770R @ 3.9GHz, i5 4570R @ 3.7GHz, and the i5 4570R @ 3.2GHz. All three CPU choices will feature the Intel HD 5200 graphics.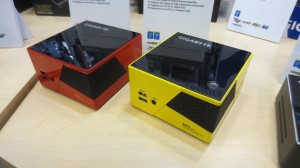 The only other technical details that we know are they allow for dual displays via HDMI and mini display port, support a single 2.5 SATA 2 HDD, have two mini PCIe x1 expansion slots, and have four USB 3.0 ports.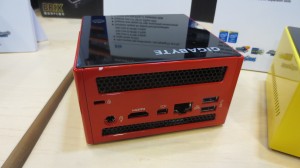 Now one thing that you have to ask yourself is: Where is Intels NUC with Iris Pro graphics? Well, they dont have one yet! GIGABYTE managed to jump ahead to be the first ones to get a compact PC out with Iris Pro graphics.
The only thing that we know about the price point is they will come with a price tag north of $500. Keep your eyes out for these to come out later this year, which means soon, being as were almost half way through September already!