Giada D300 Universal Barebone Mini-PC Review
By
Giada D300 Mini-PC
Giada recently launched its new D300 barebone system aimed at a number of different markets, among them home, office or even industrial applications. The small Giada D300 measures 9.3in x 7.16in x 2.0in (L x D x H), and weighs in at 3.93lbs. That is fairly, so it can fit in places where a traditional desktop PC could only dream about.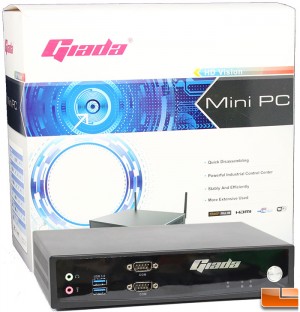 The Giada D300 PC supports Intel's Mobile Ivy Bridge Core i3, i5, and i7 BGA CPUs and the processors are paired with the Intel HM77 Express chipset. For memory it uses DDR3 SODIMMs, of which there are two slots, which can support up to 8GB SODIMMs for a total of 16GB. Storage is supported by a mSATA slot, and a SATA connection for 2.5″ drives. The review sample included the Intel Core i7-3632QM quad-core processor with Hyper Threading, which means that you have a total number of eight threads. This is a BGA processor, so there is no socket! The processor runs at a base clock of 2.2GHz and a 3.2GHz boost clock. It also has Intel HD Graphics 4000 running dynamically between 650MHz and 1.15GHz. Other highlights of the system included one 4GB DDR3 SO-DIMM, 32GB Sandisk mSATA SSD, 500GB Hitachi SATA hard drive and Windows VISTA.

Externally there are a total of six USB ports; four USB 2.0 and two USB Superspeed 3.0 (front mounted). Dual ethernet ports are found on the back panel, along with the video ports HDMI and DVI. A total of six COM ports are found on the review sample. Depending on the model, the configuration could be slightly different, and could include a VGA connector, and possibly remove the COM ports. The Giada D300 series includes a 2 year warranty. If outside the warranty period or should Giada find the issue was due to improper use, they will provide a quote to repair the system or return the D300 to the user.
D300 Features and Specifications:
Support 3rd Generation Intel Core i3/i5/i7 Processors (TDP35W)
Intel HM77 Express chipset
2x SO-DIMM DDR3-1333/1600 Max to 16G memory
2x Mini-PCIe(1x mSATA SSD;1x PCIe/USB)
2.5 SATA Type
5.1 Channel via HDMI
2x Gigabit Ethernet LAN
Wi-Fi 802.11b/g/n + Bluetooth (optional) wireless
1x DVI-I / VGA (optional), 5x Audio Jack, 2x LAN (RJ45), 4x USB2.0, 2x USB3.0
6x COM Port, 2x PS/2 Port, 1x GPIO Header
1x TPM Header, 1x SATA 7+15Pin Port ,1x SATA Port
1x HDD Power Header, 1x DC-IN 12V Jack
Support Windows XP, Vista, Win 7, Win 8 & Linux OS