Free Homebrew VoIP with Google Voice and Intel Atom
By
Introduction to Homebrew VoIP Service
Google has revolutionized the Voice Over IP world by providing a free phone number that allows a user of Google Voice to associate all of their various phone lines with a single number. Now besides the well known features of voice mail and free SMS text messages, there is another hidden gem with Google Voice that could revolutionize the telephony industry by providing free VoIP service to anyone!

When Google announced a few months ago that it was going to open up its Google Voice service by issuing free invites to the public, I jumped on the opportunity to try it out. I was skeptical my household would actually use it, but it definitely had its advantages. Between my cell phone, my wife's cell phone and our Vonage phone, people trying to call us always seem to just dial one of our numbers and give up. With a Google Voice number, our friends and family can just dial one number and all of our phones will ring to reach us no matter where we are.
Once I installed the Google Voice mobile application on my Blackberry, I quickly discovered that the free SMS text messages would be awesome as I suddenly was able to send and receive unlimited text messages on my phone for free! I was already convinced that I could use Google Voice.
I honestly can't remember how I came across this next feature, but it sealed the deal that I was going to convince my wife that Google Voice was a perfect solution for us! Google Voice could replace our Vonage service completely! It required a one-time purchase of an unlocked Analog Telephone Adapter (ATA) or Phone Gateway device that would be attached to our network in order to ring our in-home wired phones and some open-source free telephony software, called PBX in a Flash, that would handle the communication with the Phone Gateway and our incoming and outgoing phone calls. PBX in a Flash (PiaF) is the CentOS Linux distro with Asterisk pre-installed with a bunch of bells and whistles.

Needless to say, I ordered a Linksys SPA-3102 ATA and downloaded PiaF to try this out. I first followed all of the following instructions by installing PiaF in a virtual machine on my media center PC just to prove to myself that this works and can be done. I followed the wonderful step-by-step instructions to install and configure PiaF to work with Google Voice by Ward Mundy on NerdVittles.com and everything worked without a hitch. The only thing that left me wanting was the fact that I had this installed on a virtual machine on my media center machine. I had a few instances of Microsoft Update rebooting my machine in the middle of the night and thus I would have to log in the next morning and start up the virtual machine again. I also noticed a long lag of about 10 seconds from when I dialed a phone number on my phone to when the line actually started ringing. Letting the cat out of the bag, I now just have about a 2 second delay after dialing a phone number now that I have PBX in a Flash installed natively on a dedicated low-power PC.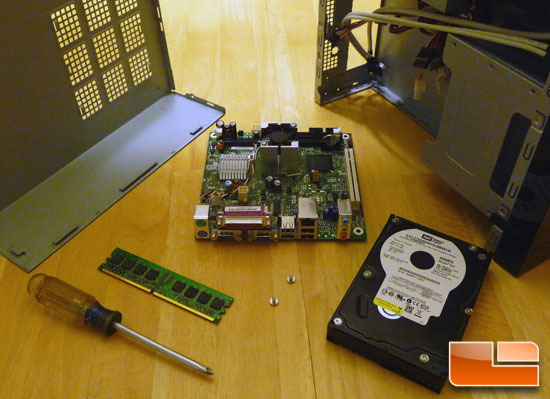 To satisfy my performance needs, I am now going to put together a low-power server built around an Intel Atom 230 processor in order to install PiaF natively to get the best performance I can out of my homebrew VoIP solution using Google Voice. With a budget of about $225, this article is going to give step-by-step instructions on how to build your Atom-based server, install and configure PBX in a Flash, and finally configure your Linksys SPA-3102 ATA.