Event Coverage: Comdex 2003
By
Inroduction: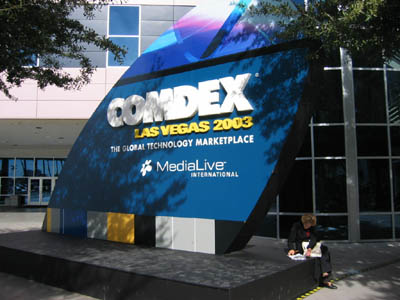 I believe the above picture sums up Comdex very well. I took this photo Wednesday at noon just outside the front door. With empty sidewalks and only one person around, this picture details the overall size of the show — small. The weather was sunny with temperatures around 70 degrees, but that didn't help the attendance at all.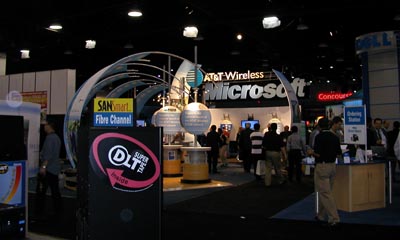 Here is a shot of the AT&T Wireless, Dell, and Microsoft booths. As you can clearly see, the Comdex 2003 floor was pretty open with very few new products shown when this photo was taken Tuesday afternoon. The one good thing about the low attendance was that the people who came were able to see everything in a timely manner and had the opportunity to receive personal attention from the company representatives on the floor.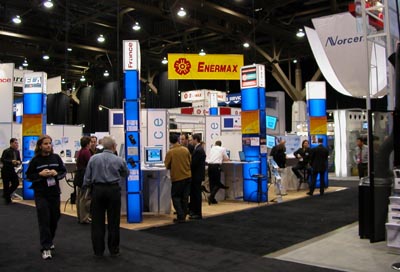 We were suprised to see Enermax had a pretty large section at Comdex 2003 showing off many of their new cases and power supplies. Again, notice the sparse crowds in this shot.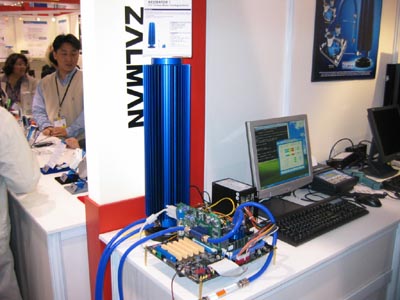 Zalman was also at the show with two booths and had their fanless watercooler on display. I never honestly realized how large this cooler was until I got a chance to stand next to it. That's about it from the floor of Comdex. I was able to walk the entire floor in under an hour and didn't really see anything that impressed me. The majority of the four days I spent at Comdex was spent in privately arranged meetings that were held in various hotels around the Vegas Strip.