EpicGear DeFiant EG MMS Mechanical Keyboard Kit Review
By
EpicGear DeFiant EG MMS Mechanical Keyboard Kit
EpicGear is a subsidiary of Golden Emperor InternationaL (GeIL) that was established in 2011 to manufacture peripherals aimed and tailored towards the needs of PC gamers. EpicGear isn't a very well-known name here in the United States, but they have produced some solid, well-reviewed products thus far, such as their dual-sensor MeduZa mouse and around-ear SonorouZ SE V2.0 headset. EpicGear products are aimed at PC enthusiasts who want a high quality product for a reasonable price.
Today, we will be reviewing the EpicGear DeFiant EG MMS keyboard kit, a keyboard kit with unique mechanical switches and a couple of tricks up its sleeve that you won't find in other gaming keyboards. The EpicGear DeFiant keyboard kit, which is a premium add-on that turns the $89.99 base unit into a fully-featured keyboard with a high-level of potential customization capabilities. The EpicGear DeFiant keyboard kit includes a case, wrist rest, side adjustment panels, key switch light bars and rear USB 2.0 port add-on.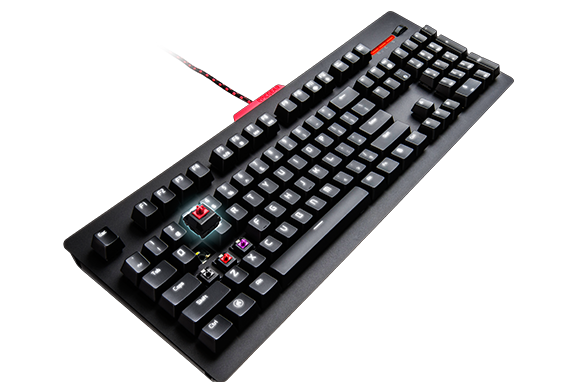 The mechanical keyboard market has become saturated with manufacturers looking for a piece of the very profitable market. Corsair, CoolerMaster, Logitech and Razer all seem to be popular choices for gamers when it comes to mechanical keyboards, as they offer excellent gamer-oriented features like macro support and RGB lighting. With so many choices in mechanical switches between various manufacturers, the most popular being the Cherry MX variety, it can be hard for gamers to figure out which switch they like, or narrow down their keyboard to one particular switch choice. The EpicGear Defiant EG MMS addresses this issue by allowing end users to remove and change the switch type between various switches available from EpicGear. Say you want linear switches for you WASD keys, but prefer tactile response on others? With the EpicGear Defiant, it's a possibility to do just that. This is the first keyboard I've had with this ability and from what I can see, one of the only gaming-oriented keyboards with this type of functionality. There are keyboards with removable switch types available from other manufacturers, but these aren't common and are oriented towards hobbyists and enthusiasts rather than PC gamers.
EpicGear DeFiant EG MMS Mechanical Keyboard Kit Specifications
LED backlit with on-the-fly programmable per-key-lighting
EG MMS – Modular-matrix Structure mechanical keyswitches
1000Hz extreme-polling, adjustable 125/250/500/1000Hz
Fully programmable keys
Extreme anti-ghosting
N-key rollover: 10-key
System audio volume control wheel with one-touch mute
Dedicated GUI software with 4 customizable gaming profiles
Gaming mode option, Windows key deactivation
Gaming grade braided cables
Approx. dimension: 455mm x167mm x26mm
Approx. weight: 1000G
2 year manufacture warranty
1000HZ is the default polling rate of The Defiant, with adjustment between 125/250/500/1000HZ polling rates being possible. There is a toggle between 6 key and 10-Key rollover, which should be more than enough for any reasonable use scenario. The ability to disable the Windows key, essential for gamers, is also present. The DeFiant offers per-key adjustable lighting via a white LED that is built into the PCB. This solution works in conjunction with specialized light bars that can be inserted into the keys to adjust the lighting, which we will show later. EpicGear covers the DeFiant with a two year warranty, which is acceptable and comparable to other mechanical keyboards.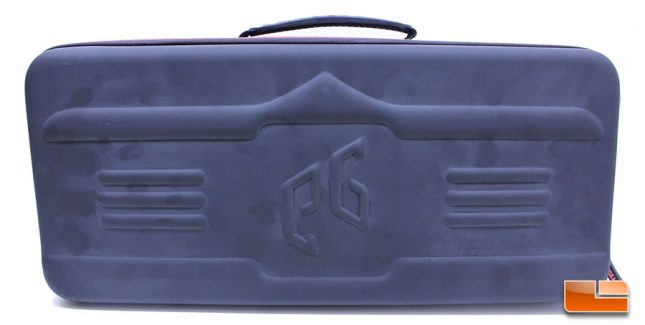 The $189.99 DeFiant Keyboard Kit ships in the very solid EpicGear Assassin gaming case, which is made out of a coated EVA material that is very well-made and capable of withstanding abuse. There is no box, the case itself is the packaging that we received for this review. We're not sure if this will change, but we assume that this is how all kits will be shipped. The case is attractive and features a carry-handle, with the EpicGear logo embossed on the outside.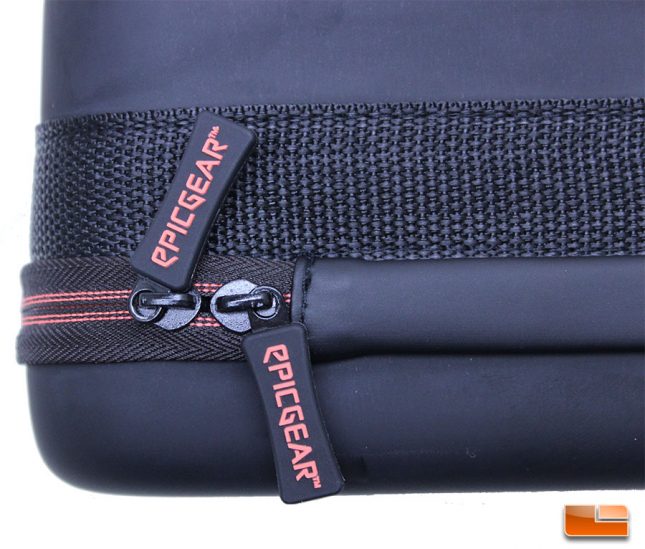 The Assassin features rubber zippers with the EpicGear logo, a subtle touch that we noticed.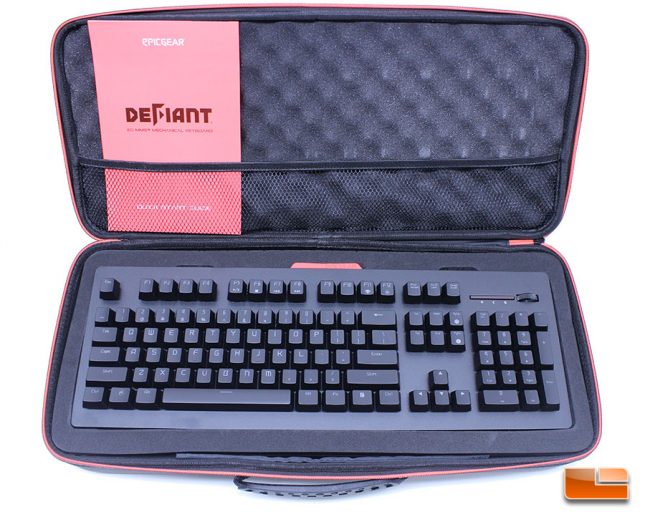 Once you unzip the Assassin gaming case, you will find a manual in the top webbing pocket of the case, with the keyboard in a foam seal in the main compartment. Everything is packaged well and didn't suffer any damage during shipping. The initial impression of the EpicGear DeFiant is that it looks very clean and professional, with a few touches to let you know it's intent as a gaming keyboard.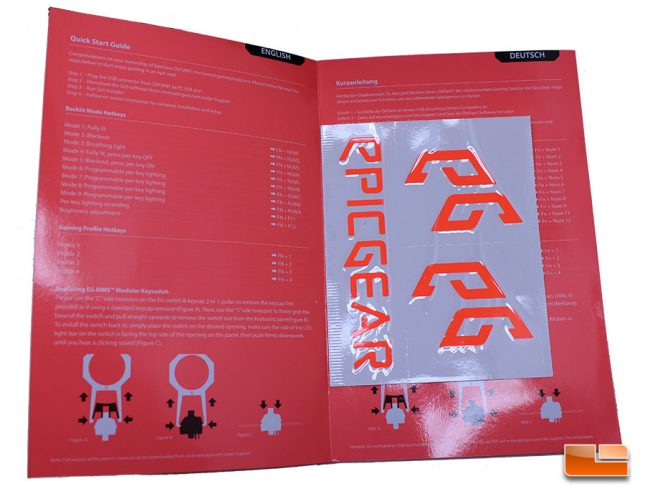 Inside the EpicGear DeFiant manual are EpicGear stickers and a key remover. The manual details how to swap key switches and change the light bars on each key, a task that we found to be very simple to do. We found the manuals instructions to be clear and easy to follow.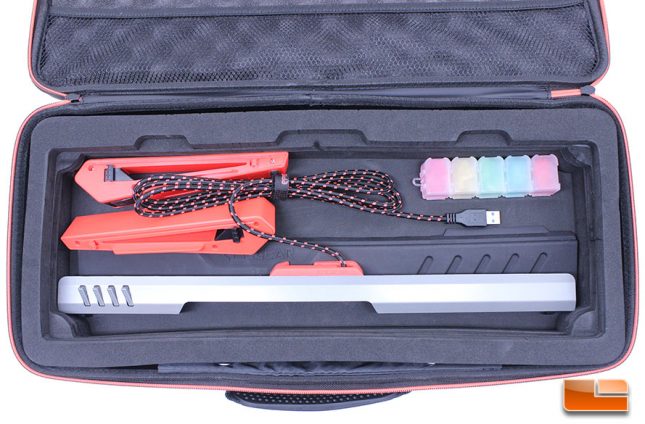 When you remove the keyboard, you will find all of the included accessories underneath. They aren't packaged in anything other than the loose foam under the keyboard, but everything arrived well and without any damage.
The overall presentation of the DeFiant Keyboard Kit is basic, but good enough. Not including extra key switches in this $189 kit is a real downfall, though, as that is the main selling point of the EpicGear DeFiant. The wrist rest and rear USB 2.0 attachment are nice, but the side adjustment bars are gaudy and of limited value. The Assassin Gaming case is really solid and offers excellent protection for PC peripherals, or other personal belongings and it is one of the highlights of the kit.