Deepcool Steam Castle BK Micro ATX Case Review
By
Deepcool Steam Castle Steampunk Micro ATX Case Introduction
Deepcool more recently launched their first Micro ATX chassis with a bit of funky styling and absolutely eye-catching features. This Steampunk inspired chassis is called the Steam Castle, and while it may be an mATX chassis, it certainly has a lot to offer. You will find a multitude of items, such as support for a 280mm liquid cooler, tool-free drive bays, dual pre-installed fans, LEDs on each top punk that can change colors, a built-in LED brightness/color and fan speed controller, and much more.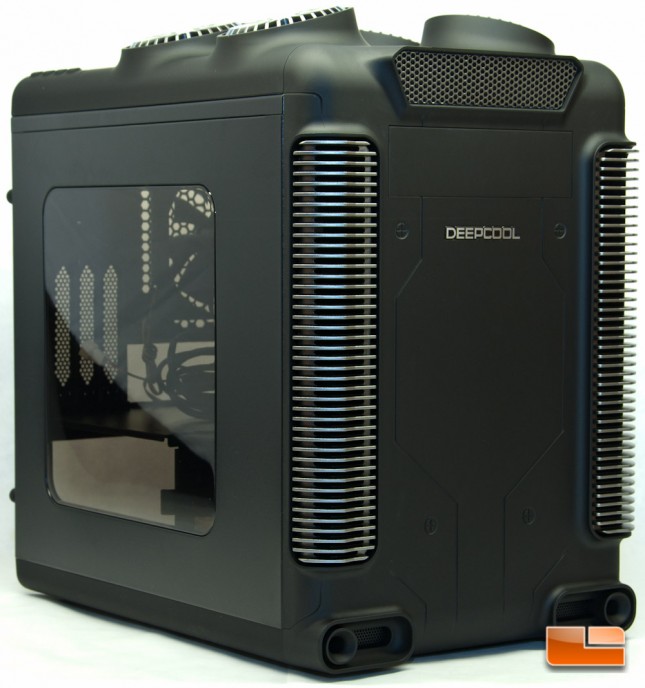 While the Steam Castle may be marketed as a Micro ATX chassis, it can accommodate a Mini ITX board as well. Deepcool also went ahead and made the way you mount your components inside a little different – they're flipped everything 90 degrees. So instead of mounting your motherboard to the side of the interior (vertically), you'll instead be mounting it horizontally. The space inside may feel a little bit cramped due to the size and design, but according to the specifications below, you shouldn't have troubles with this not-so-standard setup.
This case is absolutely going to be a love it or hate it type of case because of its funky styling. Fortunately to help with some of your indecision, Deepcool is offering this case in four colors, including black, white, yellow, and red. It's not often that you catch a red case, let alone a yellow one. Deepcool's idea behind offering multiple colors is to help you match the color scheme of your components inside, which is mighty thoughtful. The case that we're looking at today is a matte black, which you can never go wrong with black!
Currently the Steam Castle is running $99.99 shipped on Newegg for the black, red, white, and yellow case. The yellow case can fluctuate up to $109.99 shipped on Newegg, however. This case even includes a crazy 3 year warranty.
Steam Castle PC Case Features:
4 magic color LED lights pre-installed on the top, amazing effect (color changing, brightness adjusting and breathing, fan speed adjusting)
2 USB 3.0 2 USB 2.0 Ports
200mm fan (front) 120mm fan (rear) pre-installed
Compatible with Micro ATX and Mini-ITX motherboards
Support long VGA Card installation up to 320mm length
Top panel supports max 240mm water cooler installation
2 grommets on the rear are ready for building external water-cooling system
Tool free installation design for 2.5/3.5 SSD/HDD
Independent two 2.5 drive-bays support SSD RAID build-up
Two-layer horizontal structure, excellent for heat dissipation & compatibility
Steam Castle PC Case Technical Specifications:
Motherboards: Micro ATX & Mini ITX
Materials: SGCC+PLASTIC (ABS)
Dimension (LxWxH): 406 x 278 x 420mm (15.98 x 10.94 x 15.54 inches)
Net Weight: 6.8KG (Approx 15lbs)
5.25″ Drive Bays: 1
3.5″ Drive Bays: 3 (Switchable to 2.5″) (2 tool-free installation)
2.5″ Drive Bays: 2 (tool-free installation)
I/O Panel: 2USB3.0/2USB2.0/Audio1/Mic1
Expansion Slots: 4
Cooling Fans:
Rear: 120mm black fan pre-installed
Front: 200mm black fan pre-installed
Power Supply Type: ATX PS2 (max: 160mm length) (W150*L160*H86mm)
CPU Cooler Max Height: 200mm
VGA Max Length: 320mm
Lets move on and take a quick look at the retail packaging and then see what this funky case looks like on the outside.