DDR4 Memory Scaling on Intel Z170 – Finding The Best DDR4 Memory Kit Speed
By
Conclusion – Finding The DDR4 Sweet Spot For Skylake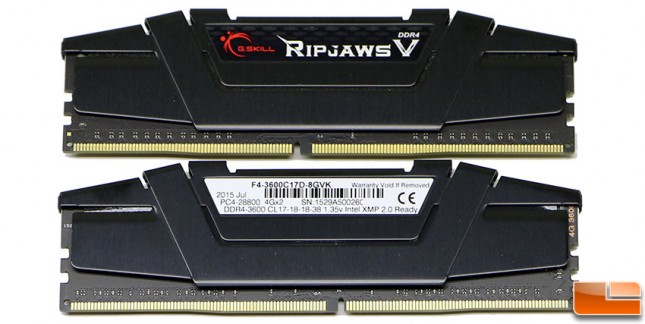 After spending dozens of hours benchmarking ten different memory speeds on the Intel Z170 + Skylake platform we must admit that we are too shocked by the findings. Our benchmarks show that the memory bandwidth increased, but there wasn't a tangible improvement in system performance with real applications. We ran other applications and game titles when we tested this memory kit and you mostly ended up with flat performance charts like you saw in Handbrake or any of the game titles that we tested today. We saw some nice performance gains from DDR4-2133 to DDR4-2666, but strangely the pricing for the G.Skill Ripjaws V 8GB 2133 and 2666 dual channel kits are identical. That is where you'll see the biggest performance gain in the real world benchmarks and you can get that benefit for free right now. There is only a $15 difference between 2133MHz and 3200MHz memory, so skip a meal out and opt for higher clocked kit if you are on a tight budget! The DDR4-3466 and DDR4-3600 kits are nice for overclockers trying to get high memory bandwidth scores, but there it's hard to justify spending $230 or $400 on a kit of memory that does little on real world applications. The one thing we didn't have time to test or maybe we just lacked the desire after spending three days benchmarking this is to test all these memory clock speeds over again on the integrated graphics (Intel HD Graphics 530) to see what that does for performance. We know from past experience that integrated graphics benefits greatly from higher clocked speeds, but at the same time not too many 'gamers' are going to spend $350 on a Core i7-6700K, $400 on the G.Skill RipJaws V 8GB 3600MHz DDR4 memory kit and $319.99 on the ASUS Z170-Deluxe to only run integrated graphics. If you're going to drop $1,070 on your CPU/Memory/Motherboard the chances are you'll have a discrete graphics card in your system.
We've never doing a price per MB/s of memory bandwidth chart before, so let's average the read/write scores we got in AIDA64 and calculate that against the price above.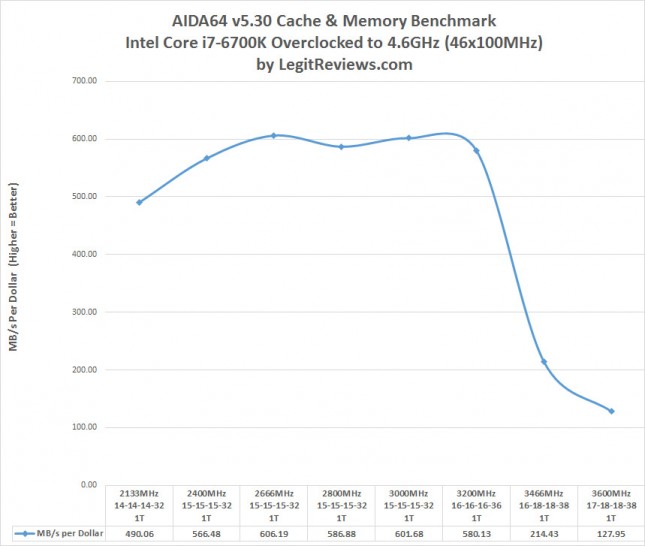 This chart shows that you are getting 606MB/s of memory bandwidth per dollar spent on the 2666MHz kit, so from a price to performance aspect the best memory clock speed in the G.Skill Ripjaws V series would be that one! The 3600MHz hit actually gives you the lowest price vs. performance score of 128 MB/s per dollar. The 3000 MHz kit isn't too far from the top as it came in at 602 MB/s!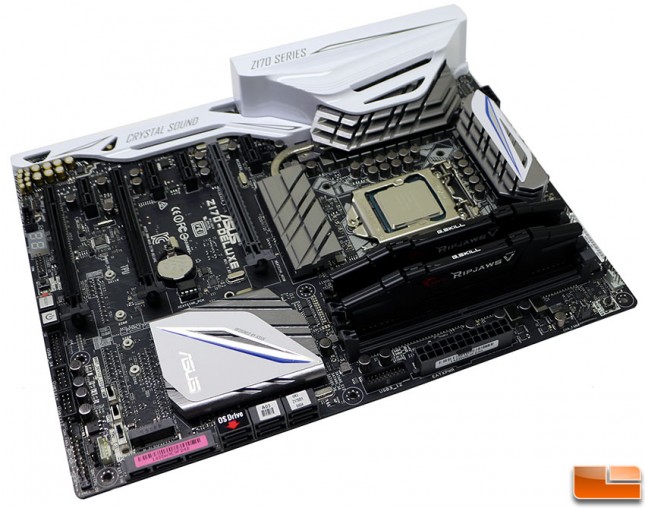 We hope that you have a better understanding about picking the right DDR4 memory kit for the new 6th generation Intel Core processors and Z170 motherboards. Our advice for gamers and enthusiasts would be to get at least a DDR4-2666 kit as that is the sweet spot this very second when it comes to price versus performance! This new platform scales exceptionally well though, so if you like memory overclocking we have a feeling a number of you will be moving over to a Z170 platform soon!