DDR4 Memory Scaling on Intel Z170 – Finding The Best DDR4 Memory Kit Speed
By
Answering What DDR4 Clock Speed is Best
Shortly ahead of the Intel Z170 platform launch we heard that the memory controller Intel developed for Skylake was amazing and that the new Intel Core i7-6700K and Core i5-6600K could come close running DDR4 4000 MHz memory kits in dual-channel. Just days before Intel launched their two new K-Skus that are aimed at enthusiasts and gamers we noticed that G.Skill released a dozen new dual-channel DDR4 memory kits with speeds ranging from 2133 MHz to 4000 MHz. G.Skill is the first company to release retail memory kits at 4000MHz and it took the release of the latest 6th generation Intel Core processor and Z170 motherboards to make that happen!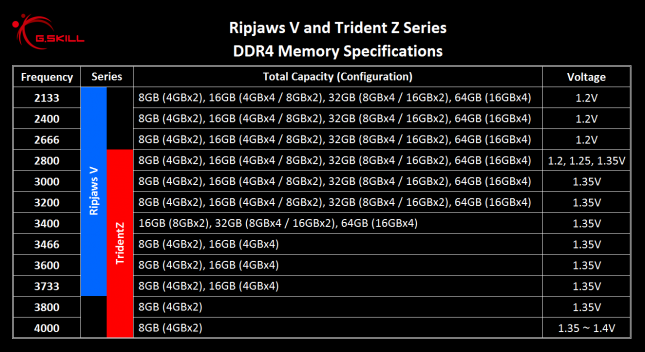 The new G.SKill Ripjaws V 8GB (2x4GB) memory kits are already all available on Newegg and range in price between $62.99 and $399.99. The lowest priced kit is actually the DDR4-2400 kit at $62.99 and you can move up to a DDR4-2666 kit for only two dollars more. The price differences between kits is actually reasonable as you can go from a DDR4-2400 and DDR4-3200 kit for only $17 extra. If you wanted to go with a DDR4-3466 or DDR4-3600 kit you better open your wallet though as the price jumps up to $230 and $400, respectively.
The point of this article today is to look at all the above clock speeds and then overclock our kit even faster to see what the sweet spot is for DDR4 memory on the Intel Z170 platform. There will be many thousands of people building a new system and looking possibly their first DDR4 memory kit ever and we wanted to help them find the best DDR4 memory kit! To answer this question, we needed to look at DDR4 frequency on the LGA1151 platform to see how memory acts with Intel's latest Skylake processor microarchitecture.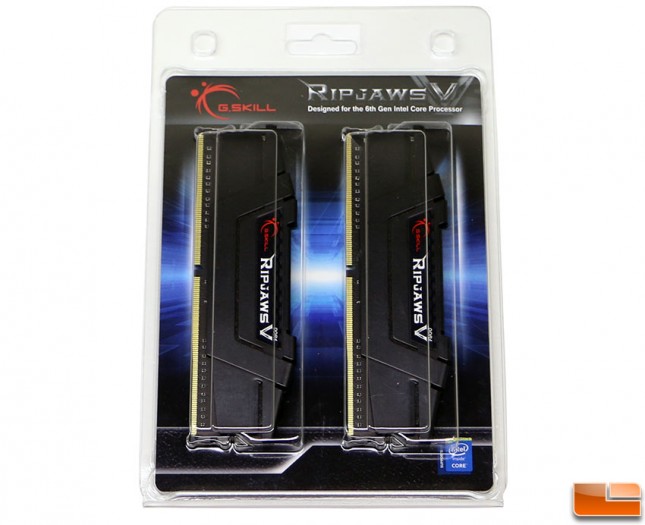 Obviously, the memory controller used on Skylake is rumored to be good, so we asked G.Skill if we could get one of their news kits of memory in to investigate on our own. G.Skill graciously sent over a RipJaws V 8GB (4GB x 2) 3600MHz DDR4 memory kit over for us to play around with that is sold under part number F3600C17D-8GVK. G.Skill Ripjaws V DDR4 memory kits are available in Blazing Red, Steel Blue, Radiant Silver, Gunmetal Gray, and Classic Black color schemes.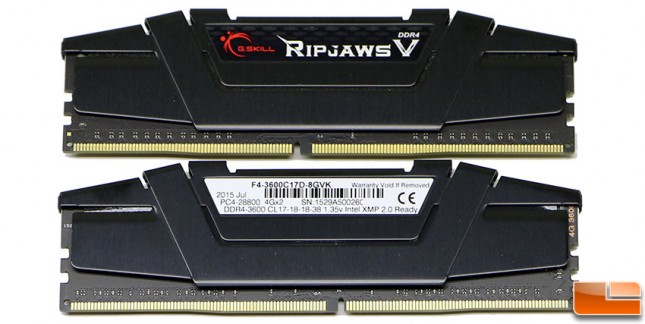 This memory kit operates at DDR4-3600 with CL17 timings of 17-18-18-38 at 1.35V and is plug-and-play ready thanks to have an Intel XMP 2.0 profile.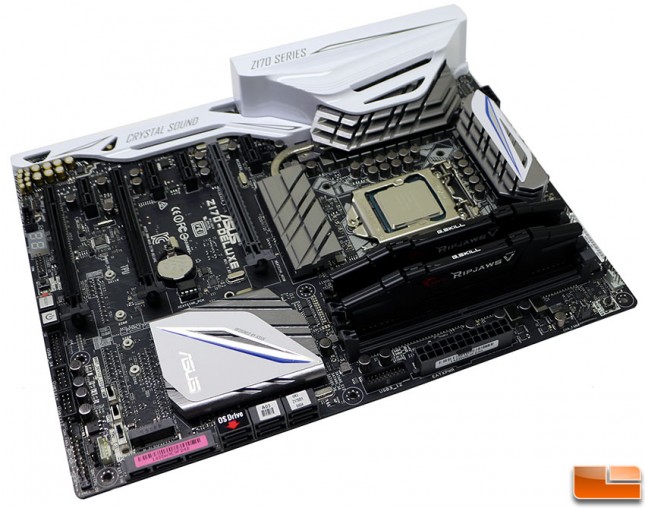 Most all Intel Z170 boards and 6th Gen Core 'Skylake' processors should be able to run DDR4 memory kits ranging in speed from 2133 MHz to 3200 MHz without issue, but getting beyond 3200 MHz might involve some tweaking. We picked the ASUS Z170 Deluxe motherboard for testing as it is one of the best boards for memory overclocking according to the memory manufactures. We were able to run the G.Skill F3600C17D-8GVK memory kit on this board at clock speeds of 2133 MHz and 3866 MHz with the memory running at its stock voltage of 1.35V. The fastest memory kit available in the Ripjaws V line is clocked at 3700MHz, so we were able to overclock this memory kit beyond any Ripjaws V kit that you can purchase today.
To get such high clock speeds we did have to go into the UEFI and tweak some things manually to get things stable as pushed the clock speeds up. We learned that the VCCIO/System Agent voltage are both important for memory clocking on the Z170 platform. We found that when running this particular dual-channel kit of memory at DDR4-3400 or higher that we needed to bump up the CPU VCCIO Voltage to 1.250V from 0.968V and the CPU System Agent Voltage to 1.300V from 1.056V. Increasing the voltages higher than this doesn't appear to help memory overclocking, so we don't suggest trying higher than that. You can see the ASUS Z170 Deluxe UEFI 0603 menus above with the settings we had to change to overclock both the processor and DDR4 memory.