DDR1 Versus DDR2 Notebook Memory
By
Notebook Memory Testing
Today, we are doing an article looking at the memory performance of two Intel Pentium-M notebooks running the Intel 855 (DDR1) and Intel 915 (DDR2) chipsets to look for performance differences. Since we are going with performance numbers we went with the fastest DDR1 memory kit that we have ? The Kingston PC-2700 Value Ram Modules. Since we were using Kingston Technology DDR1 modules it was only fair to use Kingston DDR2 modules in our testing. To keep the modules on an equal playing field we got 2 x 512mb SODIMM's from Kingston Technology for both DDR1 and DDR2. We ran the modules at several different settings to get a better overall picture.
DDR1 333MHz ? Intel 2GHz Dothan w/ 2.5-3-3-7 timings running single channel
DDR2 400MHz ? Intel 2GHz Dothan w/ 4-3-3-9 timings running dual channel
DDR2 533MHz ? Intel 2.13GHz Dothan w/ 4-4-4-12 timings running single channel
DDR2 533Mhz ? Intel 2.13GHz Dothan w/ 4-4-4-12 timings running dual channel
Sisoft; Sandra 2005 SR1:
Sisoft Sandra 2005 is designed to test the theoretical power of a complete system and individual components. The numbers taken though are, again, purely theoretical and may not represent real world performance. Higher numbers represent better performance in memory bandwidth.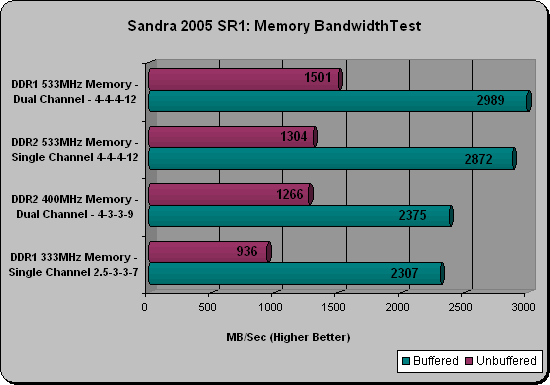 Results: It is obvious right from the start that DDR2 has much more unbuffered bandwidth over DDR1. In terms of buffered score the scores were very close till we used a 133MHz FSB Dothan and utilized the 533MHz memory frequency.
Everest Version 2.01 Final:
Everst 2.01 is a professional system information, diagnostics and benchmarking program for Win32 platforms. It extracts details of all components of the PC. It also tests the actual read and write speeds of your memory giving a fairly accurate look of true memory performance.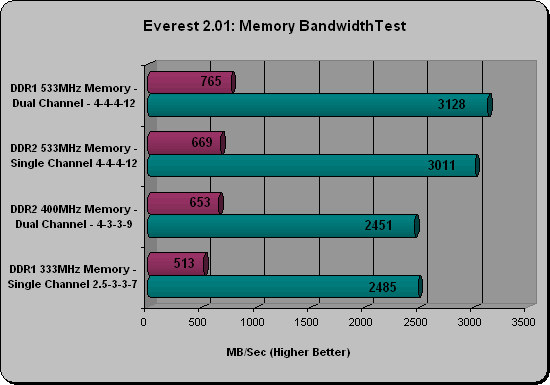 Results: Everest 2.01 showed similiar results to Sandra, but actually has our single channel DDR1 333MHz module beating out or DDR2 400MHz dual channel modules in read scores by just a hair. The bump up to a higher FSB and memory frequency once again showed to be beneficial to our performance numbers as the DDR2 533MHz channels showed a huge jump in bandwidth (Write: 250MB/s, Read: 640MB/s).