DDR1 Versus DDR2 Notebook Memory
By
DDR2 Finally Makes It Into Notebooks

Almost one year ago Legit Reviews published an article titled "Is DDR2 Ready to Replace DDR1" and shocked many in our community with our findings. It was determined that DDR2 desktop memory was not going to show an improvement over DDR1 till speeds reached over 667MHz. At that time 667MHz could only be done on very few modules, so it was a big deal to enthusiasts. Our DDR2 performance prediction from 2004 came true just a couple months ago when Corsair Memory was among the first companies in the world to launch a high performance 667MHz part that really did improve DDR2 performance. For many years Intel had plans on launching DDR2 on notebooks back in 2004, but the new Sonoma and Alviso notebooks were not seen on the market till mid 2005. Now that the DDR1 to DDR2 transition is starting to gain momentum in the notebook segment many are unsure of the performance increase or decrease due to this.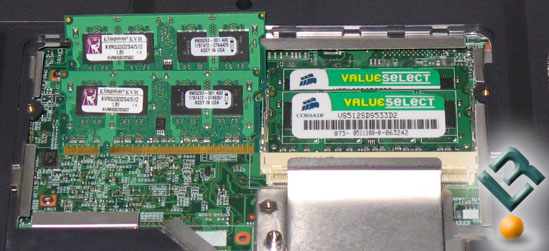 When it comes to DDR2 SDRAM for desktop computers the memory has been out now for over a year and has yet to truly make significant impact in terms of market share for desktop computers. The mobile market has seen benefits of DDR2 and leading market analysts and notebook builders believe that by then end of 2005 that DDR2 will be the memory module of choice in 90% of all shipping notebooks. This is vastly different than desktops and since mobile platforms are currently out selling desktop computers (May 2005) many users are going into unfamiliar territory when it comes to hardware.
Intel originally planned to release the Centrino platform code-named Sonoma in 2004, but after a number of roadmap changes things got delayed a bit. In late 2004 Intel started shipping the chipsets to OEM builders and the Sonoma platform from was officially launched by Intel on Janurary 19, 2005 and for many they have proven to be worth the wait. At first these new platforms were only available on high end notebooks with DDR2 and MXM graphics modules, but now we are seeing many notebooks come with integrated Intel Extreme Graphics (no MXM slot) at lower price points. The notebook we got our hands on is the AOpen 1558 that features the Intel 915PM chipset (integrated graphics) with some of the latest features one can get in the mobile market. What makes this notebook different from others is that you can buy it assembled or as a whitebox (where you assemble it using hardware that you select and install) or as a pre-built system. In the above image you can see a pair of Corsair DDR2 SODIMM's installed into the dual channel memory slots.