Crucial X6 Portable SSD Review – 2TB Model Tested
By
Large File Transfer and Game Load Benchmarks
Real World File Transfer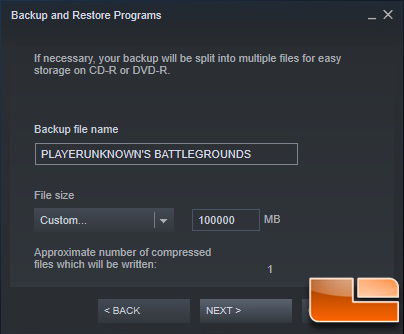 The first custom test that we are going to do is to show how fast each portable drive can read and write a compressed folder. For this we backed up a Steam copy of PlayerUnknown's Battlegrounds for the test file. The compressed folder was 30.5 GB in size and we moved it to the portable SSD and then performed read test of that file.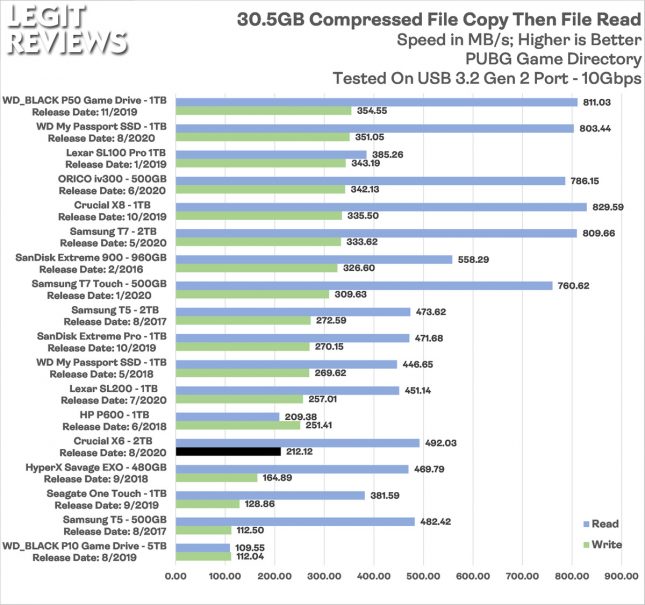 Benchmark Results: The Crucial X6 finished this custom test with the best read speed of the SATA-based drives and that is exactly where it finished in the synthetic benchmarks. The write performance ended up being 212 MB/s for this compressed file and while it is lower than some drives it wasn't terrible by any means and nearly 2x faster than the WD_Black P10 game drive that uses a spinning hard drive.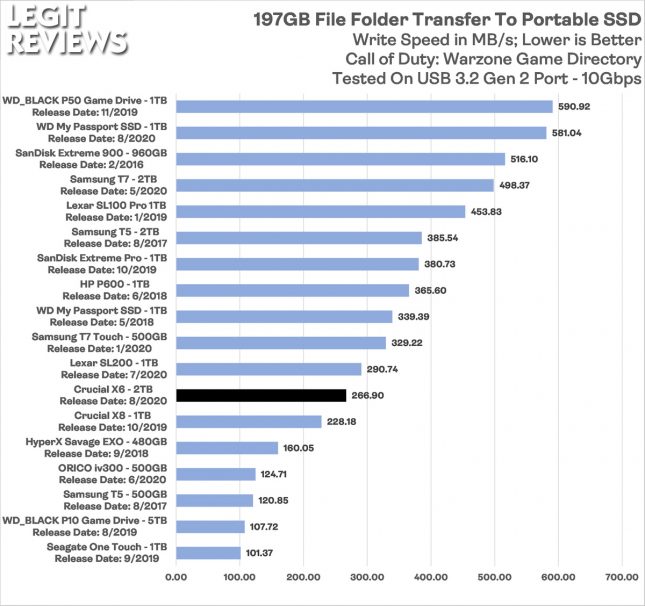 Our hardest test is to copy the entire the Call of Duty: Warzone game directory and then move it to the portable SSD. This file is just shy of 200GB in size and really hammers the portable SSD being tested as it is one long sustained write operation. We got a shock here as the Crucial X6 2TB finished with an average speed of 266.9 MB/s. That bests the Crucial C8 1TB drive by nearly 40 MB/s. Why is the X6 beating the X8? Here is all comes down to the dynamic SLC cache size and the X6 2TB has more of it than the X8 1TB!
Game Load Time Testing

Game Load Time Testing
To test game load times we used the benchmark for the game title Final Fantasy XIV: Shadowbringers that was released in July 2019. We bumped up the resolution from 1080P to 1440P, but other than that we left all the settings at their stock values. Pretty much every SSD on the market today claims to be aimed at gamers, so this test shows you how the drives we tested perform on an actual game title in a series that every gamer has heard of.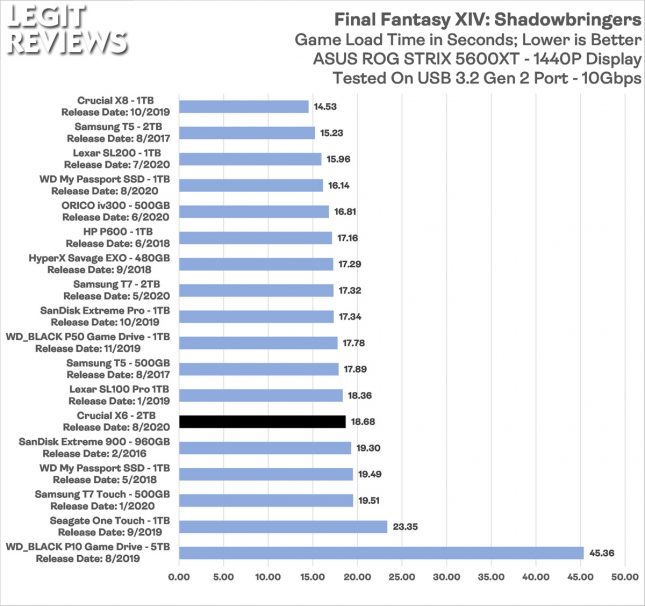 Benchmark Results: Game load times are important to many as you can use a portable SSD as a game drive to store and even launch some of your game library. The WD My Passport 1TB from 2018 averaged 19.49 seconds on this game load time test and the new WD My Passport 1TB from 2020 completed the same exact benchmark at 16.14 seconds. So, you are looking at about a 20% improvement in game load times on this particular title. Western Digital went from being the fourth slowest with the model from 2018 to being the fourth fastest with the new 2020 model! That it not easy as we have 16 different portable SSDs that have been tested from companies like Samsung, Seagate, SanDisk, Lexar, Crucial (Micron), HyperX (Kingston) and ORICO.