Crucial P2 250GB and 500GB SSD Review
By
Final Thoughts & Conclusions
The Crucial P2 M.2 2280 NVMe SSD series is an entry-level NVMe drive that is currently only available in 250GB and 500GB capacities. That really limits the buyer of these drives as most gamers, enthusiasts and content creators are wanting at least 1TB of storage space these days. So, Crucial must be going after the laptop upgrade market where users might have a 2-4 year old laptop with just a 128GB or 256GB SSD in them. If your laptop have an M.2 PCIe slot you'll be able to upgrade to a larger and faster Crucial P2 drive fairly easily. Crucial even includes free cloning software to aide in the migration process, so you won't have to re-install Windows or any of your applications.
When it comes to performance the Crucial P2 was near the bottom of the charts in most benchmarks. The performance of the drive was pretty good when you look at a benchmark like CrystalDiskMark as we were able to reach nearly 2,400 MB/s read and 1900 MB/s write speeds on the Crucial P2 500GB drive. Benchmarks like PCMark 10 use real-world traces to test performance and the Crucial P2 struggles to keep up with other NVMe drives. So, you really need to look at a number of areas to get a good feel for this drive.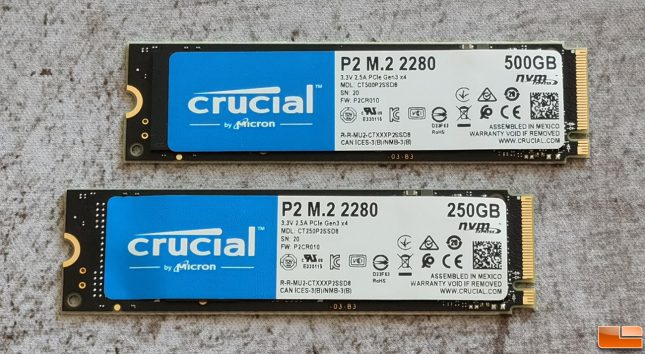 The best part about the Crucial P2 series is the pricing and warranty. Right now the 250GB is $49.99 ($0.20 per GB) and the Crucial P2 500GB is $64.99 ($0.13 per GB). Street pricing reflects the MSRP right now, but we do expect pricing on these drives to drop over time unless something happens to the global NAND Flash supply or the supply chain in general. Those prices are pretty competitive and include shipping. The Crucial P2 drives are backed by a 5-year warranty should any issues pop up. Crucial even offers a 45-day money-back period if you buy the drive direct from them and have any issues.
That all said, we have been told a Crucial P2 1TB SSD could come to market as soon at July 2020. The P2 1TB SSD will be priced at $119.99 ($0.12 per GB) and have 2400 MB/s sequential read and 1800 MB/s sequential write speeds with an endurance rating will be 450TBW. That drive might be more appealing to our readers as who doesn't like the sound of an NVMe 1TB SSD for under $120!
Legit Bottom Line: The Crucial P2 M.2 2280 NVMe SSDs are entry-level SSDs, but are backed by a lengthy 5-year warranty and fair prices.
Crucial P2 SSD Part Numbers
250GB – CT250P2SSD8
500GB – CT500P2SSD8
1TB – CT1000P2SSD8