Creative Sound Blaster Z and Zx Sound Card Review
By
Creative Sound Blaster Z and Zx
For some time, weve shared our underwhelming experiences with sound cards and headsets with integrated audio processors that featured virtual surround sound. For the more modern implementations such as Razer Surround and Dolby Home Theater V4, simulated positional audio was hardly noticeable. The more extreme case is Dolby Headphone which degrades audio quality when it is enabled. Then there are true surround sound headsets, those that pack multiple drivers on different channels into each earcup. Those dont work too well either to the point we have never recommended a headset on that feature alone. Positional audio is a desirable and much wanted feature gamers want, but obtaining a set of 5.1 or 7.1 speakers may be neither reasonably priced nor practical for some people.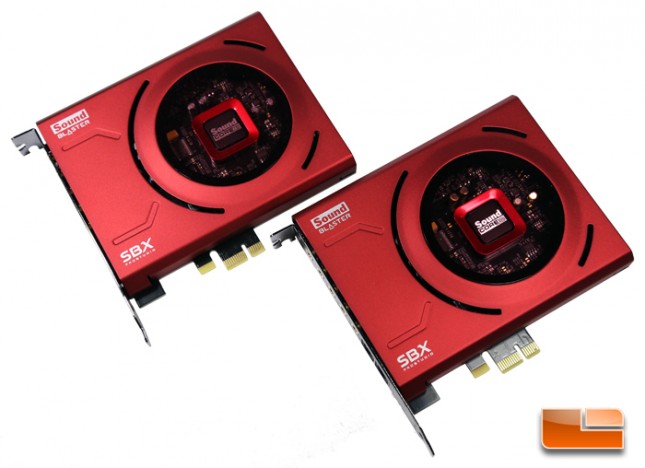 Unfortunately for headphone users, it is an unattainable challenge to recreate the sound of six or eight speakers on just two speakers. However, some implementations are better than others and we listened to the few audio recordings on the internet that gave us the opportunity to listen to those implementations we previously were not able to experience. One in particular, Creative X-Fi CMSS-3D featured on the Sound Blaster X-Fi Titanium sounded the best, providing the best virtual surround audio compared to its competition. We looked forward to a chance to get our hands on some hardware from Creative to thoroughly explore its capabilities.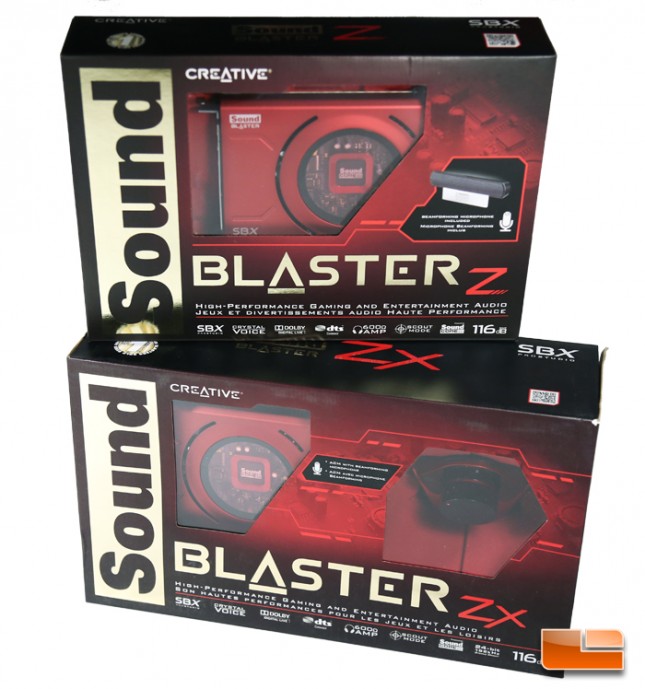 Previously, we looked at the Creative Sound Blaster ZxR to which praised its capabilities including its unnamed virtual surround engine. Our primary criticism was the excessiveness of its features and pricing for most gamers especially when compared to the Sound Blaster Z and Zx cards, which this review focuses on. These two products use the same sound card and only differ by their bundled accessories. The Sound Blaster Z is available for $100.99 and the Sound Blaster Zx is available for $125.85 both on Amazon with free shipping.
Sound Blaster Z and Zx Features:
116dB Signal-To-Noise Ratio
Sound Blaster Beamforming Microphone for Z or Accessible Audio Control Module (ACM) for Zx
600 Ohm Dedicated Headphone Amplifier
SBX Pro Studio
Advanced home entertainment audio
Pristine audio recordings with ultra low latency
24-bit / 192kHz audio output
Sound Blaster Z and Zx Specifications:
Audio Processor: Sound Core3D
Audio Resolution: 24-Bit
Digital Audio Convertor (DAC): Cirrus Logic
Signal to Noise Ratio (SNR) (20kHz Low-pass filter, A-Wgt): 116dB
Maximum Playback Quality:

5.1 : Up to 96kHz
Stereo Direct: Up to 192kHz

Frequency Response @96kHz:

Front Channel Out : 10Hz to 45kHz
Rear Channel Out: 15Hz to 45kHz
Center Out: 10Hz to 45kHz
Headphone (33 ohms): 10Hz to 45kHz

Frequency Response @192kHz (Stereo Direct Only): Front Channel Out : 10Hz to 88kHz
16-bit to 24-bit Recording Sample Rates: 8,11.025,16, 22.05, 24, 32, 44.1, 48, 96 (kHz)
16-bit to 24-bit Playback Sample Rates: 8,11.025,16, 22.05, 24, 32, 44.1, 48, 96, 192 (kHz)
Maximum Recording Quality: Up to 24-bit/96kHz
I/O Ports (Main Card):

Headphone : 1 x Amplified 3.5mm jack
Speaker Out : 3 x 3.5mm jacks(F/R/C-Sub)
Line / Mic In : 1x shared 3.5mm jack
Optical Out : 1x TOSLINK
Optical In : 1x TOSLINK

Audio Control Module / Front Panel Connectivity (for Sound Blaster Zx):

Volume Control Knob Built-in Beam-Forming Microphone
Headphone-Out : 1x 3.5mm jack, 1x 1/4 jack
Microphone-In : 1x 3.5mm jack, 1x 1/4 jack

600 Ohm Amplified Headphone Output: Maxim MAX97220A
Included Accessories: Beamforming Microphone with Sound Blaster Z or Audio Control Module (with Beamforming Microphone Built-in) with Sound Blaster Zx
Technology

Audio Enhancement:

SBX Pro Studio
Surround
Crystalizer
Bass
Smart Volume
Dialog Plus
CrystalVoice
Noise Reduction
Smart Volume
Acoustic Echo Cancellation
FX
Focus

Speaker/Headphone Switch: Software Controlled
Dolby Digital Live: Encoding
DTS Connect: Encoding
Upmixing of Stereo to Multi-Channels: SBX Surround
DTS & Dolby Digital Decoding via Cyberlink PowerDVD Download: via 3rd party software download
Scout Mode: Yes
EAX: EAX 5.0 HD
Max.No. of 3D Voices: 128
ASIO: ASIO 2.0 support at

16-bit/44.1kHz
16-bit/48kHz
24-bit/44.1kHz
24-bit/48kHz
24-bit/96kHz with direct monitoring

Compatible With: PC – PCIe x1 Connection
Operating System: Windows 7/8
Warranty: 2-year in EU, 1-year worldwide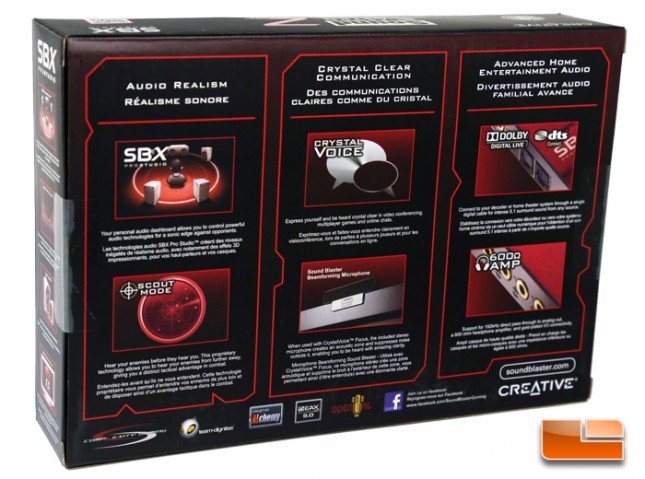 The back of the Sound Blaster Z box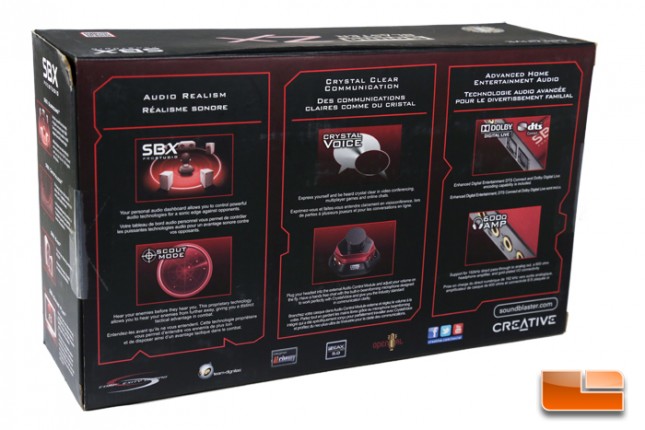 The back of the Sound Blaster Zx box