Cougar 550M Gaming Mouse Review
By
Software: Cougar UIX System
The Cougar UIX System is the software used to customize 550M mouse settings including onboard profile management, tracking sensitivity, macro assignments, and RGB lights. The latest version of the software can be downloaded from Cougar's download website which may include a bundled firmware update.
On the left of the Cougar UIX System interface is the menu element for switching between the three profile modes and the mouse settings. Mode 1 is currently being customized and the Performance submenu is open. From the Performance menu, changes can be made to each of the three main DPI settings, the sniper DPI setting, polling rate, angle snapping, lift height, mouse acceleration, and Windows mouse settings including double click speed, scroll speed, and pointer speed.
The Key Assignment menu has a graphic of the mouse on the left with boxes above and below. Dragging an icon from the sets on the right to the boxes assigns a new button assignment.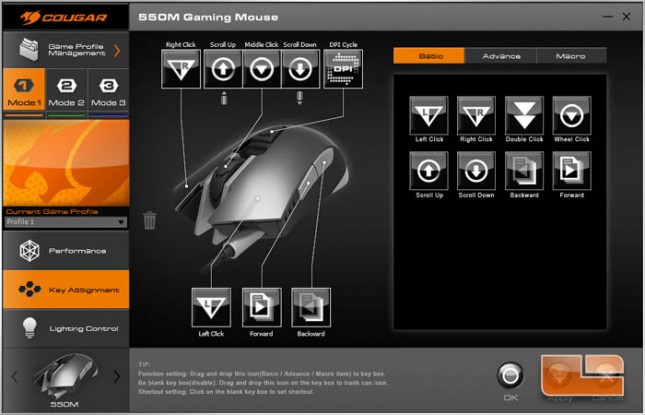 Besides "Basic" mouse commands, "Advanced" preset commands can be assigned ranging from mode switching to media controls to even launching programs.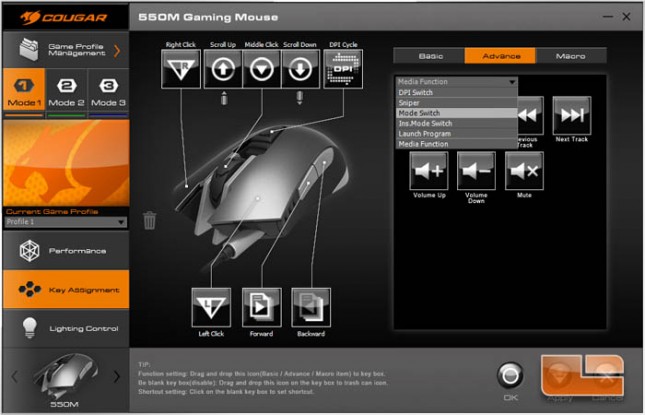 Macro strings can be recorded and edited in a macro editor window. In addition to keyboard keystrokes, mouse movements and button presses can be recorded.
Lighting Control allows changes to each of the two lighting zones. An RGB color can be individual assigned and given either a steady or breathing effect.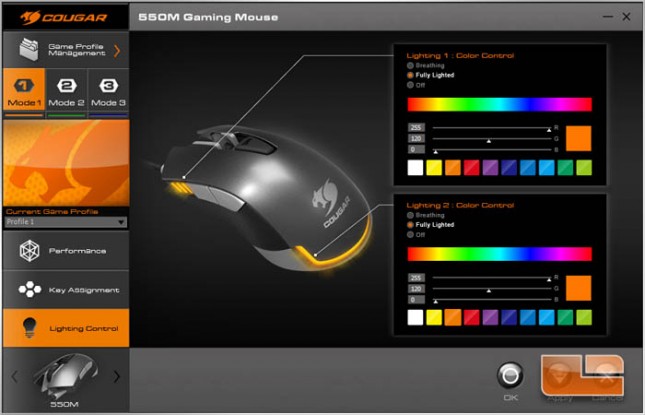 Game Profile Management opens a window for the unsurprising purpose of managing profiles for executable programs. Profiles can be created, edited, deleted, imported, exported, and duplicated.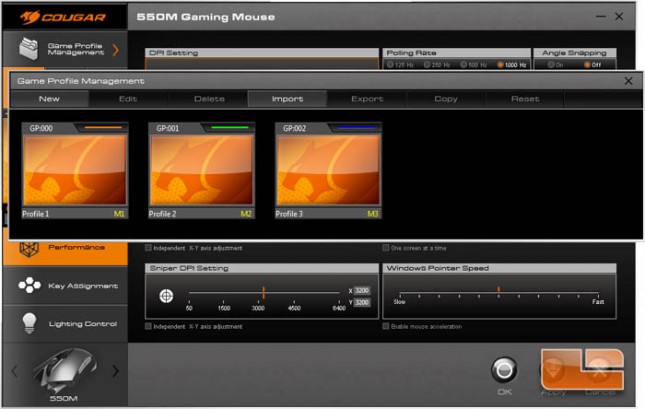 When editing a profile, the user can change the profile name, its icon image, and the .EXE file path.