Corsair XMS XPERT 3200XL Memory Review
By
Testing Part 2
ScienceMark 2.0 Final:
Science Mark 2.0 is an attempt to put the truth behind benchmarking. In an attempt to model real world demands and performance, ScienceMark 2.0 is a suite of high-performance benchmarks that realistically stress system performance without architectural bias. All of our testing was completed on the 32 Bit Final benchmark version that is dated March 21st 2005.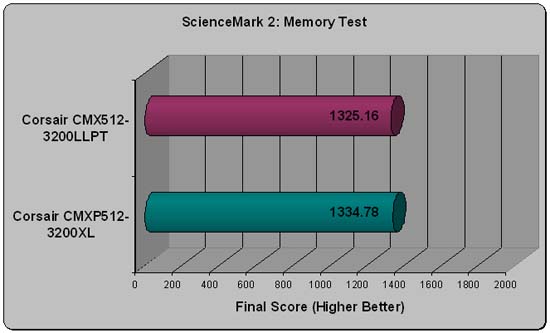 Results:
A score difference of 9 is insignificant and shows that the memory modules are very close together in performance.
Futuremark PCMark04 1.3.0:
PCMark04 is designed to test the whole system, but can be broken up to test individual parts, such as the memory. PCMark04 gives us a general score based on the performance of the components.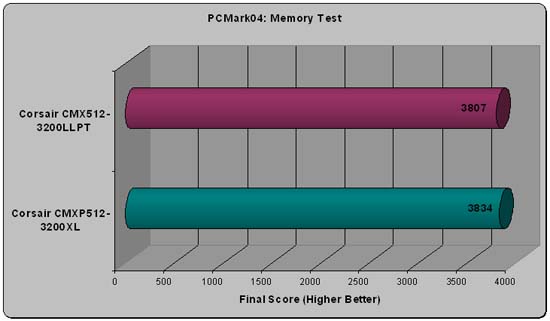 Results:
Yet again we see a very small difference between the Xpert and the LLPT that is insignificant.
Super PI Mod v1.4:
Super PI is a program a lot of enthusiasts use to benchmark overall system performance, as the program is capable of calculating pi up to 33.55 million digits on a timer. Many overclockers and enthusiasts are in a battle to get the lowest 1M Super Pi time possible.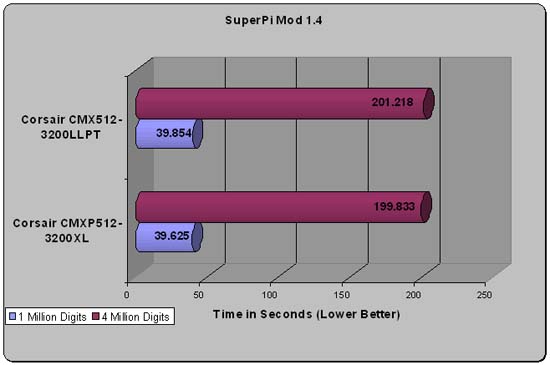 Results:
A 1.385 second difference at a calculation of 4 million digits is almost un-noticeable, and the .229 second difference at 1 million digits shows how similar the memory modules are.
Comanche 4:
Flight simulations are notorious for their CPU-dependence, and this makes the Comanche 4 benchmark potentially a better CPU/subsystem test than it is for 3D video cards. Comanche 4 uses DX8.1 pixel/vertex shaders and was run at 640×480 32-bit with no audio.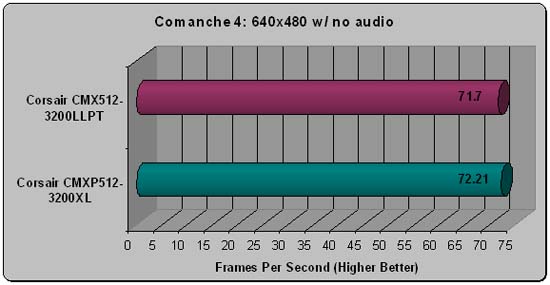 Results:
The difference is negligible with only a half a frame better rate for the Xpert memory.
Now that we have seen how this stacks up against some other Corsair memory it is time to see how well this memory overclocks and our conclusion.