Corsair XMS XPERT 3200XL Memory Review
By
Testing The Memory
All testing was done with the following system:
DFI Lanparty UT 250gb
AMD 64 3400+ Clawhammer core (754 pin)
Corsair XMS Xpert 3200XL 512MB(2-2-2-5)
Corsair XMS 3200LLPT 512mb(2-3-2-6)
ATI Radeon 9800 Pro
Thermaltake Purepower 480W
2x80gb Western Digital SATA (Raid-0)
Testing was done on Windows XP Home with recent drivers. All tests were run at least 3 times with results averaged together to ensure reliability. The memory was running at 21C during all testing according to the display.

Sisoft Sandra 2005 SR1:
Sisoft Sandra 2005 is designed to test the theoretical power of a complete system and individual components. The numbers taken though are, again, purely theoretical and may not represent real world performance. Higher numbers represent better performance in memory bandwidth.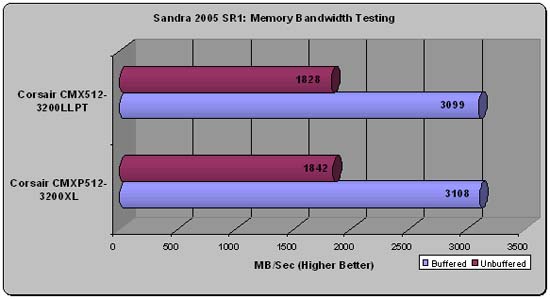 Results: Here we see that there is a difference between the two memory modules, although it is minimal and can be attributed to the different timings.
Everest Version 2.00.300 Beta:
Everst 2.0 is a professional system information, diagnostics and benchmarking program for Win32 platforms. It extracts details of all components of the PC. It also tests the actual read and write speeds of your memory giving a fairly accurate look of true memory performance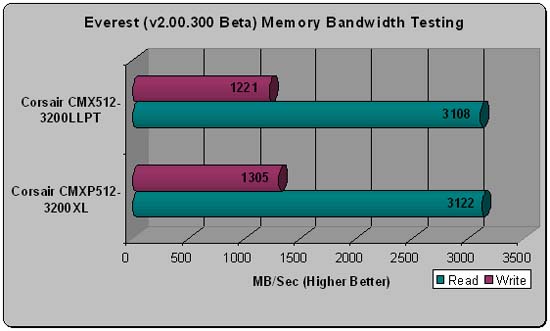 Results: Again we see the Xpert module coming out on top, although the gap is very small and again can be attributed to the latencies.